SWEET AND SOUR
CHICKEN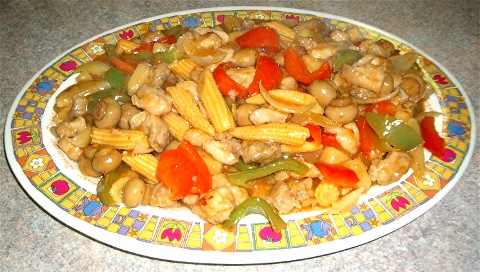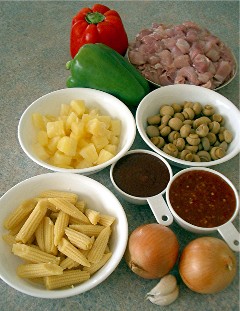 INGREDIENTS: (Serves
8)
1 kg/2lbs skinned chicken breast or thigh fillets

4 tbsps cornflour

1 egg white

440gms/medium canned pineapple pieces – drained, reserve juice

425gms/medium canned baby corn (whole or pieces) – drained


2 small cans whole champignons – drained


1 large red capsicum – cut into bite-sized pieces

1 large green capsicum – cut into bite-sized pieces

2 medium tomatoes – cut into wedges (optional)

2 medium onions – peeled and each cut into 8 wedges

2 cloves garlic – peeled and finely minced

3/4 or 1 cup sweet chilli sauce

1/2 cup tomato sauce/ketchup

1 1/2 tbsps vinegar

2 heaped dsps cornflour

3/4 cup unsweetened pineapple juice

2 heaped dsps additional cornflour

1 tsp chicken stock powder – (optional)

1 dsp sugar – (optional)

1/3 cup cooking oil

Salt and ground white pepper
METHOD:
Trim off all fat and cut chicken in small bite-sized pieces.
Put egg white into a mixing bowl, add pinch of salt and ground white pepper and
beat lightly with a fork.
Add the chicken meat, mix well and sprinkle with 4 tbsps cornflour, mix well.
Heat oil in a wok over high heat and fry chicken in 3 or 4 batches, stirring
constantly to separate the chicken pieces.
When chicken is cooked through, drain and set aside, leave remaining oil in the
wok.
In a medium mixing bowl, pour in juice from pineapple pieces, pineapple juice,
sweet chilli sauce, tomato sauce, vinegar, chicken stock powder, cornflour,
sugar and a pinch of salt. Stir until well blended.
If whole baby corns are too long, cut each in half at an angle.
Reheat remaining oil in wok over high heat and stir fry onions and garlic for
about a minute, add red & green capsicums, champignons, tomatoes, baby corn
and pineapple pieces. Mix well.
Continue to stir fry for about 5 – 8 minutes, then add the fried chicken pieces
and stir well.
When contents are thoroughly heated through, mix the sauce mixture again (to
ensure the cornflour is not lumpy) and pour over the chicken and vegetables
mixture.
Continue stirring until sauce thickens and changes colour from cloudy to a
clear glossy red.
Remove from heat and serve immediately with steamed rice or with
Chicken Fried Rice.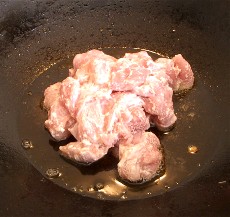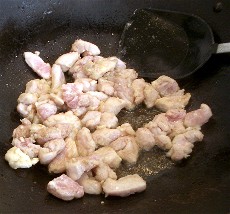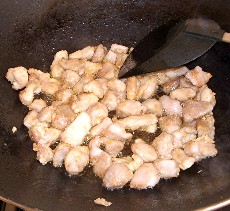 OzLadyM