STRAWBERRY SCONES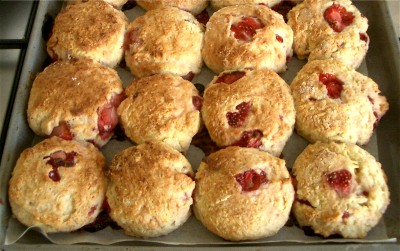 INGREDIENTS
(Makes
approx 18)
1 cup strawberries

2 1/2 cups plain (all purpose) flour – unsifted

3 tablespoons sugar

2 teaspoons baking powder

Pinch of salt

6 tablespoons butter or margarine

2/3 cup milk
INSTRUCTIONS
Preheat oven to 210C (410F)
Line a biscuit tray with baking paper.
Hull and cut strawberries into 1.5cm pieces (1/2″) – set aside.
In a large bowl, mix together flour, sugar, baking powder and salt.
Add butter and using fingers, rub into flour until mixture resembles coarse breadcrumbs.
Stir in the strawberries pieces and toss well to coat.
Add milk all at once and using a fork, mix lightly until mixture holds together.
Dip hands generously in flour and form mixture into a ball.
Place mixture on a floured pastry sheet and with a floured rolling pin roll out dough to 1.5cm thickness (1/2″).
Using a scone/biscuit cutter, cut out 5cm (2″) rounds.
Place scones on baking tray.
Bake until golden brown (approx 10-12 mins) and serve warm with whipped cream.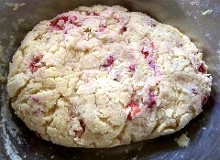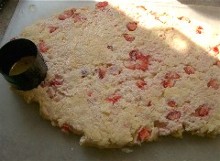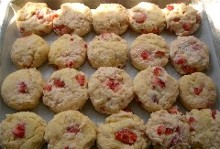 OzLadyM