SPICY CRUMBED
CHICKEN WINGETTES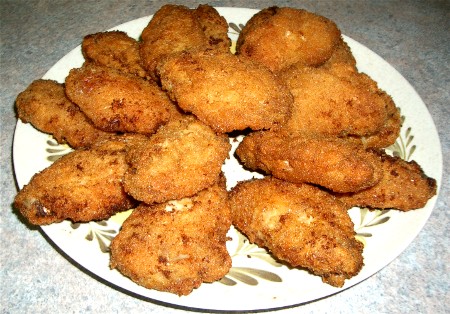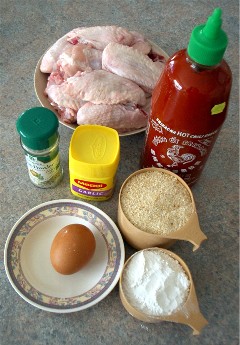 INGREDIENTS: (6
Entree serves of 3 wingettes each)
18 chicken wingettes (approx 1kg/2lbs)

2 dsps Sriracha Hot chilli sauce


2 tsps Tabasco sauce (optional)

2 level tsps onion powder

1 level tsp chicken stock powder (or salt)

1/2 tsp garlic powder

1/2 cup rice flour (or plain flour)


1 egg – lightly beaten

1 cup breadcrumbs

Cooking oil for deep-frying
METHOD:




Wash the wingettes, drain well and pat dry with paper towels.
With the point of a sharp knife, stab the skin of each wingette (both sides) in
a few places to allow marinade to penetrate through to the meat.
In a mixing bowl, combine chilli sauce, tabasco sauce, chicken stock powder (or
salt), onion powder and garlic powder.
Add the chicken wingettes, mix to coat well and allow to marinate for a few
hours, preferably overnight.
About two hours before cooking, place rice flour into a medium freezer bag, add
the marinated wingettes, "trap" air in the bag and twist the top to seal.
Keeping a tight hold of the top of bag, shake contents vigorously until all the
wingettes are well coated with flour.
Shake off excess flour, place wingettes in a mixing bowl and pour the beaten
egg over.
Mix well to coat with egg and firmly press each wingette into the breadcrumbs,
place on a plate and refrigerate for at least an hour.
When ready to cook, heat oil in a wok (or large saucepan) over medium heat and
fry the crumbed wingettes in batches until brown and crispy.
Serve hot with dipping sauce of either Sriracha sauce or Sweet chilli sauce.




OzLadyM