SCALLOPS IN CHILLI & GARLIC SAUCE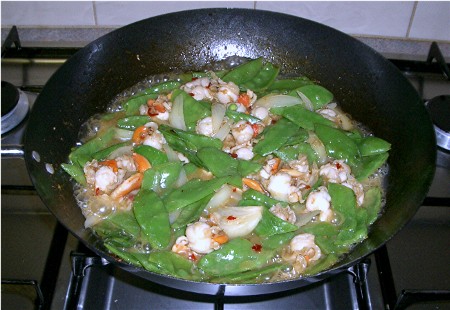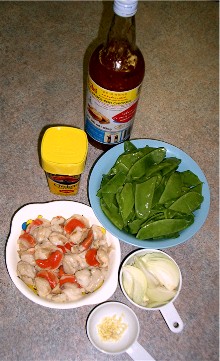 INGREDIENTS: (Serves
3 – 4)
500gm/1lb scallops
200gms/7ozs snow peas (more if desired)
1 large onion – cut into wedges
2 – 3 cloves garlic – finely minced
1/3 – 1/2 cup Sweet Chilli Sauce For Chicken (Thai)
1/2 tsp chicken stock powder
1 heaped tsp cornflour
1 tbsp cooking oil
METHOD:
Remove veins and other bits off scallops, rinse and drain in colander.
Top and tail snow peas, cut into halves at an angle if they are too big/long.
Mix cornflour in a little water, set aside.
Heat oil in a wok over high heat, add onions and garlic and stir fry for about
a minute.
Add sweet chilli sauce and snow peas.
Stir-fry briefly.
When snow peas turn bright green, add scallops and sprinkle in the chicken
stock powder.
Stir-fry for a few minutes until scallops are cooked through.
Add cornflour mixture, stir until juices thicken, turn off heat.
Serve immediately over hot boiled/steamed rice.
OzLadyM