ROCK CAKES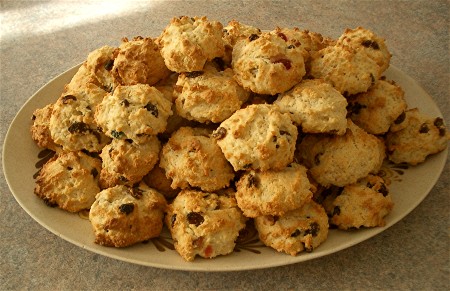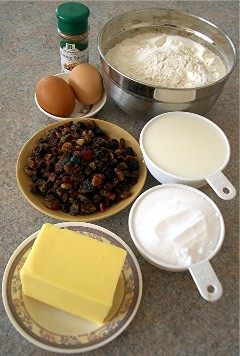 INGREDIENTS: (Makes
approx 48 – 50)
4 cups S.R. flour

160gms/5.5ozs butter or margarine

140gms/5 ozs caster sugar

130gms/4.5ozs dried mixed fruit

1 cup milk


2 large eggs


1/2 tsp baking spice mix

Few drops vanilla essence – (optional)



METHOD:




Set oven to 190C/375F.
Sift flour and spice mix together into a large mixing bowl.
Cut butter/margarine into the flour and rub in using fingertips until mixture
resembles fine breadcrumbs.
Add sugar and mixed fruit, mix well.
Break eggs into a small bowl, add a few drops of vanilla essence and beat
lightly with a fork.
Add to flour mixture with enough milk to form a stiff, sticky dough.
Place rounded dspfuls of mixture on a lined baking tray.
Bake for 10 – 15 mins or until golden brown.
Cool on wire racks and store in an airtight container or a cookie jar.





OzLadyM