MACADAMIA NUT WHITE
CHOCOLATE CHIP COOKIES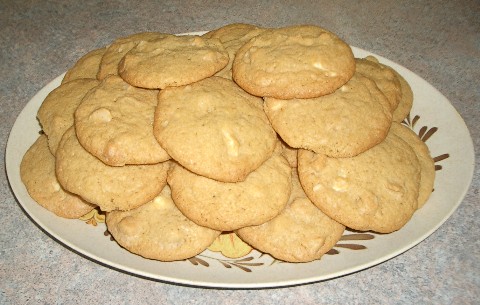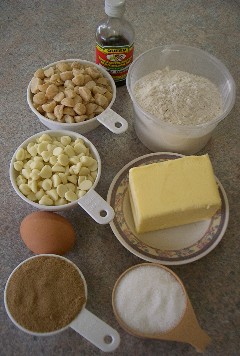 INGREDIENTS: (Makes
30 very yummy cookies)
2 cups Self-Raising Flour

200gms/7ozs softened butter

1/2 cup soft brown sugar (packed)

1/2 cup sugar

150gms/6 ozs macadamia nuts – halved

100gms/3.5ozs White Choc Bits

(OR)

100gms White chocolate – chopped into 1.5cm (1/2″) pieces

2 eggs

1/4 tsp vanilla essence

Pinch of salt
METHOD:




Preheat oven to 160C/325F.
Line baking tray with baking paper.
Sift flour and salt.
In a large mixing bowl of electric mixer, beat together butter, sugars, eggs
and vanilla essence at medium-high speed until mixture is fluffy.
Reduce speed to low, add flour and increase speed gradually to beat until
mixture is just blended.
Fold/stir in the nuts and chocolate bits.
Drop heaped tablespoonfuls of mixture onto baking tray approx 5cms/2ins apart
to allow for spreading during baking.
Bake for approx 15 mins or until edges are slightly brown.
Leave on baking tray for a few minutes, then with a spatula, gently move
cookies onto a wire rack to crisp up and cool completely.
OzLadyM