GADO-GADO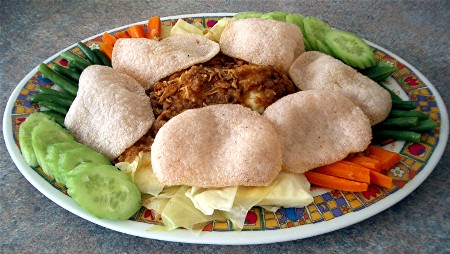 INGREDIENTS: (1 very
generous serve)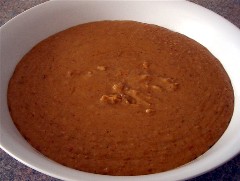 SAUCE: (if you don't have
leftover SATAY SAUCE)
5 – 6 tbsps coconut cream/milk

3 – 4 tbsps chunky peanut butter


1 heaped tsp Sambal Oelek (or to taste)


1 dsp dark brown sugar


1 tbsp lemon or lime juice


1 tsp fish sauce

1/2 tsp galangal (laos) powder
GADO-GADO:
1 small pototo – boiled, peeled and cut into bite-sized chunks

1 egg – boiled, shelled and cut into halves or quarters

1 small carrot – peeled and cut into bite-sized 'sticks'

1 serve of green beans – cut into 5cm/2″ lengths

1 serve cabbage – cut into bite-sized pieces

1 piece fried firm tofu square – re-fried and cut into bite-sized
cubes

1 serve bean shoots – tailed – (optional)

1 serve snow peas – topped and tailed
GARNISH:
A few slices of cucumber

A few fried prawn crackers (krupuk) – optional

Some crispy fried onions
PREPARATION:




Combine all the sauce ingredients in a small saucepan, stir well and bring to
the boil. Stir and set aside.
Blanch vegetables for a few minutes until just cooked – rinse in cold water to
stop the cooking process, drain and set aside.
If using bean shoots, only blanch for a few seconds, rinse and drain.
Arrange the tofu, assorted vegetables and egg on a plate and pour the sauce
over the top.
Sprinkle some crispy fried onions and garnish with cucumber slices and prawn
crackers.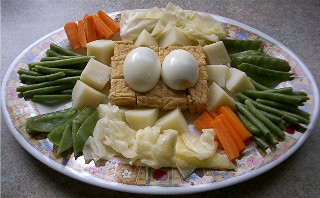 OzLadyM