FRIED RICE WITH
SHRIMPS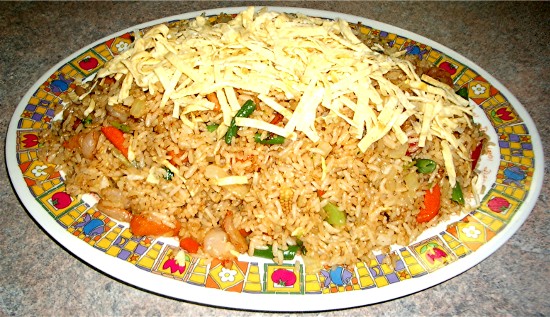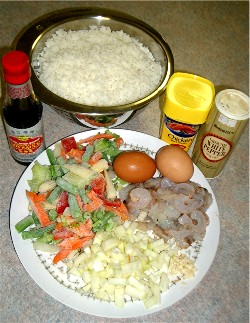 INGREDIENTS: (Serves
4 on its own or 6 with Crab Foo Yong)
6 cups cooked rice (cold)

1 cup shrimp (prawn) meat

2 cups frozen Asian mixed vegetables – thawed

2 eggs

1 medium onion – peeled and diced


1 clove garlic – finely minced


2 tsps chicken stock powder

2 tsps dark soy sauce

1/2 tsp ground white pepper (or to taste)

2 tbsps cooking oil
METHOD (Thin Omelet):




If presentation is important, do the following with the eggs:
Lightly beat eggs with a pinch of salt and pepper.
Lightly oil a small non-stick fry-pan and make four very thin omelets, one at a
time.
Stack thin omelets on a cutting board and cut into 4 segments, lengthways.
With a sharp knife, finely slice into strips and set aside. (See photos below.)
If the above sounds too much like hard work, simply scramble the eggs when
cooking the fried rice!
METHOD (Fried Rice):
Heat oil in a wok over high heat and stir-fry diced onion and garlic for about
a minute.
If presentation is unimportant, add the lightly beaten eggs to the onions &
garlic and stir-fry quickly to scramble the eggs.
Add thawed Asian mixed vegetables and continue stir-frying until vegetables are cooked to your liking.
Add the shrimp/prawn meat, sprinkle over with chicken stock powder and ground
white pepper and stir-fry until shrimps are just cooked through.
Add the rice, mix well.
Drizzle 2 tsps dark soy sauce over rice mixture and mix well.
If using the sliced thin omelets, add half to fried rice mixture and reserve
the remainder for garnish.
Continue to stir-fry until rice is heated through.
Garnish with remaining thin omelet strips or some chopped spring onions
(shallots, green onions).
Serve hot with Crab Foo Yong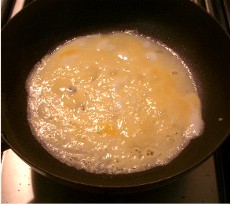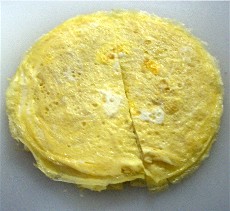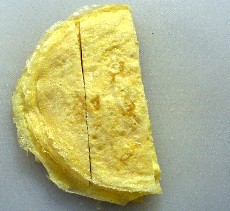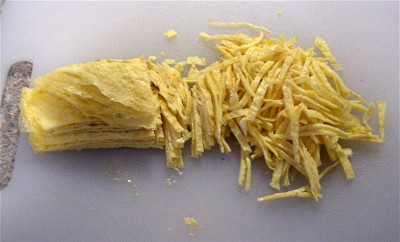 OzLadyM