ROJAK (CHINESE OR MALAYSIAN)
(Spicy Fruit & Vegetable Salad)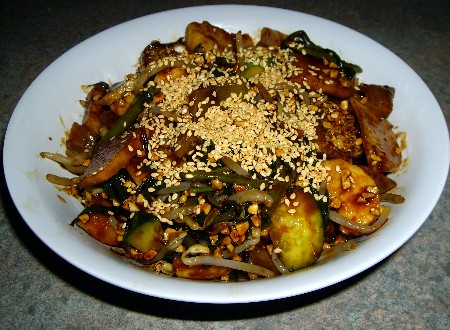 INGREDIENTS: (Serves 2
hungry adults)
SAUCE: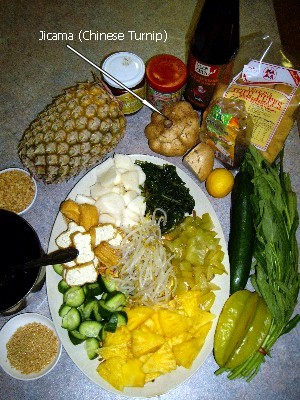 6 – 8 Fresh Hot Chillies (or Bird's Eye Chillies if you like it
fiery hot), finely chopped or pounded using mortar & pestle.
1 tsp Granulated Blacan (if using fresh chillies)
OR

1 – 2 heaped tbsp Sambal Terasi (also known as Sambal Blacan)

2 – 3 tbsp Black Prawn Paste (Chinese: Hae Koh; Malay: Petis)

1 dsp Thick Soy Sauce

2 tbsp Palm Sugar (Malay: Gula Melaka) or dark brown
sugar

2 tsp Seedless Tamarind Pulp (size of walnut)

1/3 cup hot water

Juice of 1 Lime (or small lemon)

Pinch of salt

2 – 3 tsp sugar (according to taste)

1/2 cup Crushed Peanuts

1 tbsp Sesame Seeds
FRUIT & VEGETABLES:
1/4 Roughleaf Pineapple, skin removed

1 small Jicama (aka Yam Bean; Mexican Potato; Mexican Turnip,
Chinese Turnip)

1 – 2 Lebanese Cucumber or 1/2 Continental Cucumber

1 Carambola (Star-fruit), preferably unripened

A few Tofu Puffs (optional)

1 cup Bean Shoots (Taugeh)

Small handful of Water Convolvulus (Malay: Kangkong aka
Water Spinach)

A few thin slices of Torch Ginger flower-bud (Malay: Bunga Kantan)
[Pic below. If available, it enhances the flavour of the Rojak]
METHOD:



Soak Tamarind Pulp in 1/3 cup hot water for a few minutes, break up pulp with
fingers, mix thoroughly, squeeze and strain to extract 1/4 cup thick tamarind
'juice'.
Wash and break Water Convolvulus into bite-sized lengths, scald, drain well and
set aside.
Remove 'tails' off Bean Shoots (if desired), scald, drain well and set aside.
If using Tofu Puffs, place under griller until the puffs crisp up and cut with
kitchen scissors into bite-sized pieces.
Toast Sesame Seeds in a small saucepan over low heat until golden brown, remove
and set aside.
Using the same saucepan, add Sambal Terasi (if using fresh or Bird's Eye
chillies, add 1 tsp Granulated Blacan), Black Prawn Paste, Tamarind 'juice',
Brown Sugar, Thick Soy Sauce, Lime (or Lemon) juice, pinch of salt and mix
well.
Cook mixture over low heat until sauce thickens slightly and Brown Sugar
dissolved.
Remove from heat and allow to cool completely.
Add Sugar, Crushed Peanuts and Torch Ginger flower-bud slices and mix well.
Cut Pineapple into bite-sized pieces.
Cut Carambola into bite-sized slices [See pic below]
Peel skin off Jicama and cut into bite-sized pieces.
Wash Cucumber and leaving skin on, cut into bite-sized pieces.
Just prior to serving, put all fruit and vegetables and Tofu Puffs (if used)
into a medium mixing bowl.
Toss to mix well, pour Rojak Sauce over mixture, mix thoroughly and divide the
Rojak into two individual serves.
Sprinkle toasted Sesame Seeds to garnish and serve immediately.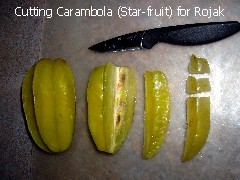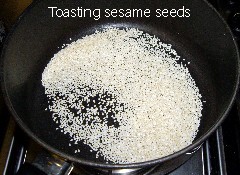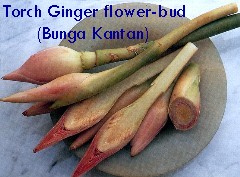 OzLadyM