BRAISED LAMB SHANKS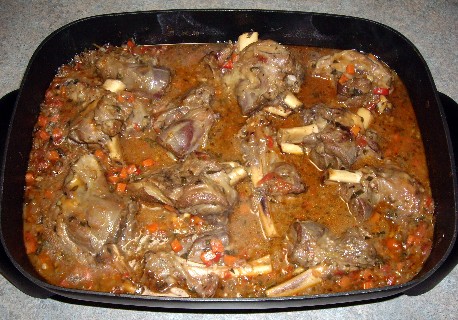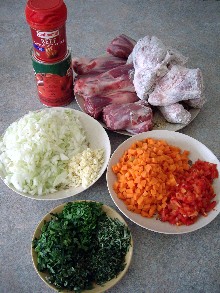 INGREDIENTS: (4 Serves of 3 shank pieces each)
6 large lamb shanks, each cut into two

2 heaped tbsp plain flour, seasoned with salt and pepper

2 medium onions, peeled and diced fine


1 – 2 medium carrots, peeled and diced fine

1 small red capsicum, de-seeded and diced fine

1 medium (400gm) can diced tomatoes

5 cloves garlic, skinned and minced


3 stalks Chinese celery (or 1 small stalk celery), chopped
fine

1 tbsp chopped fresh parsley

1 tbsp chopped fresh oregano

1 tbsp chopped fresh rosemary

1 tbsp chopped fresh thyme

2 tbsp red wine

2 cups beef stock (2 heaped tsps powder dissolved in 2 cups hot
water)

1/4 tsp coarse ground black pepper

3 – 4 tbsp olive oil

Salt and pepper to taste
METHOD:




Remove as much fat and membranous "skin" as possible from the lamb shanks.
Place seasoned flour in a large freezer bag and put half of the lamb shanks
into the bag. Trap some air into the bag and while pinching the twisted top
with finger and thumb, shake the bag vigorously until the shanks are
well-coated with flour.
Open freezer bag, remove shanks after shaking off excess flour and set aside.
Put remaining lamb shanks into the freezer bag and repeat coating process.
Heat olive oil in a non-stick electric frypan to medium-high and when hot, add
a few lamb shanks and brown well on all sides.
Remove the browned shanks and repeat browning process for the remaining shanks.
Add onions, garlic, carrots, capsicum and fresh herbs to the pan and fry for
about 2 minutes.
Add tomatoes, beef stock, wine and black pepper, stir and bring to the boil.
Reduce heat to medium-low, add lamb shanks, mix well, cover and slow cook for
about 3 hours.
OR
Transfer to a large baking dish (with lid) and bake in 150C (300F) for 3 hours.
Remove lid and skim off as much fat/oil as possible. Add salt and pepper to
taste, if required.
Continue cooking (uncovered) for a further 1/2 hour to reduce and thicken the
sauce.
Remove the shank bones if you wish.
Serve with mashed potatoes or steamed vegetables of your choice and garlic
bread, if desired.
OzLadyM