APRICOT JAM (EASY)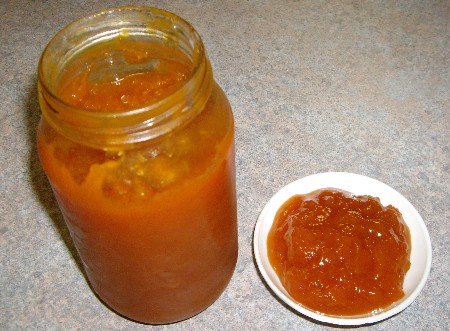 INGREDIENTS: (Makes approx 1.5 litres/6� cups)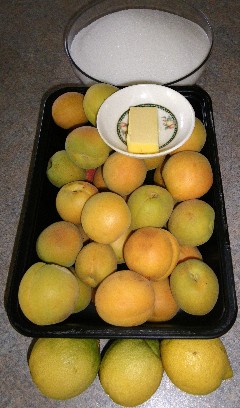 1.5kg almost ripe apricots (weighed before cutting)
1 kg + 50gm sugar

1/3 cup fresh lemon juice (3 small lemons)
15gms butter

UTENSILS:
1 large non-aluminum saucepan
1 potato masher (optional)
Wooden spoon
3 x 500gm glass jars with screw-on lids.

METHOD:



Wash and drain apricots, cut to remove seeds and cut each apricot into quarters.
[yield approx. 10 cups]
Place apricot quarters into large saucepan.
Add lemon juice and sugar, mix well, cover and allow to sit overnight.
When ready, place saucepan over high heat and bring to the boil, skimming off the yellow foam if you wish (I only skim a bit off).
When mixture comes to a steady boil, reduce heat to low and continue to simmer for about 45mins to an hour, stirring occasionally to prevent scorching.
While mixture is simmering, sterilize jars by boiling for 5 minutes, fully submerged, then drained and cooled.
Using potato masher, lightly mash the apricots. (optional)
Add butter to jam mixture, increase heat to medium-high and continue to boil for 10-15 minutes, stirring constantly.
Test for readiness by spooning a small amount onto a china saucer – the jam should gel and should not be runny.
Pour jam into prepared sterilized jars, screw lids on tightly and invert the jars to seal.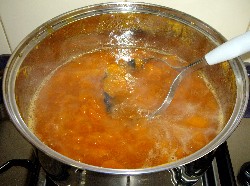 OzLadyM