APPLE CRUMBLE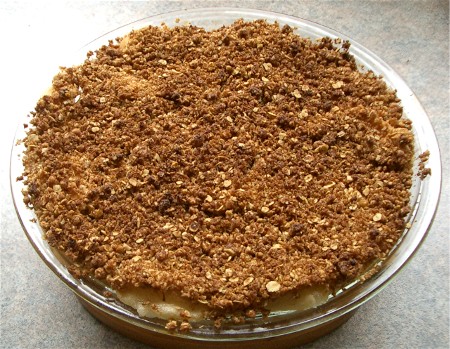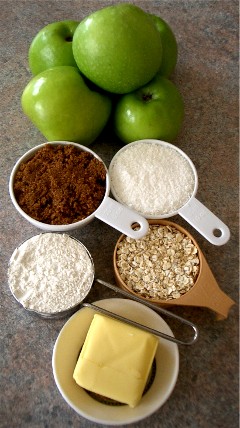 INGREDIENTS: (Serves
4 – 6)
5 medium Granny Smith/cooking apples

1 dsp sugar

1 dsp butter

1/4 tsp ground cinnamon
CRUMBLE:

1/3 cup S.R. Flour

40gms/1.5ozs butter


1/3 cup dessicated coconut


1/3 cup rolled oats

1/3 cup soft brown sugar
METHOD:
Preheat oven to 180C/350F.
Peel, core and cut each apple into 8 wedges.
Put apple wedges into a medium mixing bowl and sprinkle sugar and ground
cinnamon over them.
Toss to coat the apple wedges.
In a non-stick saucepan over med-high heat, melt 1 dsp butter and add the apple
wedges.
Toss the apples around for about two minutes or until sugar melts.
Put 2 tbsps water into bottom of pie dish and add the apples – level
accordingly.
In a small mixing bowl, rub butter into the flour until mixture resembles
coarse breadcrumbs.
Add the coconut, rolled oats and brown sugar, mix well.
Sprinkle evenly over the apples and bake for 30 – 40 minutes.
Serve warm with vanilla custard or cold with cream or ice-cream.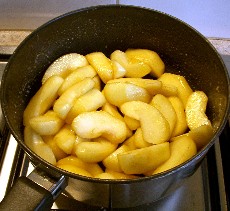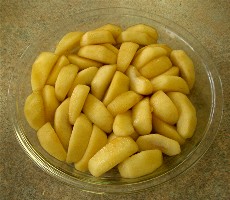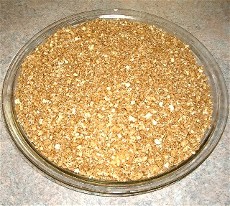 OzLadyM