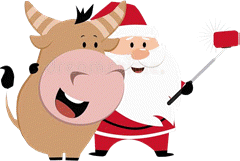 N
E
W
S
L
E
T
T
E
R
2
0
2
0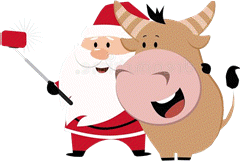 Dec '19:
Wayne and I flew into Singapore on the 3rd to see our 6 weeks old grand-niece Sophy for the first time. After a couple of days of socializing and eating, we hired a private taxi to take us bags and all, across the Johor-Singapore Causeway for a week's stay at The Puteri Pacific Johore Bahru on Dec 6th. I opened our room door to a knock on the evening of the 11th to find Deej standing there with a grin on his face saying, "Happy belated birthday, Mumzy!" He had travelled all day from Kampot, Cambodia, on this epic journey just to surprise me. He flew from Phnom Penh to Singapore, jumped into a taxi from Changi Airport to the Causeway, then onto a bus into JB and walked from the bus terminus to the Puteri Pacific, confirmed that we were guests, checked into a room and proved that he is our son to get our room number. I couldn't have been more delighted and felt more loved… The three of us had a great time shopping, eating, checking out night markets, etc., before hiring a limousine to take us from The Puteri Pacific JB to The Village Hotel Changi on the 13th. We sure surprised our Singapore family when we re-visited with Deej in tow. On the 14th. Deej headed back to Cambodia and we left a couple of days later to return to Melbourne. Christmas Day was hosted by Selina and Dennis with a b-b-q of marinated prawns, lamb chops and sausages which was thoroughly enjoyed by our Melbourne family. This New Year's Eve was very tame as there was no function organized by Glenroy RSL so we stayed home to a dinner of Fettuccini Marinara with Lobster Tail, washed down with a bottle of bubbly.
Jan '20:
A bumper crop of apricots from our little tree in the front yard inspired me into making a total of 16 jars of apricot jam on the 4th and 8th. Spent a great day at Melbourne Zoo with Nina and Phoebe on the 12th and went to a bushfire fundraiser screening of Bad Boys For Life on the 19th – great movie!
Feb '20:
Enjoyed a super yummy belated birthday lunch at Blu by Australian Seafood Fish & Chippery for Dennis on the 2nd. Received sad news on the 10th that Beverley, my very dear friend of 38 years, had lost her battle against cancer. Not feeling overly festive this Valentine's Day, I opted for dining at home and cooked dinner of Prawn Saganaki served with Ciabatta garlic bread and made Dark Chocolate Mousse for dessert.
Mar '20:
Left Melbourne for a road-trip to Queensland on the 2nd and kept company with persistent rain just about every day of the drive. Arrived at the Gold Coast on the 6th just so I could give Stella a haircut! COVID-19 panic buying hysteria amid signs of impending lockdown was giving me bad vibes, so after several family meals and a bit of shopping, I persuaded Wayne to cut our holiday short. We left the Gold Coast on the 14th and arrived home on the 18th – so glad I heeded my gut-feeling as the Coronavirus shut-down began on the 22nd and Stage 3 lockdown came into force from Mar 30th to May 31st
Apr-May '20: I kept boredom at bay by spending a lot of time in the kitchen, making various edibles with home-grown vegetables from Nina and trying to cook and bake sometime yummy at least every other day just so Wayne and I had a nice meal to look forward to at the end of the day. Patience must be our virtue as we stayed alive right through till the end of May with not a bruise or a scar in sight!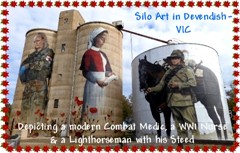 Jun '20:
The only highlight of this month was a day trip to check out the N.E. Victoria Silo Art trail – in Goorambat, Devenish, St James and Tungamah.
Jul-Oct '20:
Our Singaporean niece (Aisyah) surprised Wayne on his birthday with a home delivery dinner for 2 – Special DiCaprio Seafood Risotto, Smoked Salmon & Avocado Bruschetta and Spaghetti Marinara a la DiCaprio. What a sweet gesture… July turned out to be a sad month for us as we lost Wayne's mum the day after his birthday. So sad that we were unable to attend the funeral service due to Queensland's travel restrictions but thankful that Deej and Gen were able to attend on our behalf. Our 35th wedding anniversary was celebrated with a Malaysian dinner at West Wok where we were the only two diners, due to COVID-19 dining-in restrictions. Just as we started to breathe a little easier in Victoria, the second wave of COVID-19 outbreak once again changed our daily life – from Jul 8th, Stage 3 lockdown was re-imposed. We became great-grandparents to Sharon's grandbaby, Lily Rose on Oct 10th born to her youngest son, Nathan and partner Molly. With the strict lockdown back in place, I once again resumed my fight against boredom with more cooking experiments (much to Wayne's delight), which eventually resulted in the full-bodied figures that we now possess. During this period, we broke the monotony with weekly Monday morning catch-ups with Nina and Phoebe at Jack Roper Reserve (to stay within the 5km radius travel restrictions) until restrictions were eased further on Oct 26th.
Nov '20:
We continued with our daily morning updates from our Premier on TV and it was a great relief to see the controversial COVID-19 lockdown restrictions showing positive results with 0 new cases and 0 related deaths for the whole month of November leading to further relaxing of restrictions. How great it was to finally get my hair cut in a salon! (I had resorted to cutting my own hair 4 times in the 9 months prior.) Celebrated my 70th birthday with a true story tearjerker first day screening of "All My Life", followed by dinner at a Japanese restaurant. The highlight was meeting and holding little Lily Rose for the very first time that evening. We now look forward to a happy Christmas Day (once again hosted by Selina and Dennis) with the Melbourne family. I'm sure most of us can hardly wait to say goodbye to 2020 and God Willing, we can welcome a happier new year. To our family and friends, we wish one and all a truly Merry Christmas and a peaceful and friendlier 2021.


(Please click on thumbnails to view larger images.)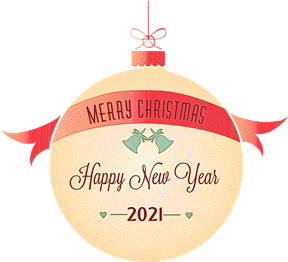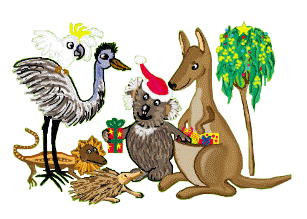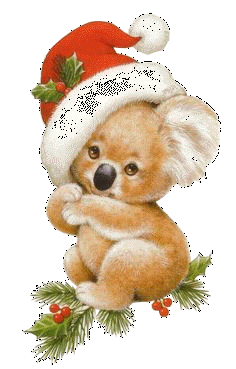 From
Mona, Wayne & Tribe