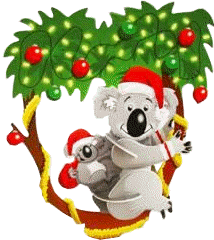 N
E
W
S
L
E
T
T
E
R
2
0
1
8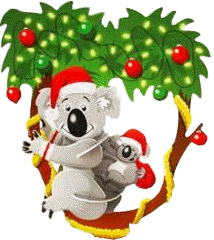 Dec '17: Great start to this month – Wayne and I attended the annual "Office" Christmas function at Moonee Valley Racecourse where we indulged in an "all-you-can-eat" buffet while watching the night races. Didn't win anything as we didn't place any bets… We joined in Sharon's birthday celebration at the Gateway Hotel in Corio on the 12th and a week later I started preparation for an Indian theme family Christmas. After celebrating Nina's birthday with a family brunch at her favourite café, Wayne and I came home for a siesta before putting on our glad rags to attend the NYE dinner and show at the Glenroy RSL where we welcomed 2018 as we rocked to live music by the Ron Kingston Band.   
Jan '18: "Meet you at La Manna for lunch," Nina said one fine Saturday. Just before our food arrived, she whipped out her phone & with a big grin on her face, she showed us an ultrasound image of a foetus…  For once, I was at a loss for words – I just hugged her & promptly burst into tears of joy! On the 12th I went on a solo holiday to surprise my dear Canadian friend Prudence who was visiting her daughter Jennie (& husband Paul) at their gorgeous mansion in Koh Samui – but first, a 3-night stop-over in Singapore to hold my grand-niece Maryam in my arms… Prudence's eldest daughter Joanne & hubby Nabil had also flown in from Vancouver for the happy reunion & we spent a week sightseeing, reminiscing, cooking, eating &  playing Mahjong… just like we used to do in Singapore 47 years ago. All too soon it was time to say goodbye & fly home to my MOTH who welcomed me with an orchid plant in bloom & a yummy lamb shank dinner. I think he missed me a little? *Note to self – must plan another solo holiday!*
Feb '18: Enjoyed a relaxing month on R & R after my solo holiday and celebrated Valentine's Day with my MOTH at Lazat Restaurant, feeding our faces with very yummy Malaysian fare.
Mar '18: Left home to do grocery shopping one Saturday morning, got side-tracked, wandered into a Ford showroom & bought a Ranger instead! Took delivery of our new vehicle on the 15th & took it for a spin to Lake Toolondo a couple of days later before a road-trip to the Gold Coast to spend Easter with Deej & Gen and our grand-daughters Skyla & Stella.
Apr '18: Most nights of this month saw my MOTH with his right hand glued to his mouse while he surfed the 'net looking at caravans. Once he was through procrastinating, we set off on a short road-trip – first to Jayco in Mildura, then to Jayco Ballarat where we mutually decided on the Jayco Journey. While the MOTH was using the rest-room, I switched into bargaining mode and struck a deal with the sales manager. When my MOTH re-appeared, all he had to do was sign on the dotted line…
May '18: Mother's Day was spent at the Shell Club in Corio with Sharon & Greg. Enjoyed a second celebration with the family on the 22nd when Deej flew into Melbourne to attend a mate's wedding. Took delivery of our caravan on the 24th & the following day, while I was busy cutting up fabric, grandson Mike dropped by to show me his brand new car – a KIA Cerato Sport. Nice, very nice…
Jun '18: I dusted the cobwebs off my sewing-machine and with head down, bum up, I sewed bed sheets and mattress protectors and also made bolsters with matching covers for the beds in our caravan. No rest for the wicked, so they say, as toward the end of this month, I embarked on a cooking mission – lots & lots of satays, curry puffs, macadamia caramel tarts, cheesecake, etc., in readiness for Wayne's birthday & retirement celebration. His retirement was officially celebrated with a Momiji Teppanyaki dinner at Koko at Crown Casino, compliments of head honchos (Dave and Denis) on the last day of this month… what a night it was!
Jul '18: Arranged a 72nd birthday & retirement satay lunch for Wayne on the 1st & invited Dave and a close family friend, De'Arne & daughter Ellie to join in. There were no complaints so the food must have been edible! Our wedding anniversary on the 5th was celebrated with a dinner of Rock Lobster Burgers at Blu by Australian Seafood Fish and Chippery – yum! I then launched into making labels for spices & condiments for our caravan & a few decorative pieces for that "feminine touch". Finally, we were all set for our first road-trip as we await the arrival of Nina's baby.
Aug '18: On the auspicious date of 8-8-2018, we welcomed Phoebe Maia Elizabeth into our lives – another beautiful grand-daughter for us to love & spoil… Once the dust had settled, we left for our 1st caravan trip on the 21st – just to buy seafood in Ballina. Stayed in Bathurst for a few days before Ballina with a return trip via Coffs Harbour for our customary body-building Banana Splits. Got home on a quiet Father's Day but no complaints from Wayne as gifts had been received before we left.
Sep '18: Deej & family flew down from the Gold Coast and descended upon us just so he could celebrate his 45th birthday with the Melbourne family. I prepared a feast of Goat Briyani, Lamb Curry, the customary Curry Puffs and dessert of his favourite home-made Sticky Date Pudding with Butterscotch Sauce. It was fantastic having all our kids under the one roof! Needless to say, it was a rather noisy day… On the 29th we (The Wrinklies) drove off in the Ranger with the caravan in tow for a longer road-trip…
Oct '18: On the road in our caravan all of this month – First, a few days at our mate's (Neil) farm "Archdale" in Wirrinya & from there, we travelled on to Moree then to Thallon to admire the Silo Art there before overnighting in Surat & Emerald. Spent a few days in Mackay, then to Bowen & Townsville to catch up with old friends, Rae & Gavan. "A couple of nights" in Atherton at the Atherton Rifle Range with Rick stretched into 7 nights as it quickly became apparent that it was impossible to cram in all the attractions in a mere "couple of days". With the caravan resting comfortably at the Rifle Range, we drove (actually, Wayne did all the driving while I simply kept him awake with gentle snores when I power-napped in between bouts of Karaoke to country songs on my mp3 player.) all over the place, doing "touristy" stuff. I think Rick would have liked us to stay for longer as on the night before our departure, he threatened to chain up the caravan to the light pole & take the wheels off the Ranger to prevent us from leaving!!! From there it was back to Townsville, Mackay, Rockhampton & Gin Gin (to see the Mystery Craters in South Kolan), before staying at the Maroochy River Park for three nights to catch up with friends Bev & David. Then we head off to the Gold Coast for 4 nights with Deej & family and while there, we drove to Caboolture to take Mum Merle out for lunch and dropped in to say hello to Wayne's sister, Jilly & hubby John. We began heading home on the 31st.
Nov '18: We stayed in Gunnedah for a night and re-visited Neil in Wirrinya for a couple of days before a night in Culcairn. Got home safe & sound on the 5th of this month, after being away for almost 6 weeks on a 9,000km round trip through VIC, NSW and QLD. Enjoyed a quiet birthday this year with 2 separate lunch dates with the girls, not knowing that a Silo Art Trail road-trip had been planned by my MOTH as my birthday surprise. We left home on the 18th to marvel at the artistic murals on various silos along the Silo Art Trail and stayed a couple of nights at the River Country Inn in Moama. I spent my birthday with an ice-cream lunch in Echuca, a T-bone steak dinner at the Moama Bowling Club and red velvet b/day cake washed down with Sparkling Mango Wine in our motel room. Came home on the 22nd to welcome our house guest (Farmer Neil) who stayed with us for 3 nights. As soon as he left, we took off to Phillip Island for 2 nights to socialise with Rae & Gavan who had flown in from Townsville for a family wedding. Now here I sit, pounding away at my keyboard to get this newsletter ready before Christmas Day… I'll sign off with our very best wishes for a safe and happy festive season – Merry Christmas from our house to yours and a toast to a peaceful, happy 2019… Cheers! (Please click on each thumbnail to enlarge image.)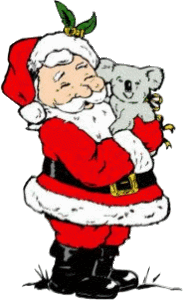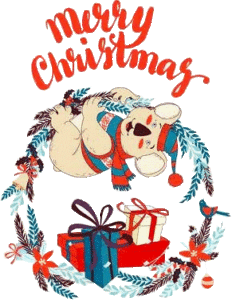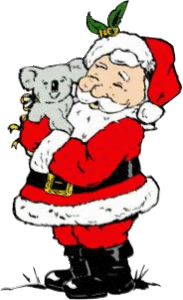 From
Mona, Wayne & Tribe