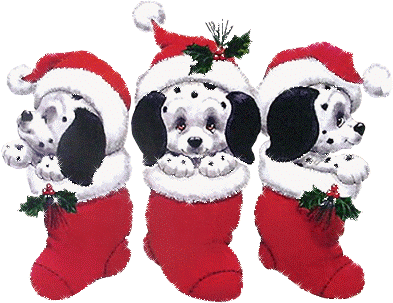 N
E
W
S
L
E
T
T
E
R
2
0
1
7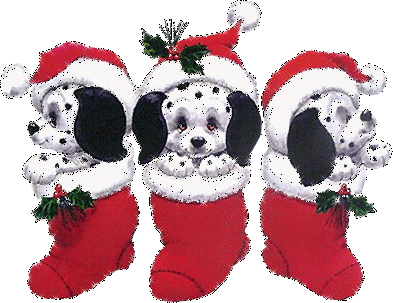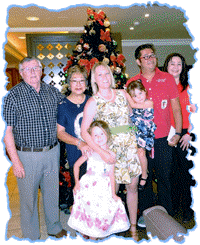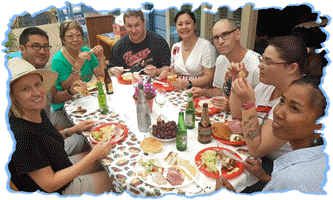 Dec '16: Gen's 40th birthday on the 4th was celebrated with a High Tea at Aria Lounge, Langham Hotel. Sharon's birthday was celebrated a few days early before Wayne and I went for a little drive to Port McDonnell to pick up a few lobsters for Christmas with a slight detour to Nelson to wet our lines. Wayne's work Xmas party was again held at Moonee Valley Racecourse where we pigged out on seafood and yummy desserts. We had a fabulous family Christmas at Sharon's this year when Deej, Gen, granddaughters Skyla and Stella and their guest, Chenda from Cambodia planned their touring adventure from the Gold Coast to get to Melbourne in time for Christmas.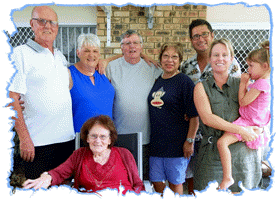 While the young 'uns partied, Wayne and I celebrated New Year's Eve with a home-cooked Lobster Au Gratin dinner.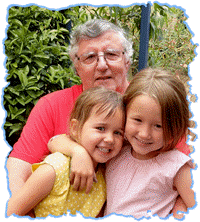 Jan-Feb '17: After Deej and his tribe returned to their home on the Gold Coast, Wayne and I jumped into our car on the 24th and drove up to Qld. to terrorise their household. While there, we celebrated Mum Merle's 94th birthday (a day late) before doing touristy things with Chenda. A week later, we were on the road again, this time to our mate's farm "Archdale" for a few days of "chin-wagging" and "yabbying" in his numerous dams before heading home.
Mar '17: A fair bit of planning was involved for our overseas holiday this month – with my Singapore niece (Aisyah)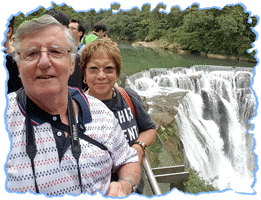 and Chenda being in the loop, Wayne & I left Melbourne for a fun-filled holiday in Singapore and Malacca before surprising Deej and Co. when they arrived in Kuala Lumpur en route to Cambodia for their holiday! To allay any suspicion, we had told Deej that we were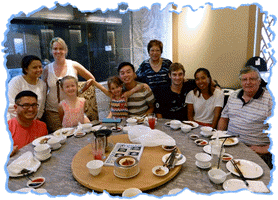 going on a fishing trip, all the while we kept up to date with their travel itinerary through Aisyah and Chenda. The look on Deej's face was priceless as he exclaimed, "W.T.F.?!?" when we sprang out from behind the bushes when all he was expecting to see were Aisyah and her husband, Rishad! Together, we enjoyed a few days of shopping and eating, (lots of eating) before we parted company and went our separate ways. Wayne and I then continued with our holiday – doing all the touristy stuff in Taiwan and Seoul and another few days in KL before coming home 3 weeks later, with rather light pockets and a "few" photos.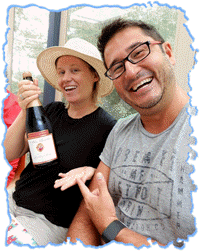 Apr '17: As we disembarked from our plane on Apr 1st, we waved to Nina who was winging her way for a 10-day Vietnam holiday with her fellow-teachers. Instead of the traditional fish on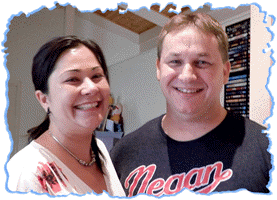 Good Friday, we decided on a rock lobster dinner (well, lobster IS seafood, after all…) We celebrated grandson Nathan's 14th birthday on Easter Sunday with lots of yummy "body-building" food. We spent a week afterwards trying to shake off the extra kilos to no avail. Wayne was feeling a tad under the weather and didn't feel fit enough to march in the ANZAC Day parade this year. However, I succeeded in bringing a smile to his face with a home-cooked lobster dinner.
May '17: This month started very sadly when Mike lost his dad, Simon, in a tragic motorcycle accident on the 4th. On the bright side, I celebrated Mother's Day FOUR times – 1st celebration was with Deej who flew down a week before, for an early Mother's Day celebration with me – a Pho lunch followed by a Malaysian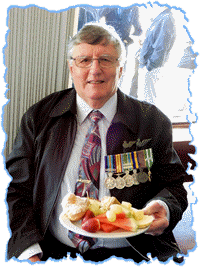 dinner before flying back to the Gold Coast to celebrate Mother's Day with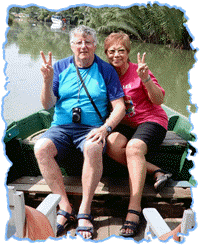 Gen. 2nd celebration – the Friday before Mother's Day, Wayne took me to a "Tribute to Elvis" dinner-show-dance at the Glenroy RSL. 3rd celebration – on Mother's Day, Nina and Dennis treated Wayne and me to a scrumptious lunch at Flavours of Mekong and finally, the 4th celebration on the following Sunday, with Sharon and Greg – High Tea on the High Seas on board the Queenscliff-Sorrento Searoad Ferry. I just love feeling so loved!
Jun '17: Another sad month as we lost a dear mate of Wayne's, Jack Reilly. We attended his funeral service in Avenel on the 14th.
Jul '17: Wayne's 71st birthday was celebrated with a steamboat lunch at home with our loved ones in Melbourne. We celebrated our wedding anniversary a few days later with an authentic Malaysian dinner and went to Erskine Falls in Lorne the following day. This month was relatively quiet while we made plans for me to fly up to the Gold Coast to surprise my niece, Aisyah and Rishad (hubby) when they arrive from Singapore to visit Deej and family.
Aug '17: Wayne took me on a date to enjoy an evening with the Australian Beatlez at the Glenroy RSL on the 11th. What a fabulous night we had as we dined, sang and danced to favourite Beatles hit songs. I flew up to the Gold Coast on the 21st and spent the next 8 days doing touristy stuff with Aisyah and Rishad. The highlight of this trip would have to be the Australian Outback Spectacular's Salute to the Light Horse show that Deej and Gen treated us to.


Sep '17: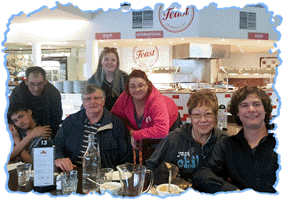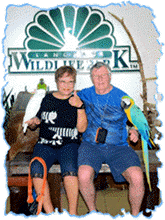 We went to Flavours of Mekong (again) for Father's Day to enjoy yet another delicious lunch, thanks to Nina and Dennis. (To be perfectly honest, I love almost all meals that I don't have to cook!) For the rest of this month I was frantically burning the candle at both ends to put together a scrapbook as a surprise gift for grandson Mike's 21st birthday. I gathered enough photos from Sharon and Mike's paternal grandma, Judy, and successfully scanned, edited, arranged and printed 40 pages to fill the scrapbook album just in time to present it to Mike on the 30th at a surprise early birthday lunch. [Wayne and I will be out of the country on his actual birthday (Nov 5th) thus the early gifting.]
Oct-Nov '17: We left Melbourne on Oct. 15th for our second overseas holiday this year – first stop was Singapore for 3 nights, then to Meritus Pelangi Resort in Langkawi for 5 glorious days before a couple of nights in KL. From there we headed off to Vietnam (Hoi An, DaNang and Ho Chi Minh City). Our final destination was Kampot, Cambodia to attend the Khmer wedding of Chenda Nem and David Lowry on Nov. 5th. A wonderful, memorable wedding where new friendships were formed with David's mum and her 2 best friends who flew over from the US to attend. We came home on Nov 8th and slowly got back to our normal routine. There I was, just happily chillin' away… until the first Christmas card arrived in my mail-box at the end of the first week of Dec. So here I sit at 4.50am, pounding away at my keyboard to put this newsletter together. Before I hit the sack, I would like to wish each and every one of our family and friends a safe and merry Christmas with your loved ones and may 2018 be a happy, peaceful year for us all.

(Please click on thumbnails to view larger images.)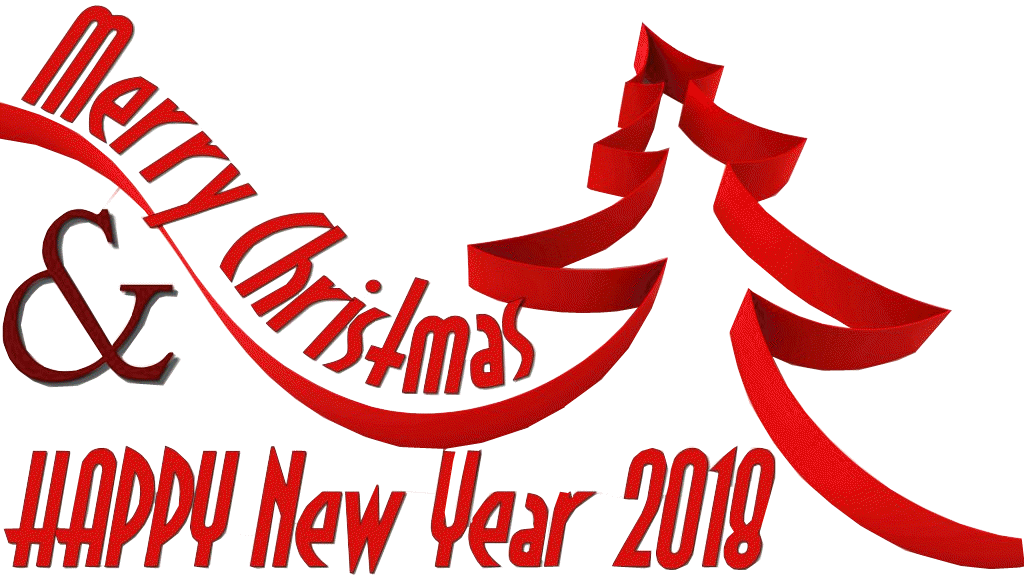 From
Mona, Wayne & Tribe