N
E
W
S
L
E
T
T
E
R
2
0
1
2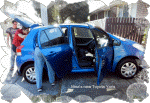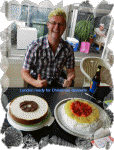 Dec '11: Nina took delivery of her brand new Toyota Yaris early this month. With Deej, Gen & baby Skyla home for Christmas this year, a very merry family Christmas was celebrated at Lyndon's & Caro's (Gen's brother & his wife) home. I was designated to bring along a pavlova for the occasion but being full of holiday spirits, I also made a cheesecake as a surprise. Wayne & I stayed home on New Year's Eve so we could babysit Skyla for the night. I was in my element minding my little cutie pie as she is such a joy to have around.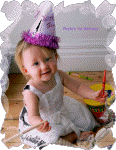 Jan '12: New Year's Day was spent in the kitchen with Gen baking a pink balloon-shaped cake to celebrate Skyla's first birthday. 40C temperature was predicted for Jan 2nd so the planned birthday party at Elwood Sailing Club was postponed to Feb 4th. Instead of which we had an impromptu family birthday party at Lyndon's & Caro's air-conditioned home.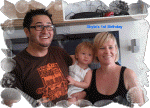 Feb '12: I played a supervisory role for a couple of days in the kitchen while Gen tried her hand at baking, icing and decorating 3 balloon-shaped cakes for Skyla's belated birthday party. Flushed with success, she went on to make a few dozen vol-au-vents as well which very quickly disappeared during the party. Deej and Gen left for Cambodia the day after Valentine's Day and to cheer me up, Wayne immediately took me on a roadtrip to Canberra to snap up some birdie photos at the Canberra Walk In Aviary.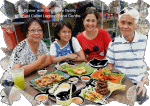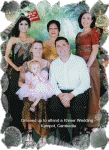 Mar '12: Early in this month, we decided to take our motor-home for an outing to South Australia. With no particular plan in mind, we made spontaneous stops along the way. We wet our lines in the Glenelg River and caught a few fish, did a spot of bird-watching and took in the sights as we made our way to Port MacDonnell for a feed of freshly cooked lobster. Then onwards to Beachport for more lobster dinners before coming home with a fridge full of the delicious crustaceans. Yum! I spent the rest of this month daydreaming of an upcoming holiday with Nina and had my bags packed a good week before the departure date.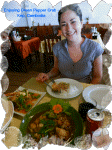 Apr '12: Nina and I enjoyed a wonderful overseas holiday during the school Easter break. We spent a couple of days in Singapore before flying up to Phnom Penh to spend a week with Deej & his family in Kampot. While in Kampot, we were invited to a traditional Khmer wedding so we decided to dress up Khmer-style for the occasion. We also did the touristy thing at Sihanoukville, indulging in beachside massages, manicures, pedicures, etc., while sipping our cocktails… a most relaxing holiday indeed! Then it was back to Singapore for another few days of eating and shopping before coming home broke but happy.
May '12: Had a rather tame Mother's Day this year without Deej, Gen & Skyla at the table at Dicaprio's Restaurant. I had to be content with a lovely card, massage and facial gift vouchers and a video chat with them later that evening.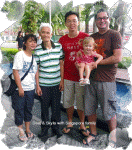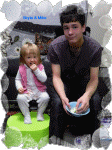 Jun '12: This month was spent doing mundane chores around the house while holding the post of a receiving clerk for wedding-related items that Sharon had purchased for her December event.
Jul '12: Deej, Gen & Skyla arrived in Melbourne on Wayne's 66th birthday which was celebrated with a family dinner at Dicaprio Restaurant. The reason for their unexpected trip home was to visit Gen's gravely ill 101yo Grandma Ena who sadly passed away just before they got to the hospital. Deej, Gen & Skyla stayed with us for 3 weeks so I got to cuddle and spoil Skyla during that time. They left later this month for a 2-week holiday in Singapore, Bangkok & KL before returning to Kampot.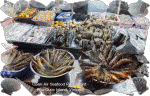 Aug '12: This was a quiet month for me as I underwent 4 sessions of traction therapy to ease the discomfort of a tingly left arm.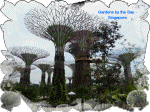 Sep '12: Wayne & I landed in Singapore on Sep 8th to begin a three-week holiday covering Singapore and Cambodia and topped it off with 4 glorious days at the Saigon Phu Quoc Resort & Spa on Phu Quoc Island, Vietnam, to celebrate Deej's 39th birthday. Wayne bought me a stunning black pearl and diamonds pendant from a pearl farm on Phu Quoc Island as a souvenir from this trip. We thoroughly enjoyed the time spent with our loved ones & their friends – a holiday filled with great food, great company and fun times. Upon our return, before I could catch my breath, I was sweet-talked into going to the Royal Melbourne Show with Sharon, Mike & Nate so we could part company with a pocketful of money buying lunch, drinks and show-bags.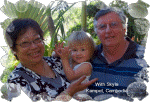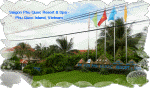 Oct '12: The Rock Lobster season in South Australia started on the 1st of this month… a week later we jumped into our Peugeot for a quick trip to Port MacDonnell, Australia's Southern Rock Lobster Capital, (460km away) to buy a few. Alas, it was all in vain as bad weather had prevented many of the trawlers from going out to sea. No doubt we will make another trip before the season closes at the end of May.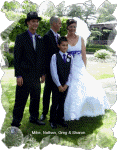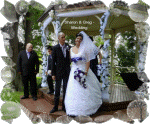 Nov '12: This turned out to be the busiest month of this year, kicking off with Mikey's 16th birthday celebration on the 5th. I prepared and fried 4.5kg of my homestyle popcorn chicken for the occasion. This was followed by making satays for Sharon's Hen's party, superbly organized by her bridesmaid, Andrea – complete with a topless waiter and later on in the evening, a male stripper. The party carried on till 2am at an Irish pub in Essendon. I had a low-key birthday celebration with a family dinner at a new Japanese Restaurant not too far from home. As usual, I wasn't short on presents – flowers from the boys at Wayne's workplace, an ultrabook, a watch, Mahjong game set, cash, etc… I LIKE BIRTHDAYS! After my birthday, I got busy with lace, sequins, beads, needle and thread to tone down the eye-popping cleavage on the dress that Sharon will be wearing on her Wedding day (Dec 8th). This month came to a close with a Christmas function during the night races at Moonee Valley Racecourse with all you can eat seafood buffet as well as the traditional roasts and oh-so-yummy desserts.
I hope this has been as good a year for you as it has been for me. Before I bid farewell to 2012, I would like to take this opportunity to wish one and all a very Merry Christmas and a Happy and Peaceful 2013. (Please click on thumbnails to view larger images and click on Wedding for the write-up.)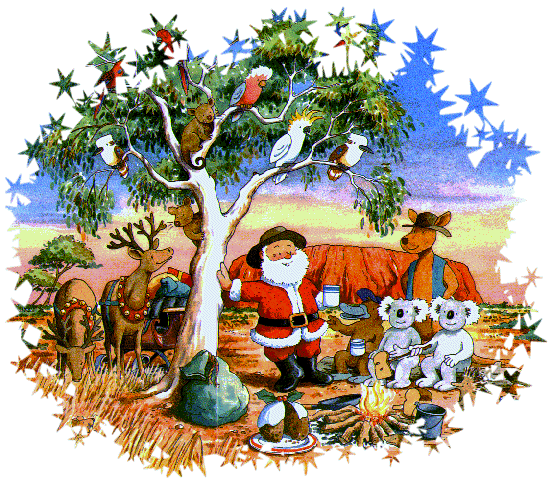 From
Mona, Wayne & Tribe