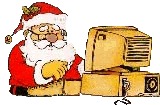 N
E
W
S
L
E
T
T
E
R
2
0
1
1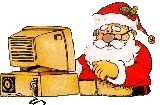 Dec '10: After celebrating Sharon's birthday with a family dinner, Wayne and I left for a road-trip to Queensland to celebrate a family reunion Christmas with Wayne's brother (Kerry) and his wife (Louise) at their home in Wooloowin where a fantastic time was had by all who attended. We were caught in the Queensland floods but after a couple of days' delay, we made it back to Melbourne safe and sound. The young 'uns did their own thing to see the new year in while Wayne and I settled for a quiet evening at home.


Jan '11: On the second day of the new year, we received news that Deej and Gen have become very proud parents of little baby Skyla, the cutest little bundle of joy with blue almond-shaped eyes and blonde hair! I was mysteriously asked to get dressed in my Sunday best by Nina & Wayne on the 19th for a little "surprise" – our good friend and Nina's neighbour, Neil, arrived in his 1929 Buick to take Wayne and me for a little drive in his "baby"… The surprise was 2 front row tickets to see the stage musical, "Hairspray", at the Princess Theatre, compliments of Neil, as a "thank you" for some classical music that I had compiled for him. What a great start to the new year…
Feb '11: A month where I threw caution to the wind and indulged in buying lots of cute baby stuff in between cuddling the new addition to the happy family. Wayne and I exchanged garlic and curry-flavoured Valentine's Day kisses after a scrumptious Indian feast at the Maharaja's Wok Restaurant not far from home.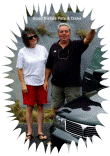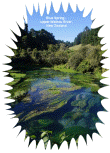 Mar '11: Spent the first three weeks of this month making plans and day-dreaming of the fun times we would have catching up with our friends, Pete and Diane in Cambridge, New Zealand. We certainly weren't disappointed as our hosts went out of their way to make our stay a most enjoyable one. In between wining and dining, we went sight-seeing, checking out almost everything that was worth a visit – Aranui Cave, the pristine Blue Spring in the upper reaches of the Waihou River, the impressive Huka Falls, Bridal Veil Falls, Hamilton Zoo and the Otorohanga Kiwi House, to name but a few of the places where our cameras were put to work with great enthusiasm.
Apr '11: Arrived home on the 3rd of this month from our New Zealand holiday, wishing we had planned on a longer stay. Our grandson (Nathan) celebrated his 8th birthday with a wee party on the 16th. Deej and Gen treated their Cambodian housemaid, Synat, to a holiday Down-Under so extra chocolate goodies were called for so that Synat and another Cambodian friend, Chenda, could have their first experience of an Aussie Easter.

May '11: Deej and Gen treated me to an early Mother's Day lunch at Livebait Seafood Restaurant at Docklands on the 5th as they had a prior engagement and wouldn't be able to attend the usual Mother's Day family gathering this year. What a great Mother's Day – I had an all day celebration – first was lunch with Nina, Dennis and our step-grandson, Dillon at a local pub, followed by a few hours playing with the buttons on the poker machines. After she finished work, Sharon and her partner Greg together with Mikey and Nathan met up with us for some Vietnamese tucker. (I love it when I get cooking-free days.) As always, I was showered with lovely gifts from my loved ones. This month ended with a farewell family dinner for Deej, Gen and baby Skyla before their return for another six months' stay in Cambodia.
Jun '11: I concentrated on a scrapbook project that I had started in April. Many an hour had been spent in compiling this scrapbook that I intended to present to Wayne's sister, Jillanne, on her 60th birthday next month.
Jul '11: We had an early family celebration for Wayne's birthday and left Melbourne on his actual birthday to travel to Queensland to attend Jilly's 60th birthday bash. Prior to the party, Wayne and I again exchanged garlic-flavoured kisses after our 26th wedding anniversary dinner at Hog's Breath Cafe in Mooloolaba. We also managed to fit in a few scenic drives around the Sunshine Coast area before the day of the big party. What a party it was – a gathering of 70 happy folks who wined, dined & danced the night away to the music from a jukebox especially hired for the occasion. I finally got to see "a few" rainbow lorikeets at Currumbin Wildlife Sanctuary on the way back to Melbourne.
Aug '11: Flight tickets and accommodation bookings were all finalized in preparation for another S.E. Asian holiday at the beginning of next month. Triple excitement time in store as this holiday had been especially organized to coincide with my Singaporean niece's long-awaited wedding. What's more, I would get to cuddle L'il Miss Skyla sooner than hoped for as Deej and Gen would be present for the happy event. Then there are the various wats waiting to be visited in Siem Reap before continuing on to Phnom Penh and Kampot… Oh happy days!

Sep '11: We flew into Singapore on the evening of Sep 3rd to be warmly met by my niece Aisyah and her fiance, Richard. Three days after their Sep 5th wedding, Wayne & I left for Cambodia with Deej & Gen, destination: Siem Reap. In four days, we managed to squeeze in tours to many interesting sites, climbed up and down at least a gazillion steps of the various temple ruins (Bayon Temple, Angkor Wat, etc), had our photos taken with apsara dancers, took in a boat ride on Tonle Sap Lake to check out the floating village, sampled the local fare, shopped in the night market, drove through flooded roads and enjoyed awesome Khmer hospitality everywhere we went. I had my first experience of skin-eating fish therapy before we all travelled on to Kampot (via Phnom Penh) to meet up with Peter, (Gen's dad) for several more fun-filled days. Peter left Phnom Penh on the same flight as us and we parted company in Kuala Lumpur – he flew back to Melbourne while we met up with Aisyah and Richard to spend 6 days together exploring the city and surrounds. We came home with empty pockets but happy hearts.

Oct '11: Wayne surprised me with a new whiz-bang digital camera despite no road-trips or holidays planned for the rest of the year. Instead of clicking my new camera, I spent many, many back-breaking hours weeding! After helping Sharon organize a BBQ to celebrate her engagement to Greg on the 22nd, I succumbed to temptation and indulged in some spring-cleaning for a bit of added fun. Jillanne & John arrived from Queensland for a few days' visit towards the end of this month to attend the Melbourne Cup races and left the day after.

Nov '11: After their departure, I immediately launched my next mission… Two days of intensive preparation culminated in an afternoon of serious satay-eating session in the company of our extended family to celebrate Mikey's 15th birthday on the 5th. Two weeks later, it was my turn to be in the limelight as I celebrated my 61st birthday with a Chinese Steamboat/BBQ evening. I scored big time in the gifts department this year, including a special delivery of my favourite Issey Miyake perfume from Wayne's boss and an all-singing, all-dancing, Dell desktop computer from Wayne among other equally exciting presents from my loved ones. We welcomed Deej, Gen and baby Skyla back from Cambodia about an hour after the last day of this month.
I'll be slapping on some war-paint and slipping into my glad rags on Dec 9th to spend an evening at the races at Wayne's work Christmas function. Christmas Day will be spent at Gen's brother's home this year so no heavy-duty cooking for me. Yay!!! As 2011 draws to a close, I look forward to welcoming a happy 2012. To our friends and their loved ones, may your Christmas be merry and bright and may the new year bring you Love, Peace and Joy. (Please click on thumbnails to view larger images.)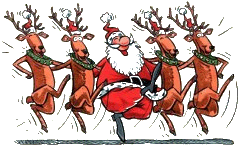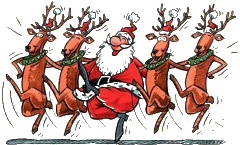 From
Mona, Wayne & Tribe