NEWSLETTER 2009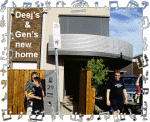 DEC 08 – Took our Peugeot for a drive to Lakes Entrance on the 5th and while there went to check out Royal Cave in Buchan. Sharon celebrated her birthday with a BBQ at her place. We attended grandson Mike's Primary School graduation in Romsey on the 18th. A fun-filled Christmas with families from both sides (and a few close friends) was celebrated at Deej's & Gen's new home in the inner city suburb of Burnley. Nina and Dennis went to Horsham for her birthday so New Year's Eve was pretty low-key this year – a quiet evening at home, just the two of us, sipping champagne to see the New Year in…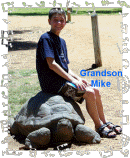 JAN 09 – While the young 'uns were doubtlessly nursing hangovers from the previous evening's merrymaking, Wayne and I went to the cinema to watch the movie "Australia" on the first day of the year. We celebrated Nina's birthday upon her return from Horsham with the usual copious amounts of home-cooked food that I had prepared. A couple of days later Nina flew up to Queensland for four days to see her 91yo Nana Joyce when we received news that she was gravely ill. Deej & Gen also took time off their busy work schedule to fly up to visit Nana but she had passed away on the 10th, just as their plane landed. Sharon caught the next flight out to attend the funeral and the three of them spent some time to comfort their father before flying back to Melbourne. Wayne and I took Mikey to Dubbo to check out the places of interest there, namely the Taronga Western Plains Zoo, where I discovered that a digital SLR camera does not operate as a GPS when Mikey and I got lost for about 40 minutes in the zoo in 40C heat while Wayne waited for us in the comfort of the air-conditioned Peugeot! Dennis' birthday was celebrated with a BBQ at their place at the end of this month.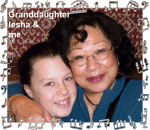 FEB 09 – I went on the Champix program and quit smoking on Valentine's Day and unlike previous quit smoking attempts of the past, I was not unbearable to live with! Mind you, I still crave for a cigarette now and again… We went on a three-day road-trip to re-visit Tantanoola Cave before going on to Hopkins Falls and Mt Gambier to check out the Sinkholes there.
MAR 09 – Had Iesha sleepover for the weekend of Nina's & Dennis' first wedding anniversary and took her to her very first drive-in movie. I must have slept through most of this month as I don't recall doing anything worth remembering. I do remember waking up on the 15th to respond to a call for assistance to supervise while Wayne and Dennis with 5 other mates lent a helping hand to Neil (Nina's neighbour) in his aviary relocation project.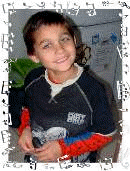 APR 09 – Sharon worked in the ticketing booth of the Flower & Garden Show so Wayne & I scored free tickets to attend. I managed to keep a tight rein on my love for orchid plants in view of the water restrictions that are in force and came home with merely a few packets of coloured water storage crystals. Nate's 6th birthday was celebrated with a BBQ at Sharon's & Greg's with not much input from me. Whew! It made a nice change for me to just relax, eat and run!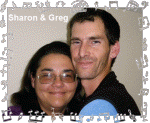 MAY 09 – Left Melbourne on the 2nd for a Queensland road-trip to attend a Mother's Day reunion at Jilly's & John's organized for the 9th to meet Wayne's long-lost nephew and family. A great time was had by all with plenty of food and drinks to keep us merry, some a bit more than others…We left on Mother's Day to begin the drive back to Melbourne. I celebrated Mother's Day with my kids and grandkids the Sunday after at Anatolia's Turkish Restaurant. I received some beaut presents, including a new desktop computer from Wayne. Armed with my SLR camera, Wayne & I headed off to Melbourne Zoo at the end of the month, because we felt like it.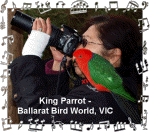 JUN 09 – We challenged our body temperatures by spending a chilly Sunday afternoon at Bird World in Ballarat on the 7th, snapping photos of our beautiful feathered friends. Two days later, I cut my forehead open when I tripped and fell against my fish-tank terrarium on the back porch. Not one to do things by halves, I also sprained my thumb very badly when I fell. As I picked myself up, I noticed blood dripping onto the concrete floor and realized then that I needed help. An SOS to Wayne immediately got him racing home to take me to the nearest medical centre to get my forehead patched up and my thumb x-rayed. I did very little cooking for the next ten days or so as I could hardly move my thumb so Wayne served up many Hungry Jack's and KFC meals during that time. Today, over six months later, I have regained about 85% usage of my thumb. Should there be another attention-seeking impulse, I will try and think of a less painful way of doing it. To cheer me up, ten days later we re-visited Bird World for more photos. Time for the mid-year school holidays so we kidnapped Mikey for a weekend at the end of the month to go to Kyabram Fauna Park… yes, for more bird photos!

JUL 09 – Wayne's birthday was celebrated with a BBQ on the 4th and instead of a birthday cake, he asked for one of his favourite desserts, homemade caramel tart. While watching TV that night, his legs fell asleep and on getting up, his left leg failed him and he fell in a heap onto the floor. This resulted in our 24th wedding anniversary being a pretty tame affair as he nursed a sprained ankle. We took Mikey to Healesville Sanctuary later in the month where we took some awesome photos of the Superb Lyrebird.
AUG 09 – A quiet month for me and my only project was to put together an "East meets West" horoscope for Greg for his birthday. Sharon and Greg went on the Colonial Tramcar Restaurant to celebrate his birthday.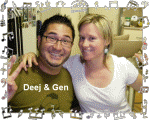 SEP 09 – Father's Day was celebrated with a BBQ at my place with curry puffs for entree and a chocolate mousse cake for dessert. He got an Olympus Digital SLR camera and was thrilled to bits. As Nina would be in Tasmania on a school trip on Deej's birthday, we had a family celebration a few days early. On the morning of Nina's return from Tassie, she accompanied Sharon, Mikey and me to the Royal Melbourne Show where we blew a few bucks on show-bags. During the school holidays, we took Mikey up to Mildura to check out the Golden River Zoo on the banks of the Murray River, only to find that the zoo had closed down seven years ago! We had fun anyway, exploring the billabongs and floodplains nearby instead.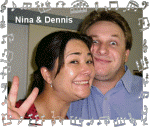 OCT 09 – Wayne and I helped Sharon and Greg move into a rental property in a suburb close to us and I helped Sharon clean up the old house and garden in between cooking and freezing a dozen dinners in preparation for our Tassie holiday. We celebrated grandson Mikey's 13th birthday a week early as we would not be in town for it. Our motor-home was dragged out of hibernation, dusted off cobwebs and serviced to be ready for a ride on the Spirit of Tasmania on the 30th. We spent the night in the comfort of a cabin with a porthole where I spent quite some time watching a dramatic lightning display when we sailed through a thunderstorm in the Bass Strait.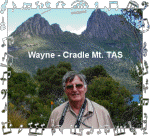 NOV 09 – Our fantastic fifteen days' holiday was spent traipsing all over the beautiful Apple Isle and we must have walked a million miles to check out various waterfalls, caves and other places of interest that we had missed during our last trip in 2007. We had a most enjoyable six-hour Arthur River Cruise on our second day there and towards the end of our trip, we went to the Cradle Mountain National Park and walked the Dove Lake circuit which is rated as an easy 2-hour 6km walk. Yeah, right! No doubt it has been rated by some super-fit physical trainer in his/her early twenties as it took us three and a half hours with many, many rest stops for me to catch my breath and take photos. We also visited all the wildlife parks that boasted of aviaries where we captured numerous photos of pretty birdies and went on guided tours of the Cathedral Gardens & Glow Worms Cave in Marakoopa and the Gunns Plains Caves. Unfortunately, the lobster season started on the day of our departure. Bummer! After our return, we had a low-key family celebration of my birthday at a Turkish restaurant. I am eagerly looking forward to my next birthday when I will qualify for a Senior Card with its discount benefits.
Wayne had a radical prostatectomy done on Dec 7th and I am very pleased to say that the operation has been successful. The whole issue has been kept a secret from his mum and step-dad as he does not wish to stress them out. He is making excellent progress and will be discharged from hospital tomorrow (Sunday, Dec 13th). On that happy note, I will end this newsletter but not before wishing one and all a very merry Christmas and I hope 2010 will be a good year for us all.
OzLadyM


MERRY CHRISTMAS & A VERY HAPPY 2010