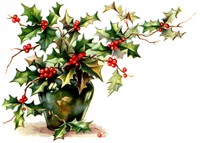 N
E
W
S
L
E
T
T
E
R
2
0
0
8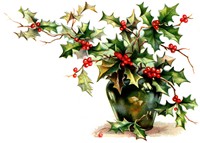 Dec 07: Gen's birthday on the 4th was celebrated with a family dinner of Chicken Curry and Prata (Indian flat bread). Wayne went in for his hernia repair operation a couple of days later and Sharon, who was living within a hoot and a holler since leaving her husband of 5 years in July, was our chauffeur during the recuperation period. Her birthday was also celebrated quietly with my home-cooking followed by a black forest cake made by Nina. Christmas Day was a noisy, happy day at our place with a special guest, Neil, a good friend and neighbour of Nina and Dennis. By this time, I was eagerly looking forward to presenting Nina with a scrapbook that I had quietly put together over a period of many, many weeks prior, at a surprise 30th birthday Satay party on the 29th, a couple of days before her actual birthday. I managed to get in touch with some of her old school-mates, a few fellow teachers and all her close friends. As planned beforehand,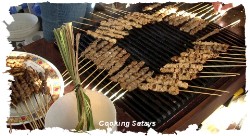 her fianc� Dennis took her shopping in the morning and as soon as we received the "all clear" phone call from Neil, the family raced over with all the party gear to decorate the garage, haul tables and chairs over the fence from Neil's home, re-fry 100 curry puffs, etc., By 1pm, we were ready to rock 'n' roll but we had to wait in the sweltering heat for an extra hour before Dennis and Nina eventually fronted up with a huge widescreen TV set that Nina had purchased on impulse! By the end of the day, most of us were soaking wet after a water balloon fight to add to the merriment, in an attempt to keep cool in the heat wave. Wayne and I saw 2008 in at the Glenroy RSL with live entertainment of music and dancing while we drank and dined.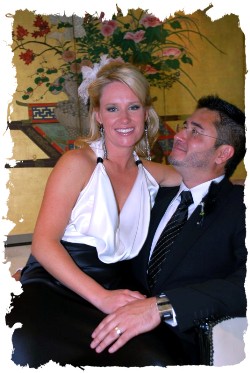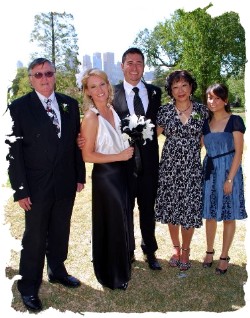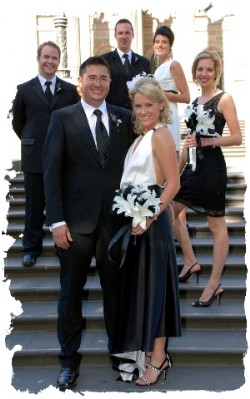 Jan 08: We barely had time to catch our breaths before Nina and I launched off on a shopping expedition for outfits and accessories to front up at Deej's and Gen's classy "A Touch of Vegas" wedding on the 12th and what a wedding it was! They left a week later to honeymoon for 3 weeks in Thailand, Malaysia and Singapore. My beautiful niece Aisyah flew in from Singapore on the wedding eve and stayed until the 19th so after the big event, we did touristy stuff – visiting the Aquarium, the Museum, Victoria Markets, etc., accompanied by my grandson Mikey and his non-stop entertaining chatter. Just before the new school year began, Wayne and I took Mikey on a fishing trip to Port Albert in our motor-home.
Feb 08: Early this month Wayne & I accompanied Nina & Dennis to Kyneton Ridge Estate boutique winery, the venue of their upcoming wedding to discuss seating arrangements and so on with Pauline, (Gen's mum) and her partner, John, who jointly own the vineyard. I was able to re-charge my batteries until the 23rd when I attended Nina's hens night at the Long Room situated in the iconic George's Building in the city, organized by the bridesmaid, Donna. After my departure at 11pm, the girls really let their hair down and partied on till the wee hours of the morning.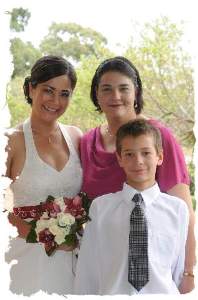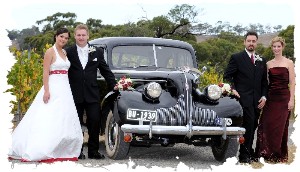 Mar 08: On the wedding eve, Wayne drove our motor-home which was loaded with cartons of assorted grog and soft drinks up to the winery. I went in Nina's car which was also loaded up with yet more booze and we spent the afternoon helping Pauline and John arrange the setting in the dining room for the wedding reception. Family and friends gathered on the 8th to witness and celebrate the wedding of Nina & Dennis in the idyllic setting of the vineyard. They spent their honeymoon in Noumea during the Easter school holidays. A few days after the wedding, Wayne and I headed for Albert Park to attend the Formula One Grand Prix where our ear-drums were challenged to the max during the four-day event.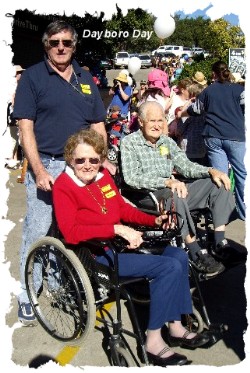 Apr 08: The rising cost of fuel was enough reason for Wayne to start looking at buying a more economical new car so one fine Saturday morning, we went window-shopping for one. By mid afternoon, he had signed on the dotted line to take delivery of a Peugeot 308 HDi. On the 24th, we drove the Landcruiser into the city and came home in our new "baby".
May 08: Naturally, we could hardly wait to take the Peugeot out for a bit of a drive, so very early in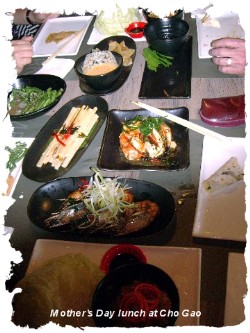 the month, we drove up to Swan Hill for lunch, stayed overnight and drove home the next day, stopping at Echuca for a bit of a look around. Mother's Day was celebrated with an extravagant feast at Cho Gao in the city where I was presented with a Nintendo DS Lite with several choice games. A week later, Wayne & I hopped into our motor-home for a road-trip to Queensland to visit the oldies, just in case they had forgotten what we looked like, as it had been over a year since our last visit. While there, we took the oldies up to Dayboro for the Dayboro Day celebration and even joined in the parade down main street, as my mother-in-law is the oldest surviving family member of one of the pioneer families.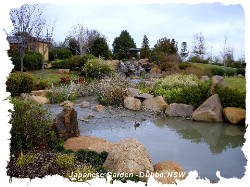 A few days later, we were back on the road heading north, stopping briefly on the Sunshine Coast to say g'day to a couple of old friends before going further north to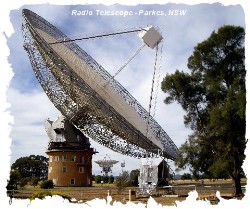 Tewantin to catch up with one of Wayne's old Air Force mates. I whipped up an impromptu Chinese dinner while the old boys drank and reminisced about the good old days. Forecast of more stormy weather in the north made us reconsider our travel plans and we decided to turn around and head for home. On the return journey, Lightning Ridge beckoned us and we left the Black Opal country with a stunningly beautiful opal pendant around my neck! We spent a couple of days in Dubbo and checked out the Japanese Garden there before heading for Parkes to view the impressive Radio Telescope (the dish is 64 metres in diameter) at the Parkes Observatory.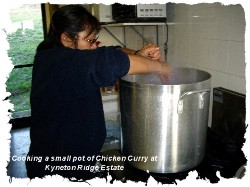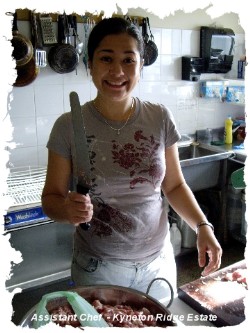 Jun 08:A couple of days after our return on the 3rd, we joined Nina on a "rescue mission" to help Pauline out. Wayne and I raced around buying ingredients for chicken curry, 40 pieces of Indian "roti" and a 5kg bag of basmati rice. No, it wasn't to feed a boatload of Indian refugees; it was to cater to 50 diners who had made reservations for a Sunday curry lunch function at the winery. We spent the best part of Friday afternoon in the kitchen of Kyneton Ridge Estate with Nina and me in a curry cooking marathon while Wayne drank coffee and took photos. After a scrumptious lunch, Pauline and John kept us going on a caffeine high with endless cups of caff� latte until the mission was accomplished. I was delighted to learn that the curry was a big hit with one and all.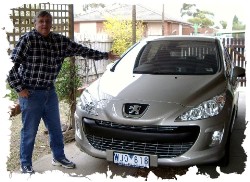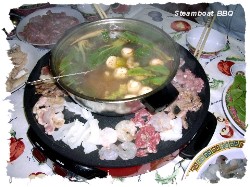 Jul 08: Wayne's birthday was celebrated at home with a Korean BBQ steamboat, as requested. We were a bit late in making reservations for a Colonial Tramcar dinner ride so we celebrated our 23rd wedding anniversary with a cosy dinner at an Italian restaurant not far away, before rolling home to indulge in a few glasses of wine. Much to my delight, Wayne surprised me with a Pentax K200D SLR digital camera. On the 26th, we jumped into the Peugeot and headed for Fairy Cave in Buchan where I gave my new "toy" a good work out taking a million photos of stalactites, stalagmites, flowstones, helictites and various interesting speleothems. We also checked out Agnes Falls on the way home. My new camera rocks!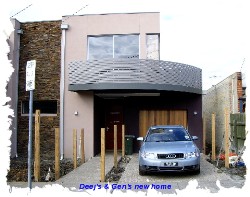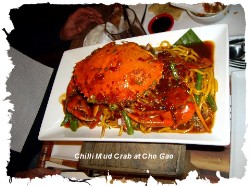 Aug 08: To take advantage of Cho Gao's Full Moon Chilli Mud Crab special, Nina shouted the family to an early Father's Day lunch on the 16th as she would not be in Melbourne during next month's full moon. We pigged out on super yummy Chilli Mud Crabs before waddling out the door with our full bellies. Deej's and Gen's new home in Burnley was finally completed and both families were invited for a housewarming afternoon tea on the 24th where we admired the hi-tech design and set-up in between eating yummy snacks and sipping champagne.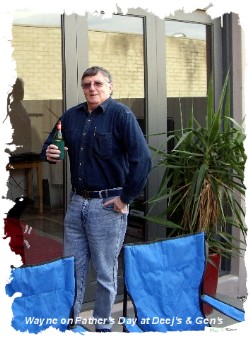 Sep 08: A Father's Day family gathering was held at Deej's and Gen's with both dads in attendance. We dined on Chicken Curry cooked by Deej and Tandoori Lamb Shanks cooked by Gen, accompanied by steamed Basmati rice and Indian "roti". Nina brought dessert that she had baked – mouth-watering Spiced Butter Cake and yummy Lemon Teacake. Nina left for a week-long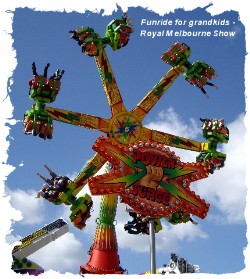 school camp in Tasmania with 40 students on the 13th. She had a fantastic time sharing duties with three other teachers touring various places of interest with their students. Deej's birthday family dinner consisted of Lamb Curry and Indian "roti", a mountain of Curry Puffs and home-made Pavlova with lashings of whipped cream, strawberries and kiwi fruit. Sharon, Nina & I went on the annual pilgrimage to the Royal Melbourne Show to spend a small fortune on showbags, lunch and fun rides for the grandkids. Mikey and I spent some quality time at the Royal Botanic Gardens on the 30th where I once again put my new toy to good use while giving Mikey a few Botany lessons.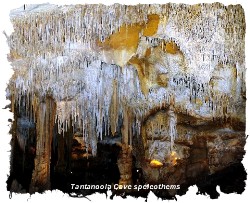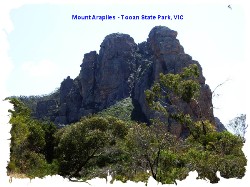 Oct 08: By the 19th, Wayne & I were ready to leave Melbourne behind us as we went on a road-trip in our motor-home to check out the caves at Naracoorte, stopping briefly to gaze in awe at the majestic Mount Arapiles in the Tooan State Park. Not satisfied with a gazillion photos of speleothems in the Naracoorte caves (Alexandra Cave, Victoria Fossil Cave, Blanche Cave and Wet Cave), we continued on to the magnificent Tantanoola Cave near Millicent in South Australia and completed our road-trip with a tour of the Princess Margaret Rose Cave in the Lower Glenelg National Park, Victoria. I came home with many, many photos of not only speleothems but also some lovely shots of our feathered friends in the wild. On the last Sunday of this month, Wayne & I and Sharon & her new partner, Greg, joined Mikey's paternal family and a dozen of his best mates from school at Whittlesea Funfields to celebrate his 12th birthday. While the kids indulged in the various activities on offer (from go-karts to water-slides), the grown-ups indulged in feeding our faces with a mountain of BBQ'd food in between gas-bagging.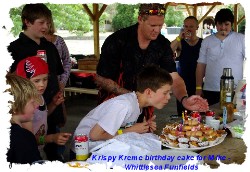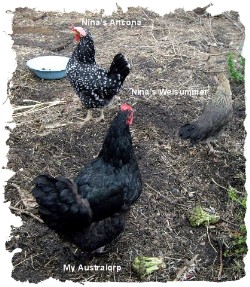 Nov 08: We celebrated Mikey's birthday again in a more sedate manner with a family dinner at my place a few days after his birthday. I received a most unusual early birthday present from Nina about two weeks before my birthday – two chooks (an Australorp and an Isa Brown) that live in her backyard – giving me a regular supply of free range eggs. Talk about a gift that keeps on giving… My birthday fell on a working day this year so I had planned on a lazy day at home beginning with a sleep-in. To my great surprise and delight, Nina had taken a day off teaching and fronted up bright and early to spend the day with me. She took me out for a Malaysian lunch in the city before we went on a "short" 2-hour drive to a chicken breeder where I decided to pay for two chooks of her choice just because I can. She now has a Welsummer and an Ancona. She then drove through peak hour traffic to get me home in time for my Japanese dinner date with Wayne. Deej organized a family lunch at a Chinese Seafood restaurant in Richmond on the Saturday after my birthday.
Our hectic and exciting year is fast coming to an end and as we look forward to Christmas and welcoming in the new year, I would like to take this opportunity to wish you all a joyful Christmas and a fabulous 2009. (Please click on thumbnails to view larger images.)
MERRY CHRISTMAS,
HAPPY NEW YEAR!



From
Mona, Wayne & Tribe