NEWSLETTER 2007


Dec 06: We attended Gen's huge 30th birthday bash at her mum & partner's winery in Kyneton on the 2nd before a quiet family celebration for Sharon's 31st on the 12th. Christmas Day was a happy, noisy one at Sharon's this year despite the absence of Nina & Dennis who spent the festive season with their Horsham family. For a change of pace, Wayne & I decided to see the new year in at the Glenroy RSL with a dinner and live band show. While we were grooving to the beat on the dance-floor, we received a phone call from Deej to inform us that he had finally plucked up the courage to ask Gen to marry him as soon as the clock struck the last stroke of the year.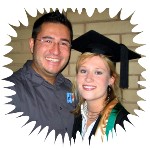 Jan 07: We celebrated the engagement with a family feast on the 3rd and I pinched myself black and blue to make sure it wasn't just a dream come true. I began compiling hit songs from 1969 to 1973 onto CDs as our contribution to the RAAF Transport Support Flight Reunion on the Gold Coast organized for 23rd & 24th Feb. Just before Mikey's new school term started, we loaded up our motor-home, 'Just Trip'n', dragged him from his computer and headed off to Port Albert for a few days' fishing.
Feb 07: On the 4th we went to the MCG for the ODI Cricket match between Australia and New Zealand. It was a great match especially because we won! We left Melbourne in Just Trip'n on the 17th and had a leisurely drive up to Queensland to spend a few days with family on Bribie Island before attending the TSF Reunion. The Reunion was a challenging time for me, trying to behave as if I 'belong' in a gathering of folks reminiscing about a period of their lives during which I wasn't involved in and I don't think I succeeded. However, it was good to see my MOTH in high spirits and I look forward to the next reunion in Penang in a couple of years' time. For me, the highlight of this trip was the leisurely drive to Port Albert after the Reunion for a few days' fishing.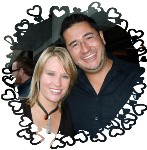 Mar 07: Got home from Port Albert on the 3rd and I quickly slipped back into my daily routine. This month's highlight was the 'official' celebration of the engagement of Deej and Gen, held at the trendy watering hole, '3 Below' in Melbourne's City Square on the 24th. We got to meet the rest of Gen's family as well as their gazillion mutual friends and had a whale of a time socializing. Wayne was legless while the night was still young so I bundled him into a cab and we left the scene of the crime.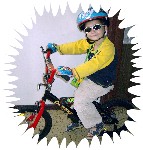 Apr 07: To prevent Mikey from any 'sugar high', he wasn't given any chocolate eggs this year. Instead, we gave him a PS2 game and took him on a road-trip in Just Trip'n to Lakes Entrance. We did a fair bit of eating, sightseeing and walking along the river bank with our respective cameras snapping up photos while "Grandpa" did a spot of fishing and generally had a wonderful time. Nathan celebrated his fourth birthday by learning to ride the bicycle we bought him.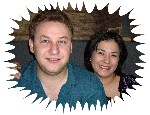 May 07: Ahh' another wonderful Mother's Day was celebrated with my beloved family with a scrumptious Malaysian lunch at Norsiah's Kitchen in the city. I received a new 80G iPod from Wayne, Microsoft Office Ultimate 2007 from Nina & Dennis, a very generous JB Hi-Fi gift voucher from Deej & Gen, skincare gift set from Sharon & Wal (Paul), novelty gifts from the grandkids and a single long stemmed red rose from Mikey. Afterwards, Sharon took us to the Casino where we had a bit of a flutter at the pokies although my win was too small to mention. The rest of this month was pretty quiet, just the way I like it.
Jun 07: We went on yet another fishing trip to Port Albert but the weather wasn't very kind to us and the fish weren't biting so after spending a couple of days of cosy time watching lots of movies on DVDs, we decided to travel on to Phillip Island, just because we can. Upon our return, we joined in a bbq to celebrate Wal's birthday at their place with a backyard game of cricket in the afternoon. On the 30th, we had another bbq, this time at Nina's, to celebrate Wayne's birthday a couple of days early. We pigged out on curry puffs, fillet steak burgers, spicy lamb sausages, potato salad and coleslaw for the occasion, finishing off with yummy chocolate mousse cake from Michel's Patisserie. While Dennis and Mikey manned the bbq, the rest of us hung around supervising, with drinks in hand.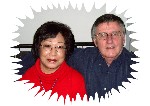 Jul 07: Deej & Gen took us out to dinner at the Lion Of India Tandoori Restaurant on Wayne's birthday to make up for not being present at the bbq as they were away on a pre-booked weekend skiing party with friends. Our 22nd wedding anniversary was again celebrated with a dinner ride on the Colonial Tramcar Restaurant. It was a great ride as we also had a happy group of Puerto Rican senior marathon runners on board as well as an excellent singing maitre d'. What fun we had as we all joined in the singing of Dean Martin's hits.
Aug 07: A pretty quiet month with not much happening so I was able to concentrate on re-uploading my extensive songs collection onto my new iPod in between sighing at the lack of rainfall.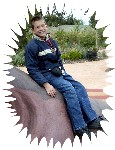 Sep 07: Father's Day was celebrated with a Steamboat eating marathon and gifts of power tools and computer software. Deej took the family out to dinner for his birthday to a Singaporean restaurant in the city so I didn't have to do any heavy duty cooking, which was naturally very much appreciated. Wayne and I took Mikey to Werribee Open Range Zoo at the end of this month as he couldn't remember being taken there for his birthday in 2000.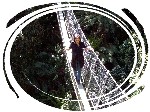 Oct 07: On the 2nd, Sharon and I took Mikey to Scienceworks Museum just before he started the final school semester. We spent a great day there despite having to battle with hordes of school kids and their flustered parents. After a bit of a lull, I launched on a single-handed cooking and baking mission to have an early celebration of Mikey's 11th birthday. I made 70 curry puffs, prepared a monstrous feed of chicken wings, garlic bread and also baked and iced a double-layer chocolate cake for the family celebration on Friday, the 26th.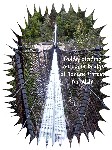 Nov 07: For my birthday celebration this year, I decided that we should do a road-trip of Tasmania. This started Wayne on a mission to fit Just Trip'n with a generator, reversing camera and also a reading light for me ' just a few of the 'to do' things on his list in preparation for the trip. The kids pooled together to purchase a grandstand package deal for the Formula 1 Grand Prix in March, 2008 and presented me with it at lunch at Cho Gao Korean Restaurant in Melbourne Central in the CBD, the day before our departure on the Spirit of Tasmania on Nov 12th. We returned to Melbourne on Dec 1st after a super-duper holiday filled with fresh crayfish dinners (the first was on my birthday), long walks to see various waterfalls (most spectacular was Montezuma Falls, Tasmania's highest waterfall), guided tours of three awesome caves – Hastings, Marakoopa (to see glow-worms) and King Solomon's Caves, a tour of Port Arthur Historic Site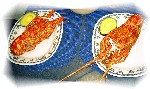 including a harbour cruise, adrenalin-charged walks across three swing bridges, two of which were at the Tahune Forest Air Walk, many, many heart-in-mouth drives on steep, long winding roads up countless mountain ranges to check out Queenstown copper mines, Gordon Dam and various places of interest. We will long remember Tasmania with her picturesque landscapes and seascapes as well as the quaint townships and ever-friendly locals. It is now back to earth with a thud and hoping that I have saved up enough energy to multi-task, tackling all Christmas-associated activities as well as family birthdays, editing photos from the trip and writing a travelogue.
In closing, I must say that it has been another good and happy year for us and hope it is likewise with you. I wish you and your loved ones a truly blessed Christmas and a very happy 2008. (Please click on thumbnails to view larger images.)


Mona, Wayne & Tribe