NEWSLETTER 2006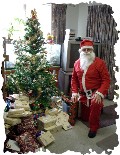 DEC 05 –  Early Dec, Nina dragged me off my computer to check out St Erth Garden and Nursery in Blackwood, about 100km north-west of Melbourne. Sharon's 30th birthday celebrated with Curry Puffs, Spicy Coconut Chicken & Black Forest cake. Christmas this year was no different from previous ones – the creaking and groaning noises of the laden dinner table were drowned by the sounds of Christmas cheer as our loved ones eagerly awaited the arrival of "Santa Claus". His eventual appearance was met with squeals of delight by the grandkids. As in years past, it was the "silly" presents that delighted and amused everyone – from humongous granny bloomers to plastic jewellery for the grandsons… 

  My MOTH (Man Of The House) and I attended the Boxing Day cricket test match at the MCG. While the young ones partied with their mates, we stayed home and drank champagne to see the new year in.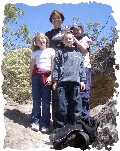 JAN 06 – My MOTH, Mikey (grandson) and I went to the Campervan & Motor-home Club of Australia Chapter weekend at Geelong as guests of our mate, Lins, to get a feel of the Grey Nomads' lifestyle. After this, the search for our own motor-home took a serious turn. Late this month, we went for a picnic at Hanging Rock with Nina, Mikey and two of his cousins, Ellie and Dillon. Despite the legend of Hanging Rock, we didn't lose any of the kids, though not for the want of trying.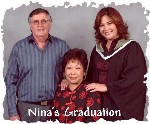 FEB 06 – Knowing how much I enjoyed the Boxing Day cricket match, my MOTH took me to the Day/Night VB Tri Nations cricket match between Australia and South Africa at the Telstra Dome. We attended the Harvest Picnic at Hanging Rock food & wine festival with Nina on the 26th and had a great day walking around sampling free food and wine. As it was the year before, Nina was given more generous servings than us by the male stall attendants. I must admit I ended up a tad tiddly by the end of the afternoon after sampling the various sweet wines but thankfully, didn't disgrace myself.
MAR 06 – Together with Dennis (Nina's fiance), we attended Nina's Graduation at Melbourne University. After the oh-so-gripping ceremony, we celebrated the grand occasion with a scrumptious meal at an Italian restaurant on Lygon Street.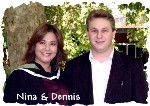 She is now a Bachelor of Arts and Sciences doing a Graduate Diploma in Education at Melbourne University. For being the unofficial 'Employee of the Year', my MOTH was given two box seat tickets to the Commonwealth Games Closing Ceremony at the MCG. As super-model Elle couldn't keep her date with him, I took her place instead!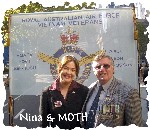 APR 06 – Grandson Nathan's 3rd birthday was celebrated with a noisy 'houseful of kids' BBQ at Sharon's place with our ears still ringing long after the party was over! On ANZAC Day, my MOTH marched under the banner of the RAAF Vietnam Veterans while Nina marched in Deej's place, in memory of her granddad under the 8th Division Signals banner. (Deej was on a business-cum-pleasure trip in China and Hong Kong.) As I was feeling slightly under the weather, I did not attend the parade.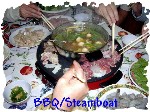 MAY 06 – Deej returned from another of his business trips (via Singapore) on Mother's Day morning with a present for me – a combined BBQ/Steamboat unit. Coincidentally, my MOTH & Nina had planned a Steamboat lunch so naturally my original steamboat unit was put away so we could put the new one to the test. What a fabulous day, albeit a rather noisy one. A few days later, the MOTH & I drove up to Queensland to visit his family for a week before driving back via Coffs Harbour where our search for a motor-home ended. Yay!!! We progressed from �Just look�n� to �Just Trip�n� (name of our motor-home).

JUN 06 – A quiet month except for Paul�s (Sharon�s hubby) birthday BBQ, so I was able to fiddle around and do stuff on my website: Oz Lady M's Homepage.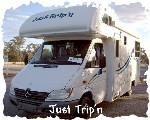 JUL 06 – The MOTH's 60th birthday celebration was a low-key family affair with a BBQ/Steamboat feast, just as he had requested. On our 21st wedding anniversary we went for a dinner ride on the Colonial Tramcar Restaurant followed by a bit of a flutter at the pokies at Crown Casino. The 3rd week of July we flew to Coffs Harbour to take delivery of Just Trip�n. Upon our return, I woke my my sewing machine from sweet slumber for a sewing marathon.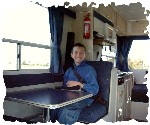 AUG 06 – Finally completed my sewing projects: fitted sheets, pillow cases, under-blanket, curtains, bolster, cushions, etc� you name it, I sewed it! Project completion was celebrated with a road-trip to Yarrawonga, Lake Eildon and Nagambie with an extremely excited Mikey.

SEP 06 – Murtabak (Indian flat bread filled with egg, spiced lamb mince & onions & shallow fried in ghee), Lamb Curry and Curry Puffs were consumed at this year�s Father�s Day lunch. We went on a road-trip a few days later, to East Gippsland, then up to Merimbula on the Sapphire Coast (south coast region of NSW) before back-tracking to Lakes Entrance and onwards to Wilsons Promontory. From there we returned to Melbourne for a belated birthday dinner for Deej. It was school holidays so I took Mikey to the Melbourne Aquarium a few days before a road-trip to Stockinbingal to attend the MOTH's ex-RAAF mate's 60th birthday bash at his Gogobilly Hill property. While in NSW, we also explored Temora, Cootamundra and Wagga Wagga.
OCT 06 – Went on a shopping expedition for a digital camera for Mikey to take on his New Zealand holiday but apart from that, this was a quiet month.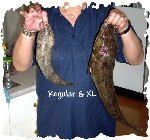 NOV 06 – Off to do a spot of fishing at Port Albert after Mikey's 10th birthday� on our last morning there, with my last bit of bait, I landed a flathead, half a metre in length. Nina passed her Graduate Diploma of Education course with flying colours and was ecstatic to learn that she was the only successful applicant for a permanent position as an English, Linguistics and Computer Science teacher at Strathmore Secondary College, starting next year. Nina organized lunch at an Indonesian restaurant in the city and even got the chef to cook my favourite dish on my birthday! Woke up with a start the other morning and realized that Christmas is just around the corner so here I sit multi-tasking: pounding away on my keyboard working on my newsletter while watching the Battle for the Ashes on TV, intermittently joining the supporters by yelling out, "Aussie, Aussie, Aussie, Oi! Oi! Oi!".
In conclusion, I must say that Life has been very good to me and mine and I'm looking forward to another happy Christmas with my loved ones. I hope it is likewise with you and yours. May your Christmas be very merry and the new year, very bright.
OzLadyM


     MERRY CHRISTMAS & A VERY HAPPY 2007