OUR HOME AWAY FROM HOME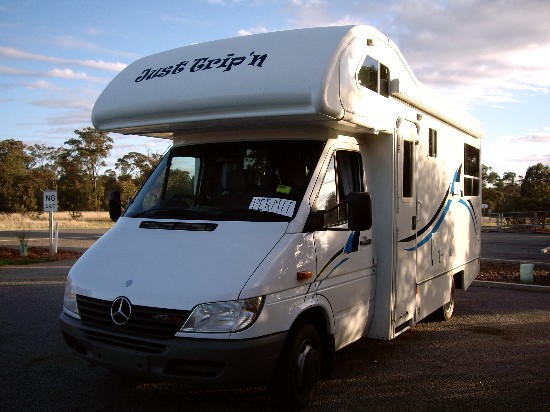 Both my MOTH (Man Of The House) & I love traveling but are not ones into organized tours, much prefering to do our own thing and at our own leisurely pace. Any of my kids can assure you that I do not like being rushed, especially when I am taking photographs or eating. I am the kind of person who would take ages, and I mean AGES, to get the lighting just right or the subject exactly just so, before I press the button on my digital camera. When it comes to eating, I am usually the last to leave the table, especially at those all-you-can-eat meal deals. The MOTH, on the other hand, enjoys his sleep too much to get out of bed too early in the morning and dislike strict routines. At the same time, there is a great desire for us to see much more of our own beautiful country before we get to the walking frame stage of our lives. It all started as a passing thought about the middle of last year while we were at our fishing hole and the fish weren't biting – I was thinking out loud about how great it would be to have a motorhome…

Upon hearing this, my MOTH almost immediately put his rear into gear and began a research on motorhomes. He started buying countless magazines and spending countless hours surfing the Internet for information. In order to get the feel of life as Grey Nomads, we attended a CMCA (Campervan & Motorhome Club of Australia) Chapter weekend at Geelong as guests of a Grey Nomad friend of ours. We got first-hand information from the members there who welcomed us to check out their respective motorhomes while freely giving their advice on the dos and don'ts when shopping for one ourselves. After lunch, we watched them while they played a game of Disc Bowls before sauntering over to the hall for afternoon tea. We declined their invitation to stay and participate in their Trivia Night and left shortly after, quite impressed by the comaraderie of the CMCA members. Thus inspired, we spent many a weekend driving all over the place "just lookin'" at motorhomes, from new to pre-owned ones. Heck, we even made a special trip to Queensland to check out the used motorhome dealers there in May this year.


Disappointed at all the crappy ones they had, my MOTH decided to detour from our usual inland route to 'drop in' at a place in Coffs Harbour on our return journey to Melbourne. We got into Coffs Harbour in the late afternoon and impulsively decided to have a banana split at where else but The Big Banana. As a result of this indulgence, we got to the motor-home dealers just as they were beginning to close shop for the day. Undeterred, we asked if we could have a bit of a "look-see" at their display models. We finally took the hint when the remaining staff member began locking up the office. We stayed the night at a nearby motel and bright and early next morning, we were back at the dealers.

In the brighter light of day, we did another 'inspection' on the available pre-owned motorhomes for sale. We were somewhat taken by one in particular but was told that it was under contract. We continued chatting with the manager, a nice young chap by the name of Tony and became visibly excited when told that we could pick any of the used models on display and it could then be renovated to suit our personal requirements. I could tell my MOTH was gripping the cheque-book in his jacket pocket tighter and tighter as the "extras" I listed got longer and longer! Gee, I don't really want much – just a new 4-burner cooktop with a griller, a rangehood (so cooking odours won't get trapped inside), a bigger fridge, tv antenna, a fixed bed at the back (I don't fancy climbing up and down to access the above cabin berth and dislike the idea of having to convert the dining area at the back into a double bed each night), an awning, extra power-points for my laptop computer and electrical appliances and a dinette – oh yes, and an extra seat-belt fitted to the dinette so we can take our grandson as passenger on fishing trips! We all headed back to Tony's office where I quickly slipped into my Chinese Jew mode and began the haggling process, which soon stopped Tony from rubbing his hands with glee. A couple of hours later, the deal was made and I broke into a happy dance. Yay!!! No more "just lookin'" – our dream will very soon become reality. Just after lunch, we continued our drive back to Melbourne.

Armed with a few changes of clothes, a double bed sheet, a pair of pillow cases and a lightweight comforter (quilt), we flew up to Coffs Harbour (via Sydney) on July 18th and was picked up at the airport by a friendly staff member of CCM (Coffs Caravans & Motorhomes), Scott, who drove us back to CCM and supplied us with a courtesy vehicle, a 1988 manual diesel Pajero. It was not a limousine by any stretch of the imagination but hey, it sure beat walking! As it was almost the end of the business day, we decided it was best to take delivery of our motorhome the next morning. After checking into a motel nearby, we drove to the town centre to do a spot of shopping. We left the not so bustling town centre a couple of hours later with another doona, two pillows, an electric jug, other bits and pieces and a box each of Chinese hot fried noodles with seafood for our dinner in the motel room that night.

About 9am, we rocked into CCM to be warmly greeted by Tony who led us to our new "baby". Being the fussy beings that we are, my MOTH and I checked things out to ensure that everything was to our satisfaction. We took it for a test drive and were suitably impressed by its performance on the road. It was advised that it would be a good idea if we stayed in town for at least another day, to familiarize ourselves with the workings of the motorhome and also, in case any issue had been inadvertently overlooked by the boys in the workshop. While we were in Tony's office and while the blokes were chatting, I developed a wandering eye and spotted a flat screen tv on display. This of course tempted me to suggest to my MOTH that we should get one installed while we were hanging about in the area. The joint decision having been made, "Moneybags" (my MOTH) then shakily penned his signature on the final payment cheque. Tony gave us a nice bottle of Petit Verdot to celebrate the occasion before we got into the courtesy vehicle to while some time away while they put the finishing touches as needed, including a hastily thought out name for our "baby" – "Just Trip'n". We got back to CCM in the late afternoon and was recommended to stay at a caravan park at Moonee Beach for the night.



What an exciting first night experience in our motorhome – there we were like a couple of kids playing house. We made our bed and had a shower at the caravan park before heating up our tv dinners in the microwave oven. Just as I was about to put a spoonful of Rogan Josh into my mouth, my MOTH loudly exclaimed, "They forgot to install the fornicating rangehood!!!" This oversight caused him to hastily reach for his mobile phone to contact Tony regarding this matter. To tell you the truth, I was too rapt with the sound system of the new Kenwood CD player that was installed without cost to us to replace the original cassette player to notice that the range-hood was missing! After this mini-drama, we watched a couple of movies on my MOTH's portable dvd player before a good night's sleep. Oh how great it was to get up during the night and not have to venture outside in the cold and dark to use the bathroom!


I was up with the larks in the morning and after a breakfast of hot coffee, we hastily left the caravan park and drove straight to CCM to have the range-hood and tv installed. Much to our dismay, it was going to take some time for the boys to fit in the range-hood as some major carpentry work was in order. With not much choice, we again jumped into the Pajero and did a spot of sight-seeing and a leisurely lunch of fish and chips near the Coffs Harbour Jetty. It was late afternoon by the time we made our way back to CCM and despite the fact that the boys in the workshop had been going at it hammer and tongs, the mission was not fully completed. While waiting to take our motorhome back for another night at the caravan park, I happened to notice that the wheel studs were not symmetrical and drew my MOTH's attention to it. Well! That certainly got him peering at them up close and personal and he discovered that the one I noticed had been cut off and another was burred. On the phone with Tony again who by this time was just about ready to tear his hair out. It seems that folks in Coffs Harbour are rather laid back and not used to working at full speed. One of the boys in the workshop chucked a darkie (the act of getting very angry and then letting people know how mad you are by being very vocal) and almost walked off the job. Luckily, Tony had managed to call time out for a smoko break while everyone took a breather. Meanwhile he frantically arranged for new wheel studs from Mercedes to be delivered immediately so they could be replaced first thing the next morning. Back we went to the Moonee Beach caravan park for another night there. That night we were able to test out our new tv and were very pleased with our impulse purchase.


The next morning (Friday), after another quick breakfast of hot coffee, we filled our baby up with diesel before arriving at the CCM workshop at 7am for the wheel studs to be replaced. We again jumped into the Pajero and got directions to the nearest McDonald's for a big breakfast each before driving to the town centre to buy a slab of beer and a 1.5kg tin of cookies for the boys in the workshop to show our appreciation for services rendered. For Tony, we bought a carton of smokes. We then headed back to CCM with our gifts which of course delighted everyone there and to make up for our time wasted, Tony gave us another bottle of wine, this time, a Shiraz. Just before noon, our baby was brought around from the workshop and after hearty handshakes all around, we left Coffs Harbour for the drive back to Melbourne.

Not wanting to waste any more time, my MOTH decided to drive straight through, stopping for dinner of hamburgers from a roadhouse at Dubbo around 8.30pm. From there he drove on until we reached a power nap area somewhere between West Wyalong and Narrandera at about 2am. We power-napped quite comfortably for five hours before a wake-up hot coffee and continued the journey home, arriving just before 2pm on Saturday. Sunday was spent shopping for a lovely pair of thick sheepskin seat covers so we won't end up with sore butts from the super hard seats in the cabin as we did this trip! We also bought four double bed flat sheets, pillow cases and a continental quilt for the top berth for our grandson's comfort when he travels with us during short trips. Just Trip'n was officially registered at VicRoads on Wednesday, July 26th.

I have since woken up my sewing machine from sweet slumber and sewn four fitted sheets and extra pillow cases, a duffle bag to store my grandson's quilt and pillow, a bolster for myself, two lightweight blankets, new railing curtain for the above cabin berth, a shower curtain for the window in the toilet and also made up a shower-proof cover for the toilet paper holder from the curtain remnant. While still in sewing mode, I also cut up and hemmed a single bed doona, sewed elastic straps to it to fit over our double bed as an underblanket/mattress protector.

My MOTH being a typical ex-aircraft engineer has his own list of "must have" gizmos like his new fancy Navman GPS that I had given him for his birthday, 

a reversing camera (birthday gift from the kids), dual batteries system (already fitted) and is currently saving up all spare change to get a generator, solar panels, cruise control and other gadgets too numerous to mention. Once the generator and solar panels have been installed, we will be ready for longer jaunts to more remote areas. In the meantime, we are happy with doing short trips like the one we did this past weekend with our grandson, just to whet our appetite for life as Grey Nomads.
22 Aug 2006