(When I discovered cricket balls are deaf!)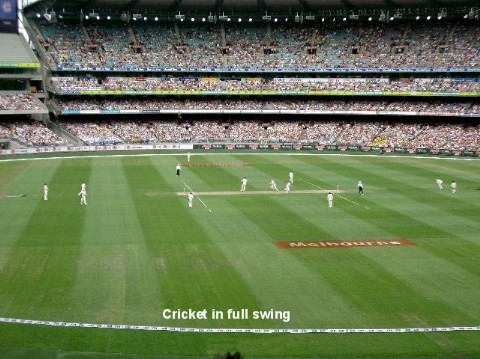 Before my MOTH entered my life, I thought watching a cricket match is about as exciting as watching grass grow or paint dry! All that changed after the rules of the game were patiently explained to me. I have since become a cricket convert and watch just about every international test match telecast when the Aussies play. I became severely sleep-deprived during the 2005 battle for the Ashes in England, sitting up in bed many a night cheering the Aussies on. More often than not, I got a tad carried away and my enthusiastic cheering (and occasional booing) disturbed my sleeping MOTH on week nights when the poor darling had to work the next day. I'm pretty sure he regretted my conversion during those sleep-interrupted nights.


He recently decided the time has come for me to attend and experience the atmosphere of a live cricket match so he purchased tickets to the second of the '3 Mobile' Boxing Day Test match between Australia and South Africa at the MCG (Melbourne Cricket Ground), not too far from the Vodafone Arena and the Rod Laver Arena. I gladly forfeited my annual post-Christmas shopping spree for this occasion.


To our delight, Boxing Day dawned bright and sunny as predicted, so we set off just before 8am with a back-pack containing some leftover roast chicken pieces from our Christmas Day lunch, four cans of soft drinks, a packet of chips and a bag of fruit lollies. We had a brisk 25-minute walk (stopping briefly at a nearby 7-11 store to buy a Herald Sun newspaper) to catch a tram so we would have plenty of time to get to the MCG before the 10.30am start of the match. We got off the tram at Flinders Street and instead of going to the trouble of catching another tram to the MCG, we decided to follow the crowd of people who looked like they were also heading for the MCG. It was easy enough to spot the cricket fans as a few avid groups of supporters were proudly carrying the Australian flag. I believe that when in doubt, just follow the crowd.

Just as we arrived at the MCG Gate 1 & 2, we heard an announcement over the PA system that all bags would be security checked and no cans, glass bottles or projectiles would be allowed inside – and there we were with our four cans of soft drinks! My MOTH suggested that we drink a can each and bin the other two but the Chinese Jew in me didn't like the idea very much at all. I decided to and managed to drink three cans of soft drinks in the space of 10 minutes while gazing at the sculpture of Cricket legend Bill Ponsford, one of Australia�s greatest batsmen and inaugural inductee into the Australian Cricket Hall of Fame. You should have seen the astonished look on my MOTH's face as I glugged down the icy cold drinks! That done, we went through the security check and after checking out the toilets, we found our way to our seats.


I was amazed at the size of the cricket ground as somehow it doesn't seem as big when viewed on TV. The pitch was a lot longer than I had expected, making me admire the cricketers even more. Man, they must be pretty fit to do all that running, especially during a 5-day test match! Spectators were rapidly pouring in and the atmosphere was simply superb. The match was delayed for half an hour (something to do with the ground being slightly over-watered the night before and therefore needed to dry out a bit more). To kill time before the game commenced, I did a few Sudoku number puzzles while my MOTH tackled the crossword puzzles in his newspaper.


The crowd applauded and cheered wildly when the cricketers entered the ground and after the National Anthem of both countries were played, the game began. Australia won the toss and chose to bat. It wasn't long before I got into the spirit of things, starting off by willing the ball to quickly roll to the boundary. As the game progressed, I became a bit more vocal and pretty soon murmurs gave way to enthusiastic cries of, "GO! GO! GO!" or "C'MON! C'MON! C'MON!" for the ball to reach the boundary. Unfortunately, I discovered that most cricket balls are hard of hearing! Now and again, I must have shouted loud enough though, as we did get several boundaries that day. Each time the Aussie batters hit a boundary, their supporters cheered and did a Mexican wave. The enthusiasm was very contagious indeed and it was such great fun to be a part of the happy crowd.

When play stopped for lunch, I took the opportunity to inch my way between the row of fellow spectators' knees and the backs of the seats in the lower row to race off to the toilet to relieve my full bladder. That was great fun… NOT!!! It wouldn't be so bad if I was an acrobat but instead, it was a constant string of, "Excuse me, excuse me…" as I gingerly worked my way to the aisle, being extra careful so as not to step on anyone's toes or kick somebody's shin. Just as well I don't suffer from incontinence considering the three cans of soft drinks I had imbibed earlier that morning but then again, if that had been the case, I would have worn Depends! On the way back, I thought I'd surprise my MOTH with a nice cold beer but the queue was way too long for my patience so I came back empty-handed… to the wrong section of the stand, of course! Luckily, I had my ticket with me so was re-directed by the security guard. (I overheard later that a plastic cup of beer cost $5.10 so no regrets missing out on buying any for my MOTH.)

During the lunch break, we were entertained by a special exhibition, courtesy of the Hawthorn Cricket Club, when they conducted the Milo Have-A-Go cricket program, endorsed by Cricket Australia and Cricket Victoria for boys and girls aged from 5 to 10 years of age. The kiddies looked adorable while they batted and bowled their little hearts out for about 35 minutes. It was most enjoyable watching them while we tucked into our roast chicken lunch. Just before play re-commenced, my MOTH headed off to empty his bladder and on the way back, decided to empty his pocket as well with the purchase of a bottle of Coke and a couple of ice-creams for us to enjoy.

The rest of the afternoon play went by all too quickly and before I could be hauled off for creating a public disturbance, it was all over for the day. I don't know if my MOTH was embarrassed or amused by my antics but ever the gentleman, he made no comment. I guess he was just glad that I had enjoyed the day. We walked back to Flinders Street to catch a tram and walked from the tram stop back home as the buses stop running early on public holidays. I had attached my pedometer to the waistband of my jeans when we left home in the morning and by the time we got back home, it showed a reading of 10,628 steps! No wonder we slept so soundly that night… All in all, it has been an unforgettable experience for me and I am now looking forward to the VB Tri Nations Series Day/Night match on Feb 3rd at the Telstra Dome between Australia and South Africa. No, we won't be taking cans of soft drinks this time!