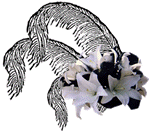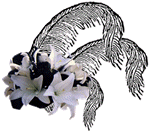 Derrick & Genevieve –
"A Touch Of Vegas" Wedding
12 January 2008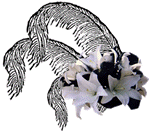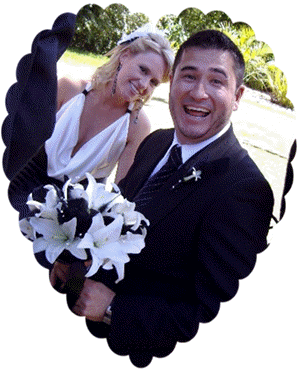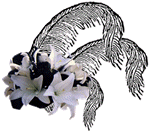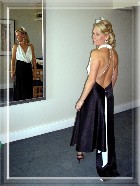 Here is a brief account of the funky, funny, entertaining and full of love and laughter wedding day from my perspective…
For me, the day started with a trip to the hairdresser to get my hair expertly coiffured, complete with a feathered black and silver hair clip, in keeping with the black and white colour scheme of the day. (My 'Touch of Vegas' came in the form of dangly silver earrings with red and black dice and stars.) By 1pm I had transformed from a T-shirt-and-jeans grandma into a somewhat elegant mother of the groom in a black and white floral dress and wearing high-heeled shoes! Gen had invited me to join her and the bridal party for some pre-wedding drinks starting at 1.30pm at the Medina Executive South Yarra Melbourne (executive hotel-apartments) where the bridal party had been staying for a couple of days before the wedding. I arrived at the venue by taxi at exactly 1.30pm, right in the midst of a flurry of 'girly' activities. We all drank champagne in between the bridal make-up and hair-dos while waiting for the flowers to be delivered.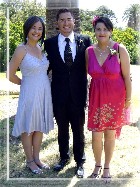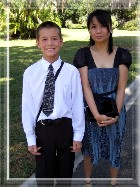 At 2.30pm, Gen's sister-in-law, Caroline, gave Saskia (the hair and make-up artist who had flown in from Sydney) and me a lift to the Botanical Gardens where the rest of the guests had gathered for the wedding ceremony. Family and friends from far and wide were already waiting ' Gen's Grandma Russell who is 96 years old and Grandma Gwen (Pauline's mum) were also present to share the special occasion with us. My beautiful and petite 25-year-old niece, Aisyah, had flown in from Singapore the day before for this very special day. Deej covered his pre-wedding jitters with some comic behavior while waiting for his bride to arrive. The bridal party was fashionably late, of course, and when one of the groomsmen ventured to say that it could be a "no show", Deej ran around high-fiving everyone to hide his anxiety.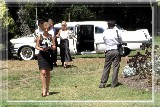 At about 3.25pm a white Cadillac pulled up at the Tacoma Pavilion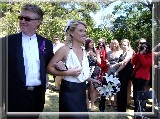 to a resounding cheer from the guests and a greatly relieved Deej wiped the sweat from his brow' As soon as the limousine stopped, the photographer who was standing and waiting, opened the back door just as the chauffeur stepped out. The bridesmaids were assisted out of the limo in turn – Sarah was dressed in a black dress with a white ribbon trim and Nicole was in a white dress with a black ribbon trim. Gen's dad, Peter, got out from the other side and came around to assist Gen as she stepped out. She looked absolutely divine as she walked across the garden lawn on her dad's arm. After the walk down the lawn, we gathered round for the pre-wedding speeches.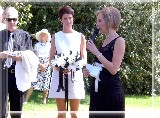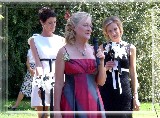 The bridesmaid and M.C. for the bridal party, Sarah McPhee (long time mutual friend of both Deej and Gen), made the opening speech before introducing Gen's mum, Pauline, with her speech. Sarah spoke of how she had fondly witnessed the relationship of her two dear friends develop from mateship to love and romance which eventually culminated into the reason why we were all gathered together on this happy day. Pauline reflected fondly on the evidence of Gen's maturity and strength of character that showed through from a very young age, recounting humorous accounts from Gen's past. She also voiced her joy in welcoming Deej as her son-in-law. I followed immediately after Pauline with my little contribution and Wayne concluded the session with his speech.
My speech (which I had memorized word perfect beforehand but lost the eloquence through sheer nervousness at public speaking) was as follows: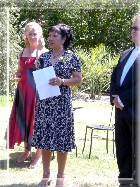 Hello everyone,
First of all, I'd like to extend a very warm welcome to all who are here today to witness the marriage of Derrick and Genevieve. Hard to pick out, I know, but I am the Chinese half of Derrick's parentage. I never thought the only son I gave birth to in Singapore some 34 years ago would EVER 'tie the knot" so my heartiest congratulations to Genevieve, the lovely young lady who has won his heart ' and our family's!
When I stepped forward to say my tuppence worth, I could almost hear a collective groan from those who know me well. Relax, guys, I promise not to gibber for very long. I would just like to express my joy in the knowledge that this union of my Virgo-Ox son and Sagittarian-Dragon daughter-in-law-to-be is a compatible one. They are blessed with the ability to work together to achieve common goals through mutual respect and understanding. In my book, when love and respect go hand in hand, happiness naturally follows.
I'll close with this poem dedicated to Deej and Gen: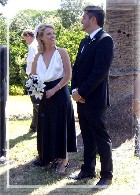 Hand in hand you both have found a happiness that grows.
Hand in hand you've shared the joys a loving couple knows.
And in the future may your hopes and all the things you've planned
Turn out just right for you to share together' hand in hand.
Congratulations, we love you.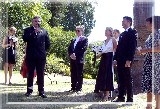 Wayne's speech:
Gen and Deej, Ladies and Gentlemen,
It is wonderful to have this opportunity to be here with you all this afternoon.
When Deej phoned us just after midnight on New Year's Day a year or so ago to pass on the news that he had proposed to Gen, and she had accepted, Mona and I were ecstatic. We were beginning to get concerned that he might remain a bachelor for years to come and now there are Gen and Weiner in his life – such a wonderful girl and such a leg-friendly little dog.
Gen, you are the answer to our prayers. I take great pleasure in welcoming Gen into our family and feel very honoured and proud that she has chosen to accept my family name.
Gen and Deej, my heartiest congratulations.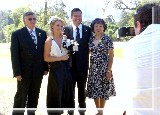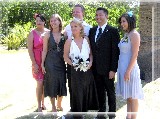 The speeches were followed by the wedding ceremony conducted by the marriage celebrant. Their wedding vows were non-traditional and hilarious and I can hardly wait to get a copy of it to read and re-live the occasion. The ceremony was followed by the photo session before the bridal party continued on their way for more photos to be taken and the guests dispersed. Nina had prepared a picnic lunch for the bridal party that consisted of an assortment of sandwiches, decoratively cut up watermelon pieces, bottled water and chocolates. She also included finger wipes, plastic cups, forks and napkins. Talk about a super-efficient young lady! She had also prepared a similar picnic fare for Wayne, her fianc' Dennis, Aisyah, Mikey, herself and me, so after everyone departed, we had our little picnic at the Botanical Garden before hopping into Dennis' car to drive to a caf' near the Royce Hotel (where the reception was to be held), for coffee and cake. After that we went to the Royce Hotel and hung around with those who were already there to wait for the reception to begin at 7pm.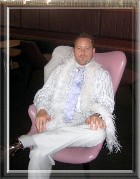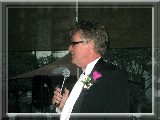 The reception started with greeting of the guests by the families of the bride and groom. I think half of Melbourne must have attended as it didn't take me long to become totally confused by the sea of happy faces. Once the hand-shaking, kiss-kiss, hug-hug introduction was over, the celebration began in earnest. Scott, the M.C. for the evening, first got Gen's dad, Peter, to come on stage to start the ball rolling with his amusing anecdotal speech. Next to get called on stage were Deej's sisters, Sharon and Selina (Nina), followed by Lyndon, Gen's brother, who proposed a short and sweet toast to the newlyweds. Nina made an impromptu short speech welcoming Gen into our family on behalf of Sharon who suffered from stage fright.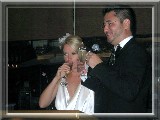 Deej and Gen then took centre stage with their combined speeches which were absolutely hilarious. They spoke of how they met and fell in love, their plans to grow old together and starting souvenir teaspoons and fridge magnets collections (isn't it great how much your kids take after you!), leaving discos at 10.30pm, embarrassing their kids with their dance routines and free tutoring for their kids from Nina! The two groomsmen (Aaron Roach and Sam Tremethick) then took over with their individual anecdotal accounts of their friendship with Deej and Gen.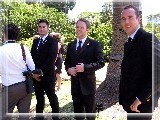 Aaron spoke of his eight years of friendship with Deej, who is renowned for resolving most issues with his two word philosophy. For example, when Aaron admitted to not being able to drink anymore, Deej would say just two words, "You girl!" and when Aaron said, "I can't puke anymore," Deej would advise, "More beer!". Sam, with wisdom gathered from five months of married life, spoke next about the importance of communication in a marriage. He recalled the first time he met Wayne and me one Christmas Day many years ago and his amazement at our communication skills — via email while sitting side by side using our newly acquired webcams! He suggested that the newlyweds should network all the rooms in their new home to solve any communication issue. Bridesmaid Nicole stepped up on stage after Sam, with her beautiful speech about Gen's many admirable qualities that have endeared her to so many and ended with a toast to the newlyweds. Scott brought the speeches to a close with his good wishes before clearing a section of the dance floor for the wedding dance.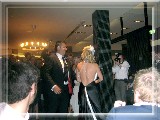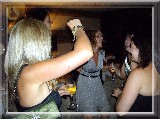 The bridal pair had spent five weeks rehearsing their choreographed dance routine ' we all thought it would be a traditional waltz but boy oh boy, were we surprised! They started dancing the foxtrot to the first verse of the song, 'I Get A Kick Out Of You' before breaking into a medley of the 80's dance routines, including a touch of 'dirty dancing', and finished off with the foxtrot for the last verse of 'I Get A Kick Out Of You'. It was simply awesome and heartily enjoyed by everyone in the room! With a live band in attendance, plenty of dancing naturally followed and the joint was soon rockin'.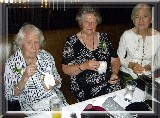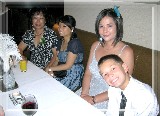 Those who were not into dancing kept busy with sampling the continuous supply of finger foods which were well-presented, varied and super delicious. Every time we turned around, there would be a waiter with a tray of yummy snacks – mini hamburgers, mini pizzas, ramekins of beef burgundy, miniature noodle boxes of vegetarian fried Hokkien Noodles, chicken kebabs, mouth-watering mini salmon patties, miniature boxes of piping-hot fish and chips, cheese vol-u-vents and spring rolls (strictly no pork or pork products). There was also a buffet table filled with an assortment of fresh fruit, a variety of exotic cheeses, dips and crackers and later on in the evening, cute little mini pavlovas (from the wedding 'cake').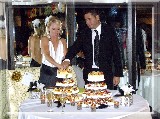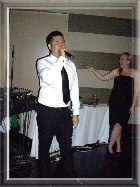 The wedding cake was 'untraditional' ' three tiers of cleverly arranged mini pavlovas with a medium-sized pavlova on the top (fourth) tier. Champagne, wine, beer and soft drinks flowed freely all though the night so it wasn't long before everyone loosened up and had a ball. No one got rip-roaring drunk (I think everyone wanted to remain sober enough to remember the day). There was no professional video-taping done but hopefully the guests who came armed with video cameras will share their videos with us. At some time during the night, Deej did a karaoke rendition of Louis Armstrong's 'What A Wonderful World' and boy, he was superb! Didn't realize how talented my son is until then ' I found out later that he has won a few prizes on Karaoke nights with his rendition of the song!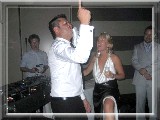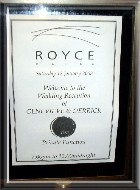 Later on during the night, Gen stood on a chair and threw her bridal bouquet which hit the ceiling and fell back into her hands but she succeeded the second time with the bouquet being caught by one of her single friends. A little bit later, Deej removed his bride's garter with his teeth amidst hoots of merriment from young and old. He immediately used the garter as an arm-band before throwing it over his shoulder for one of his bachelor friends to catch. More dancing, eating and drinking followed before we finally took our leave just after midnight. The celebration continued till 12.30am when Deej and Gen finally retired to the bridal suite of the Royce Hotel. We came home with aching feet, full tummies and joyful hearts. In conclusion, I regard this to be the most unique and fun-filled wedding celebration I have ever attended. [Click on photos to enlarge and 'Back' arrow to return to page.]

Welcome, Genevieve, welcome to our family and long live love!