SAN FRANCISCO 

 


August 11th:

We landed in San Francisco Airport at 8am and had to find something to do to kill time until our 11pm flight back to Sydney. So there we were, two not very energetic souls trying to figure out what we could do… First things first though, we checked our baggage in to save us having to drag them around with us for the day. We then grabbed some tourist brochures and after giving them a thorough once-over, a plan was hatched!We would hop on the Bay Shuttle bus and check out Fisherman's Wharf. What a brilliant idea that was! Got dropped off at Pier 39 and given a phone number to ring when we were r

eady to head back to the airport. 

Now, what does one do at Fisherman's Wharf at that time of day? What about something to eat first? But of course! So out came the box of Crackerjacks and some candy bars that ANGEL had bought us. Afterwards we wandered around buying souvenir trinkets and t-shirts, somehow managing to cram them all into our shoulder bags. My MOTH kept issuing warnings about the more "rubbish" I buy, the more he'd have to help me carry so of course I obeyed… 

 Yeah, right!We had our fill of walking about and taking heaps of photos of Alcatraz, the Maritime Museum, ships, submarines and anything that we found interesting at the time. By then, our bellies were growling to be fed so we sat down to a very, very yummy lunch of clam chowder and shrimp salad. A glance at 

our watches showed it was all of 1pm! Hmmm… still a ve-ry long time before our flight, sooo… we took a two and a half hour cable car tour of the city. Best decision of the day, for sure. Man, that was one of the most entertaining bus tours I've ever been on. The driver was full of information and his running commentary was delivered with the aplomb of a stand up comic, except he was sitting behind the wheel of the bus! Imagine having Bill Cosby taking you on a tour… I would have loved to be able to capture the whole tour on a video camera if only I had one. Oh well, I'll just have to be happy with photos we'd taken and the memories.

He drove us through the Presidio, past the National Cemetary, Bowling Center, West Coast Memorial and just about everywhere else that was worth a  look. We went to the Golden Gate Bridge Visitor Info Center and Viewing Area where we were told to buy our souvenirs if we had money to burn. All I wanted to do was to use the restroom so I took off like a shot as soon as the bus pulled to a halt. Wouldn't you know it? The queue was about a mile long – a busload of Asian tourists had gotten there only minutes before our bus arrived. If only I was wearing Depends… I made it though, so didn't disgrace myself.

From there we headed off into town – up and down the streets of San Francisco we went, past fancy stores and restaurants and on to Chinatown. Just a slow drive through, not for a feed though… Then it was a turnaround to take us back to Fisherman's Wharf. The two and a half hours sure did fly! Reluctantly we said goodbye to our wonderful bus driver (I think his name was Bob) and as a thank you gesture for such an entertaining and interesting tour, we gave him an Australian souvenir baseball cap. He was rapt!

By this time both my MOTH and I would have gladly killed for a bed to sleep on for a few hours but we managed to restrain ourselves and lazed on the grass at the Embarcadero instead. Enough was enough, we decided, so the next trick was to find a phone box to call for the Bay Shuttle bus service. After much discussion, it was decided that it would be way too crowded for the bus to come to where we were and instead it would be far easier for us to find our way to the Radisson Fisherman's Wharf Hotel to be picked up. Somehow we found the energy to walk there, stopping several times to buy "just a couple more t-shirts for the grandkids"… By this time, my MOTH had given up on the warnings he issued earlier, so I went for broke – bought more t-shirts for the rest of the family, too!

We got to San Francisco International Airport just on dusk and wandered around studying the various menus at the food court there. I literally shuddered at the exhorbitant prices and firmly declined to have dinner there. Instead, we settled for a cappuccino each and I rustled around in my handbag for a can of smoked oysters that ANGEL had thrown in there. That was our "dinner" until we got on the plane. We then wandered around the airport terminal and wishing for once that time would fly. The boarding call couldn't have come soon enough for us.

              

After a delicious in-flight supper, we settled in for a bit of a shut-eye in between watching bits and pieces of the movies being screened… through our eyelids! We arrived at Sydney Airport at some ungodly hour of the morning. From there we enjoyed another smooth uneventful short flight home to Melbourne, sailed through customs and were warmly met by my daughter, her fiance and my granddaughter who raced up to me screaming out, "Nenek! Nenek!" ("nenek" is not a rude word, by the way, it is an Indonesian/Malay word for "grandma") before throwing herself at me. What a great homecoming and what a fantastic holiday!!!The very next day, my MOTH began looking for a job so we could start paying off our Visa bills…

OzLadyM



  WASHINGTON STATE – Pt 2 

 


July 22nd – August 11th: We hopped on a wee little airplane (so small that it could easily be mistaken for a crop-duster) out of Lafayette with a quick stop in Memphis to change to a bigger aircraft which brought us back to Seattle just before noon.Again, sweet ANGEL was there to greet us and once again we disrupted her routine with our presence. Everyone seemed happy to see us again (or very good drama schools in Wa?) ANGEL took time off work to make sure she could keep her eye on us so we wouldn't get into too much mischief, so we included her in our escapades! We made many, many trips to Walmart, so many that I think if we had stayed longer we could have claimed some shareholding rights, I am sure.

ANGEL had been planning on taking us to see Mt St Helens [a volcano which erupted on May 18th 1980 when the top 1,314 ft (400.5 mt) disappeared within minutes – photos of before and after eruption – courtesy of Darrell Jennings], so a few days after our return from Louisiana, we set off. We shared our lunch at the Coldwater Ridge Visitor Center with some pretty friendly golden mantel squirrels before continuing on to the Johnston Ridge Observatory. Such a pity it was somewhat overcast that day, not to mention rather windy and cold, too. After buying some souvenirs we decided we may as well drive on to Portland, Oregon. We took advantage of Oregon's sales tax free system and came back to Eatonville quite late that night with various goodies in our arms. I like shopping!

We wanted to check out the local fishing scene so after purchasing a consecutive 2 days licence, we first went to Lake Spanaway where we spent the best part of the day drowning our worms and playing tug of war with submerged rocks and logs. That wasn't our idea of fun so the very next day, ANGEL took us to Ohop Lake. We temporarily became mountain goats to get down to the lake from the main road but it was well worth the effort as we caught 5 beautiful rainbow trout there. Hard for us seafood lovers to understand it but ANGEL has never eaten fish before! However, she was successfully tempted to sample the butter fried trout that I cooked up. We also caught a few nice bass from Jackie's parents' private dam and again, ANGEL decided to have a taste. She found out that fish when cooked right, is quite delicious after all! I must add that her newly acquired taste for fish did not extend to bbq'd smoked copperhead salmon though. She also politely declined our offer to sample some dungeness crab meat. Doesn't know what she's missing, does she? 

Jackie's boyfriend surprised us with tickets to see a baseball game – the Seattle Mariners playing against the Cleveland Indians at the SAFECO field – so together with ANGEL's mum, we drove to Tacoma and hopped on a bus to get to the venue. All available seats were taken so ANGEL decided to sit on the floor! Good thinking actually, as she didn't have to worry about any balancing act when the bus careered around corners, etc… We were all in high spirits at the prospect of an exciting ball game and lost no time in finding our way there. What an exciting first experience that was for my MOTH and I – we really got into the spirit of the game, right down to exchanging baseball cards with total strangers! Would have been so much better if the Mariners had won the day though.

I decided to show my appreciation for the wonderfully warm hospitality extended toward us by having a satay party several days before our departure. Somehow I think I got a tad carried away as I made 97 sticks of beef satays, 151 sticks of chicken ones and a huge pot of spicy peanut satay sauce to feed 10 grown-ups! Everyone had enough to eat, I think… We even got to see Jackie's tooth tattoo! Not at all obvious that she is a keen fan of George Strait. It seems that everytime we turned around, it was time to eat again! We were having difficulties fitting into most of our clothes so we decided it was time to head for home – actually, the truth was that they have had enough of us in WA so we were deported back to Australia! 

11th August:

Alarm set for 2.30am and after a wake up cup of freshly brewed coffee, we got changed and headed off to SeaTac Airport for the 6am flight to San Francisco. Between ANGEL and I, I am sure we used up a whole box of tissues to mop up our tears. I hate goodbyes so again we just said, "See ya later". God Willing we will meet again, either here in Australia or in the U.S. – it doesn't matter where, really. God Bless the day we met on the internet and long live our friendship!!! 
 

 LOUISIANA 

 

6th – 22nd July: 

The Greyhound bus pulled into the Seattle depot at mid-morning and we got off, feeling rather stiff and weary. Too tired to comtemplate catching another bus service and with no cabs in sight, my MOTH and I impulsively decided to lash out and hire a limousine to get us to our next destination – the Red Lion Hotel. We had a reservation there as that was our rendezvous venue to meet up with Nell and her family. You could imagine how pissed off we were when we ended up at the Double Tree Hotel instead! It turned out that our chauffeur was new to his job and didn't know that the hotel had a recent franchise change. So there we sat while the apologetic chauffeur went into the reception to remedy the situation. By now my MOTH and I were bitterly regretting our impulsive move but there was not much we could do except to ignore our thirst and hunger and wait…

Call it fate, call it what you will, but as we were lamenting our sorry situation, I glanced at a vehicle that had pulled up beside our limousine and who did I spy??? Yes, our dear friends! They too, made the same mistake!!! So, imagine if you could, the scene in the driveway of this hotel – two friends who had lost touch for the last 26 years finally meeting again – plenty of hugs and tears amidst screams of delight. Once the location confusion was sorted out, we travelled in convoy to our original intended rendezvous point – the Red Lion Hotel. After lunching together, our friends went back for a siesta while my MOTH humoured me in my desire to "check out the stores". We met up for dinner with our friends at a Thai restaurant nearby and an early night was had by all as we wanted to be bright-eyed and bushy-tailed first thing next morning for our flight to Lafayette, Louisiana. There to greet us warmly were the rest of Nell's family, so naturally we all had aching jaws by the end of that day!.

From the snowy mountains, lakes and awesome waterfalls of Canada to the hot and humid flatlands and bayous of Louisiana – definitely a shock to our systems. After the drastic adjustment to the climate, we got busy with more of the eating business: I dealt with the Asian fare (yes, more fried rice, curries and a lso a Chinese seafood steamboat, fried noodles, crab foo-yong and chili crabs) while Nell's children treated us to deliciously home prepared local fare of crab bisque in bread bowls, fish fries, chicken and duck gumbo, kebabs, etc. Man, talk about great tucker!!! In between eating, we would drag out the set of Mahjong tiles that Nell had kept and play the Chinese game, just like we used to do in good old Singapore. Ah what great fun we had… Rachael, another of my Internet friends, took time off from her busy schedule to come and visit while we were staying at Nell's home. She is a delightful lady and I am so glad that we finally got to meet. Oh, the magic of the Internet…

Having heard so much from Nell about the great fishing scene, we decided to part with an exorbitant sum of money in the purchase of appropriate fishing licences and a couple of compact fishing tackle sets for travellers. We then jumped into Nell's car and off we went to Grand Isle, positively salivating at the thought of feeding our faces with crawfish! Unfortunately, we found out that we had missed out on the crawfish season (about two weeks too late) but Nell's nephew (who lives on the island) got busy on the phone and managed to get 10 lbs of it to share among the three of us. They were delicious!!! [Crawfish are similar to what we call "yabbies" in Melbourne.] I now have a recipe for crawfish boil which I must try out one of these days… It certainly won't be the same but definitely worth a try. We settled in for our first night there in Nell's camper, parked on her nephew's property and had planned on getting a good night's sleep so we could try our luck at fishing bright and early the next mornig. Sound sleep did not come about however, as we were viciously attacked during the night by an army of ants that had perhaps come in to avenge the crawfish we had consumed. My poor MOTH was worst hit with some of the bites forming painful blisters. 

While on Grand Isle, we had a go at fishing for speckled trout but despite making all the right moves with flicking of the rod, etc… the fish were able to swim around us in relative safety.  To make up for it, our crabbing attempts were VERY successful – just walked out to knee deep in the very warm water and scooped the crabs up with a net. Talk about easy and fun. On the way back to Lafayette, we stopped at a seafood distribution place and bought a bunch of fresh green prawns (shrimps, as they call them in the U.S.) so I could whip up a feed of sweet and sour prawns. Everyone was suitably impressed with this dish (and the chili crabs were a big hit, too) so it was decided that we would make another trip to Grand Isle before our visit was over. This time Blaine decided he would come along as well. Yay!!!

A few days later, we set off again (this time in two vehicles) for Grand Isle. Again, we didn't do too well with the flicking of the rods although Blaine did prove that there actually ARE speckled trout in the water, with a few fine samples to show us. [No, the bloke in the photo showing off his trout trophy is not Blaine, but Don, his older brother.] By this stage I had lost interest in trying to catch fish, delighting instead in netting more crabs! It was suggested that we could try a spot of night fishing – now that sounded like a heap of fun… so after a light dinner, we eagerly set off with hopeful hearts. We all had our individual head lights on show the way in the dark and also to leave our hands free to reel in the big fish. Not ten minutes into this fishing adventure and I realised it was not a good idea AT ALL! The mosquito repellent we had liberally used was more of an attractant, drawing all the mozzies within a ten km radius to where we were!!! Man, they were so bad I almost got carried away by a couple of them! Sure was glad I had put on a bit of weight by that time. On our second day there, we just concentrated on netting more crabs – now THAT was fun. The only "painful" part was the cleaning of the crabs we had caught but the eating part far outweighed the cleaning…

No visit to Louisiana would be complete without seeing New Orleans, so off we went for a day's outing. As our visiting time in LA was fast running out, we couldn't allow a bit of rain to ruin our plans so twelve of us set off… armed with all available umbrellas in the various households! After the hurried purchase of several rain ponchos when we got to the French Market, the rain stopped! Lunch was had at Jimmy Buffett's Margaritaville, where I sampled some soft-shelled crabs (yum!!!) and 'gator bites (not so yum). We spent the best part of the day buying stuff – Mardi Gras trinkets, Cajun recipe books and various souvenirs to take home. Of course we had to stop at the renowned Cafe du Monde to sample some beignets (pronounced "ben-YAYS" – rectangular doughnuts without holes, served fresh and hot with lashings of powdered sugar). After checking out the surrounding areas and many, many clicks of our cameras, we reluctantly headed back to Lafayette. I would love to be there in the carnival atmosphere of Mardi Gras time…

            

It sure was great catching up with old friends after all these years. We reminisced about the good old days, we talked, we laughed and made many happy memories to last us until we meet again. Before we could get too accustomed to eating yummy gumbos and crab bisques (and remember all the rules to playing Mahjong), it was time for us to depart… We were up with the larks on July 22nd and were driven to Lafayette Airport by Nell, with her dear daughter, Mary, making a special trip to the airport to bid us farewell. Needless to say, more tears were shed… I hate goodbyes so we said, "See ya later" instead! 
 

 BRITISH COLUMBIA 

 

June 26th – July 5th: My first long bus trip ever and what an experience it was! Not long into the bus-trip to Vancouver BC, I opened up my bottle of root beer and watched like a stunned mullet as the effervescent drink bubbled over and oozed out… down my hands, onto the crotch of my pants and quickly found its way into my handbag! An exasperated bark from my MOTH to put the fornicating bottle top back on, woke me up from my stupor. Luckily I wasn't wearing white pants, eh? 

I was filled with anticipation when told that the bus would be stopping at a duty free store (if my memory serves me right, it was West Coast Duty Free in Surrey, BC) so passengers would get a chance to indulge in a few minutes of shopping. I gleefully hopped off the bus and re-boarded shortly, triumphantly clutching a bag full of duty free goodies. We went through the Canadian Customs checkpoint without any hassle but got several quizzical looks when we said our Canadian destination is Tumbler Ridge.

Hopped off at Vancouver Bus Depot and on to Greyhound Canada to continue on our journey. By the time we got to Kamloops for another bus change, our bellies were growling somewhat but we  had overlooked getting some Canadian currency. Undaunted, my MOTH went ahead and bought some sandwiches and drinks with US currency. We got back onboard and started wolfing down our dinner. Halfway through my sandwich, I decided to use the restroom while it was unoccupied, so I put down my half eaten egg and mayo sandwich on my seat. Bad move! Upon my return, I promptly sat down on it, resulting in a decorative smear across the backside of my pants! The rest of the bus trip continued without a hitch with another bus change at Prince George and a breakfast of fried chicken wings at Mackenzie before arriving in Chetwynd in the late morning.

Our friends, Eric and Prudence, were waiting for us at the bus depot there and after a much needed cup of coffee (Tim Hortons, of course!), we travelled on in their vehicle to Tumbler Ridge. The small town of Tumbler Ridge is a fairly new one, built in the

 

click here for full size

early 1980's, to house the families and workers in the two local coal mines (Quintette and Bullmoose) (Click on Quintette Mountain for larger image). When the Quintette mine closed in 2000, the residents warmly welcomed new neighbours, (mainly from all over Canada and the U.S.) into their friendly community. People like my good friends who retired there from Calgary.

I saw the attraction almost immediately – scenic vistas of the Rocky Mountains, lakes, rivers, waterfalls, abundant wildlife… oh yes, did I mention the magnificent golf course there? I believe the fishing is excellent too, although we never got around to doing any fishing, simply ran out of time…. Sure would have liked to wet a line at the promising fishing "holes" in the area. I guess to fully appreciate the beauty of this beautiful peaceful region and the various outdoor activities available, we should have given ourselves more time… and more warm clothing, too. Quite unprepared for the cooler than expected weather, the only warm clothes we had were a couple of windcheaters each and a light jacket.Where was I? Oh yes, the very next day after our arrival, our friends took us on a short, easy hike to Quality Creek – (note the word, "easy") Yeah, right! Easy, my foot! The way there was fun, had a fire happening, cooked beef franks on sticks and cooled our drinks in the icy cold waterfall nearby. Then it was time to head back – that was when the word "easy" got misunderstood by my brain. It was like climbing the Himalayas, if you asked me! Needless to say, there were no more suggestions of future hikes after hearing my wheezy gasping pleas to slow down some.

While there, our friends took us to Dawson Creek (click on "Mile 0" on the left for larger image), Fort St John, the awesome Kinuseo Falls, Monkman Park (where they serve as voluntary rangers), Quintette Mine and various other interesting places. As a wee gesture of my appreciation, I cooked a pot of chicken curry for our hosts and threw in a free hair cut as well  (during a friends get together bbq at Moose Lake). I had my first taste of a moose roast one night – it was okay but I made a point of not having seconds though. Give me a roast lamb dinner any time!

The whole township of Tumbler Ridge turned up at the high school grounds to watch the fireworks display on Canada Day (July 1st). I had forgotten what cold meant until that night – it was so cold my fingers couldn't function properly so missed some good shots of the fireworks. My MOTH's birthday the next day was celebrated with our friends – Prudence whipped up a very yummy rum cake while Eric did a magnificent job of preparing an Indonesian feast.

The next couple of days were spent sight-seeing, with me desperately longing to snap photos of bears and moose in the wild, while trying to absorb as much of the beautiful sights as I possibly could. I knew for a fact that there were bears aplenty as I had seen their poo in the middle of the road! More proof of elks, too – I got a photo of elk poo in my collection now, together with many, many photos of the native flora. I marvelled at the size of the native bird – the mosquito! I wish our Aussie mozzies are that big – far easier to see and swat, I reckon. If not for the fact that my family are all in Melbourne, I would seriously consider moving to Tumbler Ridge. I'll bet I'd have some fishing tales to share, not to mention encounters with a bear or two!

All too soon, it was time to say goodbye to our dear friends at the bus depot in Chetwynd. After a tearful farewell,  we got on a Greyhound Canada bus to begin our long journey back to Vancouver, then on to Seattle. At least we had the right currency this time and were able to enjoy lunch and dinner. From within the bus, I saw a glorious sunset that evening and then the sunrise as we approached Vancouver the next morning. It was a pretty uneventful ride as we spent our 17th wedding anniversary sitting up all night in the oh-so-romantic atmosphere of a moving Greyhound bus….






  WASHINGTON STATE – Pt 1 

June 17th – 26th:

After weeks and weeks of careful planning and great deliberation over amount of clothing to take and number of suitcases to pack them in, we finally got to Tullamarine Airport on the morning of June 17 for our flight to San Francisco via Sydney. Arrived in Sydney about lunch-time and a couple of delayed flight announcements later, we were informed that our United Airlines flight to San Francisco had been cancelled due to some mechanical problem. Amidst groans of disappointment from fellow travellers, came a further announcement that cheered us a little – we would be transported by a courtesy bus to the Stamford Sydney Airport Hotel to enjoy a complimentary overnight stay in a luxurious suite, a bottle of fine wine plus a complimentary late lunch and dinner that night.

We made a couple of frantic phone calls   regarding the delay (to our family in Melbourne and another to our friend ANGEL in WA), before we headed off to the hotel and made the most of this "compensation". A three course meal was enjoyed in the hotel restaurant before we headed off for a leisurely walk to the stores. From there we went up to our suite for a relaxing bath then went downstairs again to enjoy a scrumptious smorgasbord buffet dinner which included tons of our favourite seafood. YUM! In the morning, we were again on the bus to get back to Sydney Airport and from there we had a pleasant and uneventful flight to San Francisco, arriving some 14 1/2 hours later, on the day that we left, as we "gained" a day when we crossed the International Date Line. No mucking about on our arrival in San Francisco though, it was a mad dash through customs and immigration checks to catch the connecting flight to SeaTac Airport.

WASHINGTON, at last!!!

There at SeaTac to welcome us was our friend, Blue Eye Angel – at this stage, we have been internet friends for about a year but we had never met until that day. All doubtful thoughts vanished as soon as we clapped eyes on one another – there was that magical instant rapport usually only found in friendships of many years standing. But I digress… Where was I? Oh yes, after hauling our suitcases into ANGEL's vehicle, we headed for Eatonville to meet the rest of her family and friends. Once they began to understand our Aussie Speak beyond, "G'day, howsitgoing?", we got on famously with the universal language of FOOD! Of course there was a bit more confusion in that area as we have different names for some food – e.g. Aussies do not eat Cheerios for breakfast, we have our Cheerios with tomato sauce! No, we are not stark raving mad, because what we call "cheerios" are little hot dog sausages. Another item of food that caused a few raised eyebrows was "jelly" – we have our jelly as a dessert (fruit-flavoured wobbly stuff – Jello?) and not on bread.

We couldn't wait to see and ANGEL couldn't wait to show us the sights so the very next morning saw us all at the North West Trek Wildlife Park. Of course old Busy Fingers here took many, many photos of almost all the native animals that were out and about in this massive wildpark. Of course there were no native Australian animals like kangaroos or koalas but we sure saw heaps and heaps of American fauna – elks, racoons, etc… We enjoyed a guided coach tour of the park where we could see the animals roaming wild and free in the various sections. The outing took the best part of the day and all too soon it was time to call it a day and head for ANGEL's home. An enjoyable outing indeed on a lovely sunny day too!

 A couple of days later, it was off to Pike PlaceMarket (Farmers Market) in downtown Seattle to be amazed by the abundance of Copperhead Salmon, Dungeoness Crabs and Monkfish in the seafood market. Unfortunately, our curiosity at seeing Geoduck (Prounounced "gooey-duck" – the name comes from the Nisqually Indian "gwe-duk" meaning "dig-deep"; scientific name: Panopea abrupta) up close and personal couldn't be fulfilled. [Geoduck photo courtesy of Washington's Outer Limits] I loved the atmosphere of this bustling market place with fruit, vegetables, flowers and crafts galore. ANGEL took us on the Bremerton Ferry on the return trip which gave us an awesome view of Seattle with majestic Mt Rainier seemingly in every direction we face!

Before we could catch our breath, it was decided that we would go to Ocean Shores, so we piled in the car and off we went. Had brunch of yummy clam chowder in a cafe just before Ocean Shores – clam chowder in a bread bowl… mmmm… We then continued on our way and walked a lo-ong way along the beach in the hopes of finding a recently washed-up perfect sand dollar and — hey, what about geoducks??? I looked real hard but it was no good – I guess we weren't in the right area for geoduck. I did however come across an intriguing piece of driftwood with a whole bunch of baby bivalves attached to it… Could it be very young geoducks? I am left wondering to this day! As for the sand dollar – alas, all we managed to find were a few broken ones so we went to the souvenir shop to purchase a few specimens for good luck. All too soon, it was time for the long drive back to Eatonville…

I introduced our friends to my Special Fried Rice and Sweet and Sour Chicken and soon had them begging for more. ANGEL and her hubby treated us to a great dinner at an Outback Steakhouse and until then I have never even heard of the dish, "Blooming Onion" let alone tasted it! You see, the only Outback Steakhouse we have in Australia is in Sydney… And what do I think of the Blooming Onion? Simply "bewdiful"!!! I really must try and see if I can duplicate this dish at home one of these days. On days when we had been sightseeing or shopping and nobody felt like cooking, we would head off to Doreen's Cafe for a feed of yummy Philly Burgers! Another great "body-building" food as I call it – not an ounce of fat but lashings of it!!! But hey, who's worried about fat and bad cholesterol when on holidays, right? Certainly not me!

How true the saying, "Time flies when you're having fun…" as before we knew it, it was time to head off to Canada (British Columbia) – for the second part of our holiday. ANGEL got us to the Greyhound depot at Tacoma and waved us off on June 26. I believe they had a little party afterwards to celebrate their temporary respite.

                                         
  WASHINGTON STATE   BRITISH COLUMBIA    LOUISIANA  

– 2002

          Washington State
 
          British Columbia
 
          Louisiana
 

INTRODUCTION :

My MOTH (Man Of The House) and I began planning for this long awaited trip months in advance. We left Melbourne on June 17th and returned home on August 12th. We had a blast, visiting good friends in Washington State, British Columbia and Louisiana.

We visited ANGEL and Jackie in Washington State, then traveled on a Greyhound bus to BC to spend 8 days with Eric and Prudence, my friends of over 30 years, dating back to the good old days in Singapore. After that we hopped on another Greyhound bus to get back to Seattle to meet up with Nell and her family, who were vacationing in Seattle (from Louisiana) while we were in BC. I know Nell and her family from when we were all living in Singapore some 30 years ago but somehow had lost contact with them. Through the magic of the Internet, I managed to track them down a few months before this planned holiday.

I'm like the Asian 'Flu actually, just when you think you're rid of me, I'll resurface and bug ya! 

This Asian 'Flu then returned to Washington State for another "bout" that lasted a further 20 days! Our holiday finished off with a day in San Francisco before hopping on a plane back to Melbourne, Australia. What follows is an account of our holidays. I do hope you will enjoy reading it as much as I have enjoyed writing about it.

OzLadyM

WASHINGTON STATE





BRITISH COLUMBIA
 

LOUISIANA



 

 SINGAPORE – 2001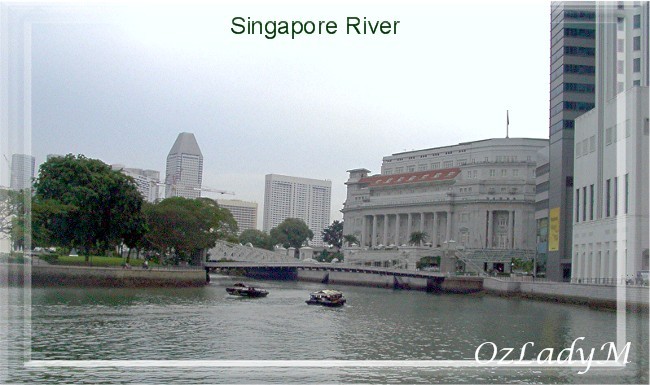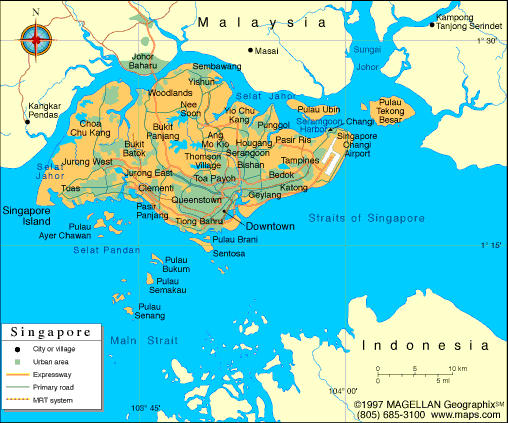 FRI NOV 9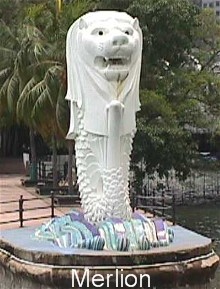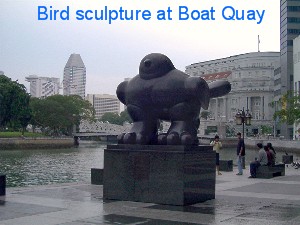 Here I am in humid, sunny Singapore aka the Lion City.
I had a great flight, thoroughly enjoyed the superb supper before attempting to watch the in-flight movie but my eyelids kept snapping shut so I gave up and assumed the fetal position (was lucky enough to have a vacant seat next to me) to catch forty winks. Some twenty winks later, the aroma of hot croissants and brewing coffee wafted to my still very much alert nostrils which sent a wake-up call to my brain. Stayed awake after breakfast of croissants, scrambled eggs, sausage, hash brown, OJ, fresh fruit salad and piping hot coffee. In all, I enjoyed a total of 2 hours' sleep out of the past 32 hours. No qualms about wolfing down the airline food as Gulf Air only serve "Halal" food.
Arrived in Singapore at sparrow's fart (6.20am local time) and sailed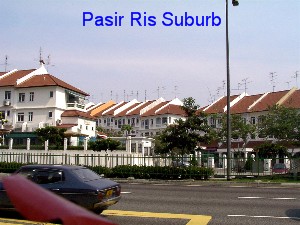 through customs because I looked innocent. I recognized my brother by his glorious head of silver hair and he recognized me by my excited waving routine. 

  Spent several minutes convincing him we should take a cab back to his place instead of getting on the local bus with my rather large suitcase to save S$9.80 (about US$5). He spent the rest of the morning (and the best part of my visit!) lamenting my extravagance. While he went to the money-changer for me (just so I wouldn't get ripped off), I was given a generous loan, the key to his apartment and long detailed instructions on how to find my way back from the shopping centre after I'm done "looking around".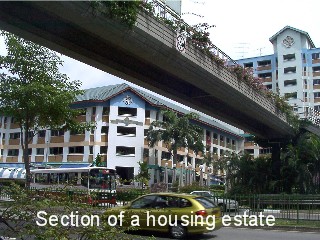 So what did I do on my first day here? Well, I went and got a hair perm! After which, I wandered around the various food courts and sampled a few of the oft-remembered local fare. 

  Hunger and greed appeased, I sauntered back to the apartment blocks and realized I should have paid more attention to instructions given earlier on. We're talking about cloned apartment blocks here with no great distinguishing features – a jungle of concrete apartment buildings interspaced with lovely tropical landscaped areas. I smugly patted myself on the back as clever me at least remembered the address…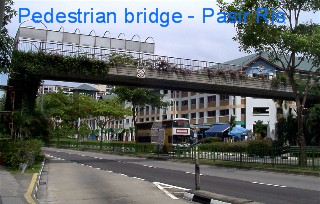 Found the block ok… yes, I recognized the elevators, two of them, side by side. Woohoo!!! Went into elevator A, pushed button with "9" on it, elevator stopped, Oz waltzed out, skipped down two flight of stairs and, uh-oh! The numbers on the doors didn't look at all familiar! Released frustration by growling to myself before trying plan B. I must have taken the wrong elevator! Yes, that was the problem. Easy-peasy – re-traced steps back to the ground floor, got into Elevator B this time and no problem. Up the elevator went, with Oz humming merrily to herself, got out of the 9th floor, raced down two flight of stairs and… Bloody hell! Same problem, same non-matching numbers on doors… By this stage, urgency had made friends with panic – time was ticking away and I was supposed to be already home to let my brother into his own house as he had given his keys to me!!! Visions of being thrown out of his house started to float across my mind, along with a touch of self-pity, too. Poor, poor pitiful me… 

  Back I went to the ground floor – maybe there are another couple of elevators that service the different flat numbers? Hurriedly walked the whole length of the block, no luck. So I was back in square one. Okay, steady on, old girl – Think! Think, you silly old cow! Up again I went, (elevator B) and then it came to me in a blinding flash – I remembered walking along a corridor with my brother earlier on BEFORE we went down a couple of flights of stairs! What a relief that was – that no one had gone around with a bunch of gold numbers and changed them all over the place as revenge for something I did or didn't do! Whew! In answer to a couple of possible questions – yes, I made it back before my brother's return and yes, I had visited at this same address but it was some six years or more ago. I think it's due to sleep deficiency!
SAT NOV 10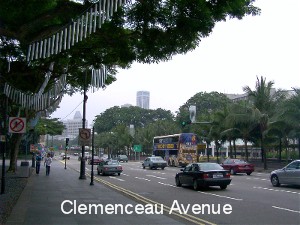 By nine o'clock this morning, after a good night's sleep, I was all dressed and ready to rock and roll… I headed off into the city via bus and the MRT (Mass Rapid Transit) train. I thought I may as well do some more "touristy" stuff – shopping, eating and a bit of sightseeing before meeting my niece in town after work at lunchtime. You can bet your boots, I will most likely be doing an excellent job of getting hopelessly lost several times this morning, despite the fact that my niece had armed me with not only the map of the city and the local bus guide but also, written instructions on public transportation, stops and destinations, her contact number and so forth. I set off, confident that I would be strong enough to resist the temptation to shop extravagantly but alas I failed miserably. By the end of the day, I had myself convinced that my M.O.T.H. (Man Of The House, aka hubby) would probably tell me not to bother coming home to him after learning of the damage I had done to my credit card. Oh woe is me! 

SUN NOV 11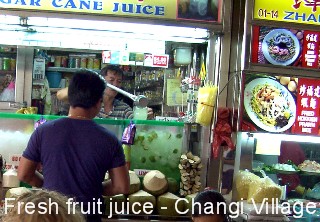 I gathered up enough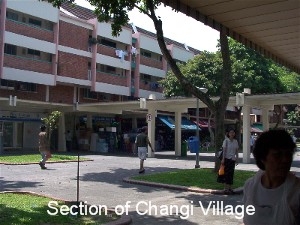 courage to confess to my MOTH this morning and the sweet darling man actually forgave me for my insane spending spree. He had guessed my purchases as, "Diamonds? Lap-top? Gold?" and I could swear I heard an audible gasp over the Internet when I guiltily replied in the affirmative to all three! When I get home I will have to convince him that a diet of bread and water for the next six months will be good for both of us. After the arrival of my son and his lady (They had arrived from Melbourne on the Saturday morning flight and stayed in the city area.), we sat down to a delicious breakfast of Indonesian "lontong" (compressed rice cubes served in spicy coconut sauce with vegetables, boiled egg and sambal) and Indian roti served with lamb curry. We then jumped on a bus and headed off to Changi Village (my old haunt) and terrorized the shopkeepers there for the afternoon's entertainment. One of the shop-owners must be psychic as he had only recently sold his store and gone into hiding for fear of my bargaining ability. The rest put on a pretty good act at being pleased to see me again and one of them even tried to get my son pissed on Anchor, the local beer!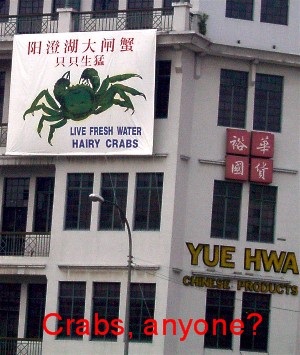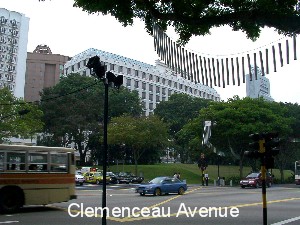 Some goods and money exchanged hands and a hearty lunch was had at the food court before my son and his lady went sightseeing. I decided to go to Chinatown with my niece for a bit more shopping before heading back to my brother's place armed with enough local fare to feed an entire army. By now, the heat and humidity have taken their toll on me – my legs look like a pair of elephants' trunks (minus wrinkles, though) and my fingers would have delighted a lesbian partner if I am that way inclined!!!
MON NOV 12
Today started off quietly enough (quiet because I was `home alone') until the phone call from the young `uns, namely my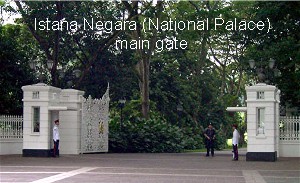 son and his lady. That brief conversation resulted in me getting changed in record time to get to town within the hour. After our rendezvous at the MRT Dhoby Ghaut Station, we sallied forth on foot to Chinatown (so I could have another 'look around'), getting side-tracked only twice to duck briefly into the air-conditioned surrounds of a couple of boutiques to cool down. I must admit that S$50 is a hefty price to pay for 10 minutes of cooling time but we took turns doing so – in my case I was allowed to walk out of a store with a pair of knickerbockers! Bonus!!! We saw a fair bit during the walk, stopping briefly to watch the changing of the guards outside the President's residence, Istana Negara ("Istana' – a Malay word meaning 'palace';'Negara" meaning 'nation'), gawking at the elaborate light-catchers strung out over the tree-lined avenues, and so on.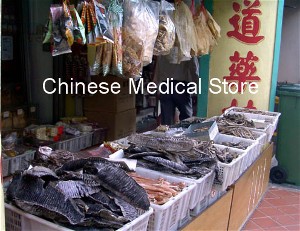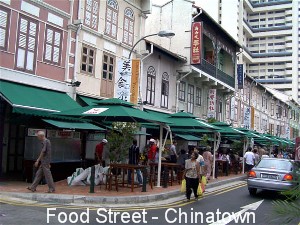 We then decided we had fart-arsed long enough and reached a unanimous decision to hail a cab for Chinatown – synonymous with food and all things Chinese. We did a quick lap of a couple of the shopping complexes, bought several knick-knacks (absolutely useless, of course) and soon after became fixated with the idea of lunch. By this time, I was practically salivating at the thought of enjoying a bowl of beef noodle soup as I remember it at an old favourite eating place of mine – Boat Quay… but first, we must take a few photos of the famous Sri Marianam Hindu Temple, right in the middle of Chinatown.
We hurriedly did the tourist thing before "hoofing it" to the excellent eating stalls at Boat Quay, along the Singapore River where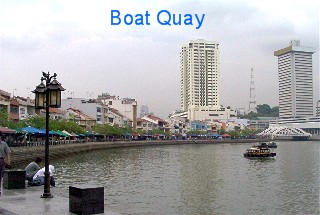 the food was good and cheap (just the way I like it).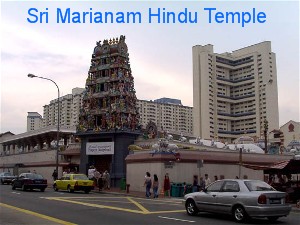 Getting there involved many, many intervals of "ducking into air-conditioned shops" to either admire the items that were exhibited, for icy-cold drinks or to use the toilets. In many cases, we were allowed to leave with clothing items, souvenirs and such. We eventually made it to Boat Quay – but to my utter dismay (and disappointment), the whole area had been transformed into cafes and restaurants with International themes – Italian, French and so forth, with menu prices that made my eyes bug out. Oh well, there goes lunch… "No cause for alarm, Mumzy!" my son sang out, "we'll just go to where we eat most every night." (We are a stone's throw from where he and his love are staying). With renewed energy, we marched on, again stopping here and there to give money to total strangers in air-conditioned stores just to cool down our sweat-drenched bodies while they generously gave us stuff to take away with us.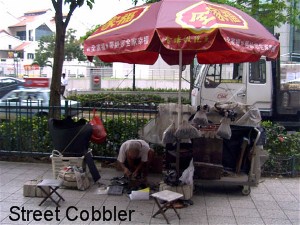 To cut an already long story a few sentences shorter, we got to Robertson Quay (or was it Clarke Quay?) only to be told they don't serve diners until after 5pm! With bellies growling angrily by now, we lashed out by taking a cab to our next stop – the Sun Tech Complex in the hopes of appeasing our angry belly worms there. At last, after satisfying our thirst and hunger, we did a quick lap of the stores there before checking out the Fountain of Wealth. Picture if you will, three shopping-bags-laden presumably sane human beings, sticking one hand out over the gushing fountain while walking around it three times. I just hope that our wet pants, hands, shoes and several equally drenched shopping bags mean that our wishes will come true some day soon. At least this exercise cooled us down somewhat… We then parted company with plans to meet tomorrow afternoon at the jewelery store. Yes, I am still doing my share in boosting this island's economy… for a few more days anyway.
TUE NOV 13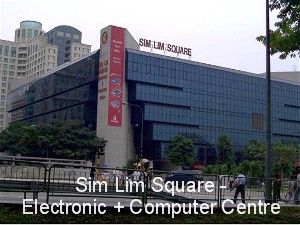 Again, I was left to do my own thing so I found my way into town and window-shopped for the best part of the late morning until it was time to rendezvous with son & co. at the jeweller's at 3pm. Even though I was one of many, many other Chinese women going about their business along busy Orchard Road, I stood out from the rest, as I was the only one wearing a bucket around my neck! This little trick served a dual purpose – for ease of recognition for those who may have known me from when I was here last and wish to renew the acquaintance, and also to catch the steady stream of drool, especially when gawking at the fabulously designed array of jewellery in the stores. Since my earlier "sins", I have indeed strengthened my resolve and I managed to resist the temptation to purchase more baubles. I have no wish to invoke any ill feelings in my darling MOTH towards me. After all, he can only love me so much. 

  I arrived half an hour early at my jeweller's (yes she's now MY jeweller) and we passed some time away sipping tea, eating snacks and chatting like old friends – we Asians are a very friendly race. 🙂 My son and his lady arrived right on 3pm – with my son looking like death warmed up. He looked and felt dreadful – I think the shopping, walking, eating, more shopping, more walking, etc that we did the day before in the extreme heat had taken their toll on him. So obviously, hopes of doing more shopping together went out the window… We parted company in Orchard Road – they went back to their hotel room to rest while I went on shopping to at least buy SOMETHING. I hate coming `home' empty-handed so I bought a printer for my niece! I only lost my way three times today, (that's pretty darn good for me) – I think I am starting to get the hang of moving around on this island republic.
WED NOV 14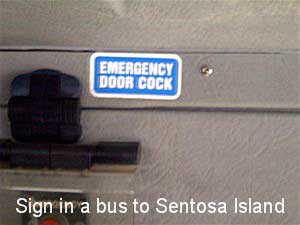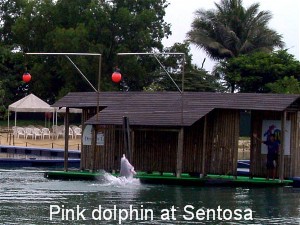 As today is a public holiday, we 'kidnapped' my niece and headed off to Sentosa Island and did the tourist bit. Between the four of us, we managed to find our way to the island 'a la local', i.e. via MRT train and bus. Got there in the nick of time to catch the pink dolphins at show time. The show was quite well organized with audience participation and all that jazz. My son's lady was all excited at the prospect of petting the dolphins for the princely sum of S$5 but her ardor died a sudden death when she heard that she would have to get in the water past her waist! We then continued on our walk sharing the walkway with monkeys and peacocks, much to the delight of the camera-toting tourists. Like sheep going through the de-ticking dipping process, we joined the queue to get on the monorail. The scenery was okay, especially for those who were turned on by tropical jungle settings and a quick downpour of tropical rain as well. Hopped off that, picked our way in between the raindrops and cast a cursory glance at the orchids near the entrance of the garden and much to the relief of the young `uns, I decided against the complete walkabout around the garden. In gratitude, my son and heir captured a 360` video clip of the garden just so I can view it in my own time when I get back to Australia. When the worms started growling to be fed, we made a beeline to the food court where the prices far exceeded the quality of the food on offer.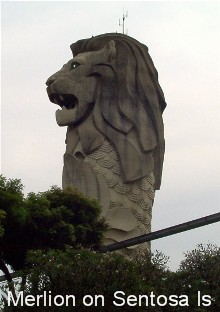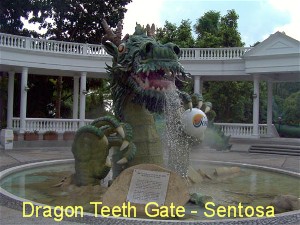 Hunger and thirst appeased, we continued on our bumbling way to the underground oceanarium where we managed to provide some form of visual entertainment to the exotic marine life while we gazed in awe at their magnificence. After that, we did other tourist stuff while clicking our cameras like trigger-happy Rambos wherever we went. Merrily, we found our way by going down a couple of hundred stairs, to get a better view of the gigantic statue of the Merlion, the symbol of Singapore. Wouldn't you know it? By the time we turned around to find our way back up, the bloody stairs had multiplied themselves into at least a thousand!!! By the time I made my way back to the top, I could hardly breathe. It made me feel kind-a smug though, that the young `uns were breathing pretty heavy too and not because they were feeling amorous either. It's hard to imagine anyone wanting to get up close and personal when we were all sweating like pigs!
We decided to lash out and splurge on a cable car ride back to mainland Singapore – BIG MISTAKE! It was all fine and dandy until we got off at the Mt Faber terminal – not a single taxi to be seen and it would have been a mighty long walk down the mountain to get back to the main road. Luckily, we were not the only bozos around; a Canadian couple was in the same predicament. While we were considering our options, lo and behold – who should step out of the shadows but a Chinese Samaritan! He offered us all a ride in his air-conditioned Mercedes van back to town. We could have been wrong but we had a sneaky suspicion that it wasn't the first time he had performed this service. We willingly parted company with S$10 just so we didn't have to spend the night there. It turned out to be a most interesting ride to town indeed and I am pretty sure he is the principal of the Tourist Promotion School, moonlighting on his days off as a chauffeur-cum-food advisor-cum-tourist guide-cum-everyone's favorite uncle. He certainly had the gift of the gab.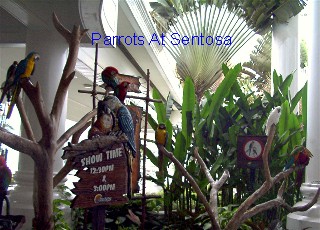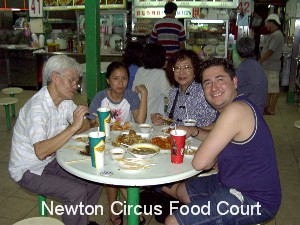 From the city we found our way to the famous Newton Circus where we met up with my brother and after a less than satisfying dinner, we unanimously agreed that the Food Centre had been glorified way too much. I guess if we had a feed of seafood in mind it may well have been a different rating but nonetheless, we were disappointed in the eating experience there. We couldn't say that "Uncle Lee" hadn't warn us about it all, though – we should have heeded his advice and eaten at the Old Market Place instead. We parted company at the MRT train station nearby, as Son and his lady were due to fly back to Australia the next evening. They were lamenting the fact that there weren't enough days to eat all that they had wanted to in beautiful Singapore – the food-lovers' paradise!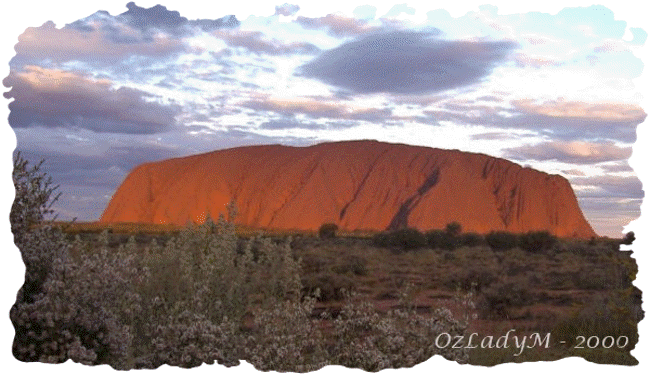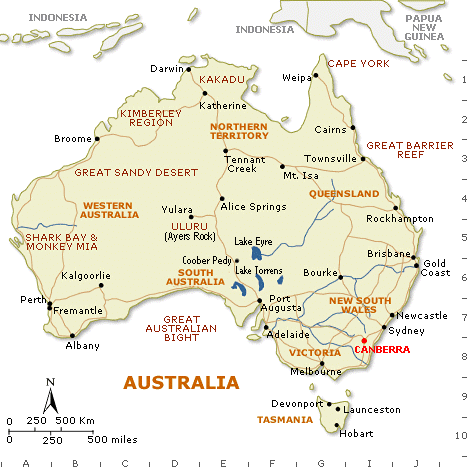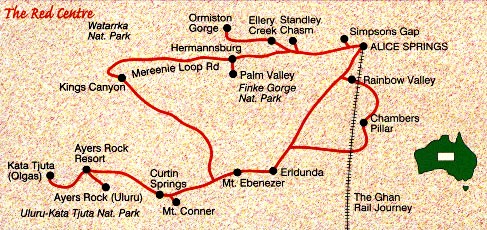 We gleefully left Melbourne on Thursday morning, 24th Aug. in the 4WD which had been expertly packed the previous day by my dear sweet partner/chauffeur/financier/travel organizer, my M.O.T.H. (Man Of The House) a.k.a. hubby.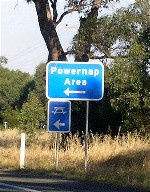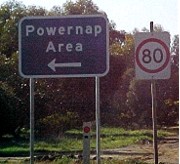 I was in charge of the music, photographic equipment, food and drink breaks, karaoke sing-alongs and taking power-naps! FYI, there are many power-nap areas along our country roads but we did not use these areas, I just power-napped whenever it suited me while my MOTH drove along. [Thanks to Sam L and Darrin S – members of aussiehwys yahoo group for the Powernap jpgs] My silence in between soft gentle snores gave me away though!!! During my pensive moments, (silent but with eyes wide open) my dear MOTH would solicitously voice his concern and I would quietly reply I was merely trying to remember what it was like to experience the glorious sensation of fluid passing over my tonsils or that I was chewing some invisible food… Now am I not the perfect company on these long road-trips???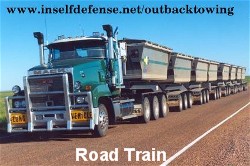 Before we left home, our son and elder daughter suggested that I may gather up enough courage to do some relief driving but I do not think they would like to see their dad return, a mere shadow of his former self. Imagine waving good-bye 

 to an able-bodied man only to welcome home a semi-bald completely grey-haired old man, his hands all gnarled and permanently clenched, right leg locked forever at an awkward angle, eyes glazed, stuttering incoherently and suffering badly from the shakes. And what about all the road train drivers who would be sharing the road with me? I rest my case."..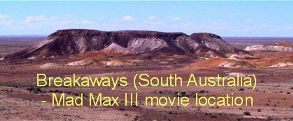 We sure covered some territory – we did 6,224kms (3868mls), checked out several motel rooms, and spent a small fortune just to see rocks – many, many rocks! Got some great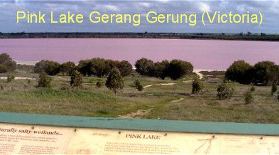 photos of the famous rocks – Ayers Rock (named after South Australian Premier Sir Henry Ayers and now called Uluru – meaning 'great pebble' in the Aboriginal language), The Olgas (Kata Tjuta – meaning 'many heads' in traditional Aboriginal language), Standley Chasm, Kings Canyon, Breakaways… well, at least I HOPE they are good photos. We also managed to break the rock "routine" with photos taken at a date plantation, a salt lake, a pink lake, a couple of opal mines and Woomera Village. If interested in viewing more photos, please go to My Photos and select the appropriate directory.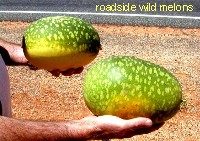 I was equally fascinated by the wild melons that grew in profusion by the roadside in the Northern Territory. Deaf to his insistence that they are inedible, I persuaded my darling MOTH to stop so I could pick a couple (for a closer inspection). When we got to the motel that night, I broke both open (one looked exactly like a small cantelope and the other, a mini version of a watermelon) and sneaked a taste of each, the 'cantelope' had no taste and the 'watermelon' was bitter. 

 MOTH caught me in the act and to his, "I told you so!", I retorted they were just a bit too 'green' and should taste pretty good if they had been ripe! I must confess that my interest in them kind-a died a natural death after that though…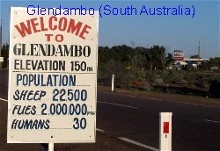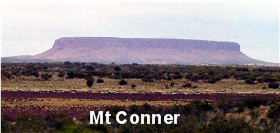 Our road trip also opened my eyes to Nature's random 'gardens' – fields of wild flowers, growing in abundance, unfertilised, unweeded and untended. I'm having second thoughts about lavishing too much attention to the plants in my garden now… The wild life department was a bit of a let down – we saw a couple of still kangaroos and a fox (also rather dead) by the roadside with eagles and crows feeding on the carcasses but no live kangaroos or dingoes on the whole trip. Birds… ahh, there were plenty of them, quite beautiful. We were busy admiring a couple of emus on one side of the road and almost ran into another which was trying to cross the road. Thankfully, we swerved, and it swerved – in the opposite direction!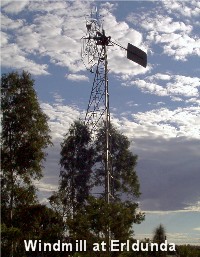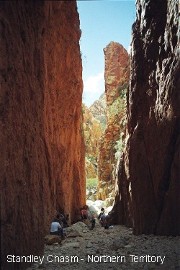 Thought we'd stay at a little country motel on our way to Ayers Rock… we drove into the driveway and what did we spy with our tired little eyes? A couple of groups of Aborigines – my tentative smile was returned with vacant stares and I got a tad nervous when a car-load of men pulled up so MOTH did a quick U-turn and back-tracked to the last motel we had passed (about 50km) at Erldunda. We passed another car-load of men obviously heading for the same motel with not a didgeridoo (Aboriginal wind instrument) in sight, so, far be it for us to gatecrash their booze-up… MOTH said he didn't fancy keeping me company while I stay up all night by the window keeping a look-out on our 4WD and all the goodies inside. No sense of adventure, that man! The next morning, I had my video camera ready as we drove past the same motel at Mt Ebernezer but not a single Aborigine was in sight!!!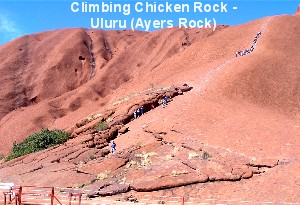 We got to Ayers Rock and wouldn't you know it, it rained!

 – An unusual occurrence in the desert, as we all know. Undaunted, we went sight-seeing anyway and checked out The Olgas. We could almost hear the huge sigh of relief from fellow visitors when the sun decided to stop sulking and made its welcomed appearance that afternoon. We went to join many other tourists to watch the sunset over Ayers Rock – if you didn't know any better you could have easily mistaken the lot of us for some rock-worshipping pagans! The cheapest accommodation we could get that night was two double bunk-beds at AU$145 a night, so we had to put any romantic inclination aside.

 The prices of food in the restaurants were exhorbitant – we solved that problem by getting a couple of packs of frozen dinners each from the only supermarket in the resort and heated them in the microwave oven in our room. From Ayers Rock, we went on to Kings Canyon before going on to Alice Springs, so I could buy some fresh dates and check out Standley Chasm (another rocky landmark).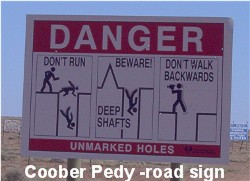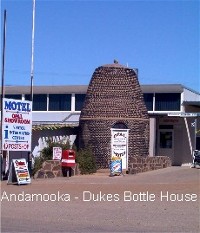 After this, we'd had enough of rocks so mutually decided to give other natural rocky wonders a miss, turned around and started heading south – to South Australia and rocks of a different kind – on to Coober Pedy and Andamooka opal mines. We enthusiastically set off with my MOTH eager to see Lake Torrens while I was excited by the mere thought of seeing opals in the raw (unpolished). We didn't have to worry about snacks as I had plenty of fresh dates to munch on! By now, you must have noticed how my state of mind is strongly influenced by food…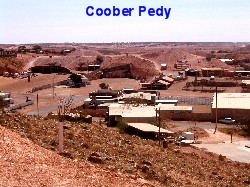 Coober Pedy is probably best known for its unique style of underground living – there is even an Underground Backpackers Inn.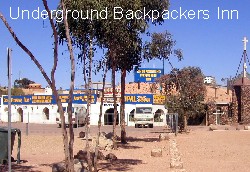 I guess it is an obvious solution to the prevailing hot and dry weather of the area. There are authentic underground homes, underground museums, potteries, an art gallery and, of course, opal mines. I couldn't help but notice the many, many opal jewellery stores there, too… funny, that. 

 Much though I would have liked to, we didn't go on a guided opal mine tour, due to the time factor. My MOTH was keen to get on the road to Lake Torrens before it got much hotter. So after a drive around, a few clicks of our cameras and a quick snack of a meat pie and drink each, we continued on our south-bound travel .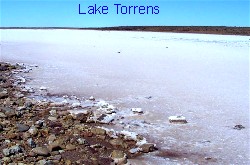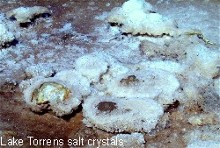 We were awe-struck by the salt lake near Andamooka – Lake Torrens. It was well worth every bump of the rather rugged 4WD track we took (15 kms each way). I am still trying to decide which track I prefer – the bumpy rocky ride or the Ernest Giles Road – 100km of red dirt, rather soft in many places (a bit like riding the waves in the ocean), that we went on a few days earlier. Anyway, back to Lake Torrens – there we were, just the two of us and this expanse of salt… simply awesome! After that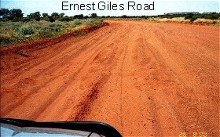 we turned around and headed back to Andamooka where we checked out an opal-miner's "home store". I was so captivated by a couple of polished pieces of opals for sale that the only way my MOTH could get me out of the place was to purchase the gems for me, so he did! I hope our next trip will include the Argyle Diamond Mine!!!

We made a slight detour to check out Woomera Village (the old rocket range), where my MOTH reminisced about his days in the RAAF while looking at some old aeroplanes, before returning to MacDonalds and KFC populated towns, and further south to golden canola fields and idyllic seaside townships. Our final night was spent at Victor Harbour, where it was so windy it would have blown a dog off its chain. That's okay though, we celebrated our successful trip with a great 3 course dinner – soup, T-bone steaks with all the trimmings AND dessert… YUM!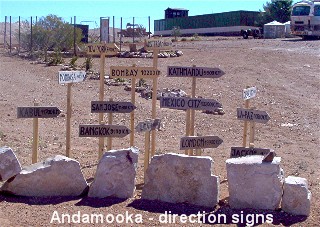 We left Melbourne with plenty of health food like potato chips, corn chips, dips, lollies, cheese, biscuits, apples and mandarins (all fruit were confiscated at the fruit-fly checkpoint at the South Australian border near Renmark – grrr!), soft drinks, beer, some wine and plenty of water, many, many CDs, audio cassettes, a 2-man tent, sleeping bags and pillows (just in case…), and mostly winter clothes. Came home with some of the food, not much beer and wine, most of the water, unopened tent, sleeping bags, pillows, worn out CDs, unworn winter clothing, a few souvenirs, some rocks, lighter pockets and happy memories we will long recall… Woke up this morning to find my MOTH missing – he was re-loading the 4WD like he'd been doing for the past 11 mornings!

Must go fishing soon to recover from this road trip…