SINGAPORE – 2001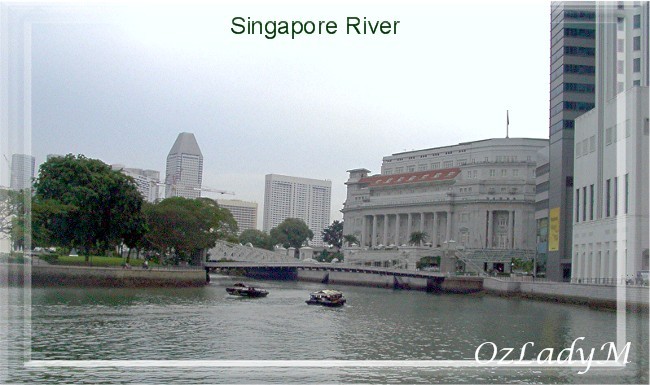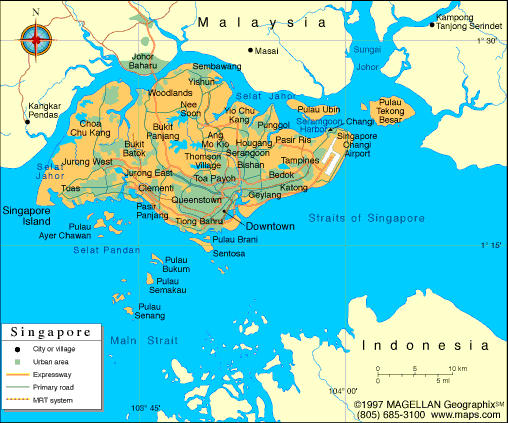 FRI NOV 9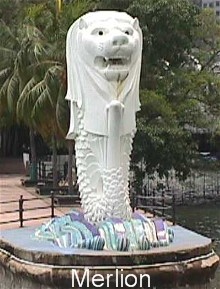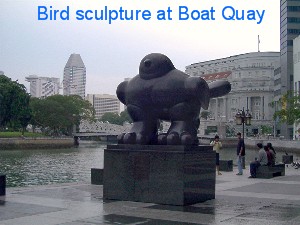 Here I am in humid, sunny Singapore aka the Lion City.
I had a great flight, thoroughly enjoyed the superb supper before attempting to watch the in-flight movie but my eyelids kept snapping shut so I gave up and assumed the fetal position (was lucky enough to have a vacant seat next to me) to catch forty winks. Some twenty winks later, the aroma of hot croissants and brewing coffee wafted to my still very much alert nostrils which sent a wake-up call to my brain. Stayed awake after breakfast of croissants, scrambled eggs, sausage, hash brown, OJ, fresh fruit salad and piping hot coffee. In all, I enjoyed a total of 2 hours' sleep out of the past 32 hours. No qualms about wolfing down the airline food as Gulf Air only serve "Halal" food.
Arrived in Singapore at sparrow's fart (6.20am local time) and sailed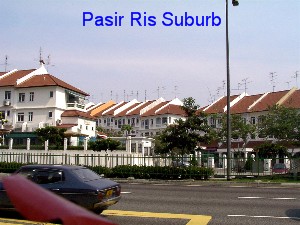 through customs because I looked innocent. I recognized my brother by his glorious head of silver hair and he recognized me by my excited waving routine. 

  Spent several minutes convincing him we should take a cab back to his place instead of getting on the local bus with my rather large suitcase to save S$9.80 (about US$5). He spent the rest of the morning (and the best part of my visit!) lamenting my extravagance. While he went to the money-changer for me (just so I wouldn't get ripped off), I was given a generous loan, the key to his apartment and long detailed instructions on how to find my way back from the shopping centre after I'm done "looking around".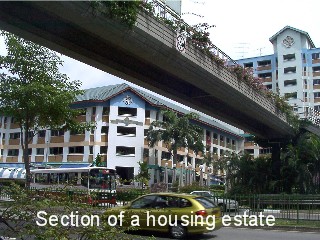 So what did I do on my first day here? Well, I went and got a hair perm! After which, I wandered around the various food courts and sampled a few of the oft-remembered local fare. 

  Hunger and greed appeased, I sauntered back to the apartment blocks and realized I should have paid more attention to instructions given earlier on. We're talking about cloned apartment blocks here with no great distinguishing features – a jungle of concrete apartment buildings interspaced with lovely tropical landscaped areas. I smugly patted myself on the back as clever me at least remembered the address…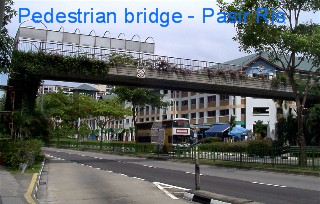 Found the block ok… yes, I recognized the elevators, two of them, side by side. Woohoo!!! Went into elevator A, pushed button with "9" on it, elevator stopped, Oz waltzed out, skipped down two flight of stairs and, uh-oh! The numbers on the doors didn't look at all familiar! Released frustration by growling to myself before trying plan B. I must have taken the wrong elevator! Yes, that was the problem. Easy-peasy – re-traced steps back to the ground floor, got into Elevator B this time and no problem. Up the elevator went, with Oz humming merrily to herself, got out of the 9th floor, raced down two flight of stairs and… Bloody hell! Same problem, same non-matching numbers on doors… By this stage, urgency had made friends with panic – time was ticking away and I was supposed to be already home to let my brother into his own house as he had given his keys to me!!! Visions of being thrown out of his house started to float across my mind, along with a touch of self-pity, too. Poor, poor pitiful me… 

  Back I went to the ground floor – maybe there are another couple of elevators that service the different flat numbers? Hurriedly walked the whole length of the block, no luck. So I was back in square one. Okay, steady on, old girl – Think! Think, you silly old cow! Up again I went, (elevator B) and then it came to me in a blinding flash – I remembered walking along a corridor with my brother earlier on BEFORE we went down a couple of flights of stairs! What a relief that was – that no one had gone around with a bunch of gold numbers and changed them all over the place as revenge for something I did or didn't do! Whew! In answer to a couple of possible questions – yes, I made it back before my brother's return and yes, I had visited at this same address but it was some six years or more ago. I think it's due to sleep deficiency!
SAT NOV 10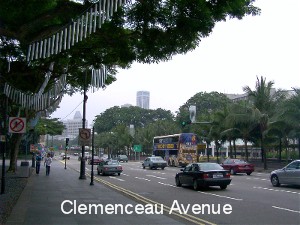 By nine o'clock this morning, after a good night's sleep, I was all dressed and ready to rock and roll… I headed off into the city via bus and the MRT (Mass Rapid Transit) train. I thought I may as well do some more "touristy" stuff – shopping, eating and a bit of sightseeing before meeting my niece in town after work at lunchtime. You can bet your boots, I will most likely be doing an excellent job of getting hopelessly lost several times this morning, despite the fact that my niece had armed me with not only the map of the city and the local bus guide but also, written instructions on public transportation, stops and destinations, her contact number and so forth. I set off, confident that I would be strong enough to resist the temptation to shop extravagantly but alas I failed miserably. By the end of the day, I had myself convinced that my M.O.T.H. (Man Of The House, aka hubby) would probably tell me not to bother coming home to him after learning of the damage I had done to my credit card. Oh woe is me! 

SUN NOV 11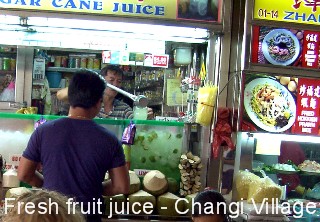 I gathered up enough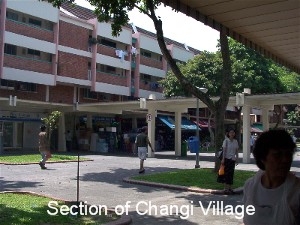 courage to confess to my MOTH this morning and the sweet darling man actually forgave me for my insane spending spree. He had guessed my purchases as, "Diamonds? Lap-top? Gold?" and I could swear I heard an audible gasp over the Internet when I guiltily replied in the affirmative to all three! When I get home I will have to convince him that a diet of bread and water for the next six months will be good for both of us. After the arrival of my son and his lady (They had arrived from Melbourne on the Saturday morning flight and stayed in the city area.), we sat down to a delicious breakfast of Indonesian "lontong" (compressed rice cubes served in spicy coconut sauce with vegetables, boiled egg and sambal) and Indian roti served with lamb curry. We then jumped on a bus and headed off to Changi Village (my old haunt) and terrorized the shopkeepers there for the afternoon's entertainment. One of the shop-owners must be psychic as he had only recently sold his store and gone into hiding for fear of my bargaining ability. The rest put on a pretty good act at being pleased to see me again and one of them even tried to get my son pissed on Anchor, the local beer!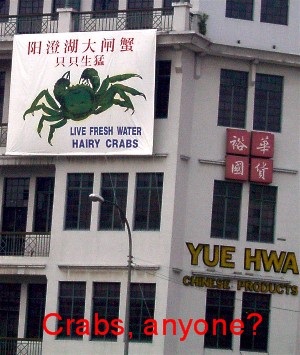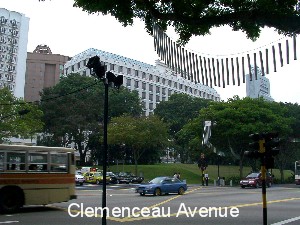 Some goods and money exchanged hands and a hearty lunch was had at the food court before my son and his lady went sightseeing. I decided to go to Chinatown with my niece for a bit more shopping before heading back to my brother's place armed with enough local fare to feed an entire army. By now, the heat and humidity have taken their toll on me – my legs look like a pair of elephants' trunks (minus wrinkles, though) and my fingers would have delighted a lesbian partner if I am that way inclined!!!
MON NOV 12
Today started off quietly enough (quiet because I was `home alone') until the phone call from the young `uns, namely my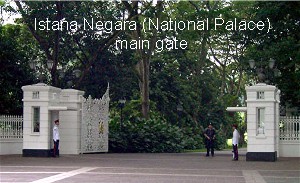 son and his lady. That brief conversation resulted in me getting changed in record time to get to town within the hour. After our rendezvous at the MRT Dhoby Ghaut Station, we sallied forth on foot to Chinatown (so I could have another 'look around'), getting side-tracked only twice to duck briefly into the air-conditioned surrounds of a couple of boutiques to cool down. I must admit that S$50 is a hefty price to pay for 10 minutes of cooling time but we took turns doing so – in my case I was allowed to walk out of a store with a pair of knickerbockers! Bonus!!! We saw a fair bit during the walk, stopping briefly to watch the changing of the guards outside the President's residence, Istana Negara ("Istana' – a Malay word meaning 'palace';'Negara" meaning 'nation'), gawking at the elaborate light-catchers strung out over the tree-lined avenues, and so on.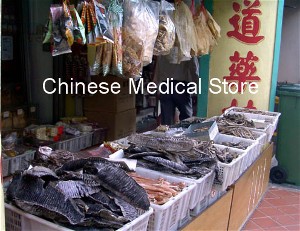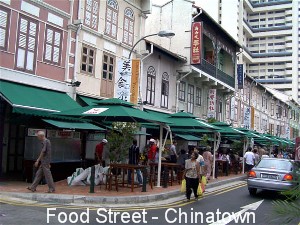 We then decided we had fart-arsed long enough and reached a unanimous decision to hail a cab for Chinatown – synonymous with food and all things Chinese. We did a quick lap of a couple of the shopping complexes, bought several knick-knacks (absolutely useless, of course) and soon after became fixated with the idea of lunch. By this time, I was practically salivating at the thought of enjoying a bowl of beef noodle soup as I remember it at an old favourite eating place of mine – Boat Quay… but first, we must take a few photos of the famous Sri Marianam Hindu Temple, right in the middle of Chinatown.
We hurriedly did the tourist thing before "hoofing it" to the excellent eating stalls at Boat Quay, along the Singapore River where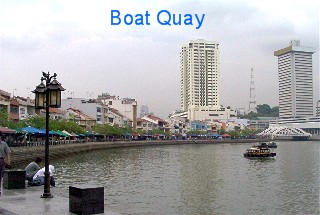 the food was good and cheap (just the way I like it).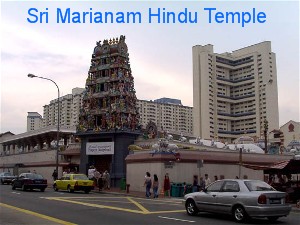 Getting there involved many, many intervals of "ducking into air-conditioned shops" to either admire the items that were exhibited, for icy-cold drinks or to use the toilets. In many cases, we were allowed to leave with clothing items, souvenirs and such. We eventually made it to Boat Quay – but to my utter dismay (and disappointment), the whole area had been transformed into cafes and restaurants with International themes – Italian, French and so forth, with menu prices that made my eyes bug out. Oh well, there goes lunch… "No cause for alarm, Mumzy!" my son sang out, "we'll just go to where we eat most every night." (We are a stone's throw from where he and his love are staying). With renewed energy, we marched on, again stopping here and there to give money to total strangers in air-conditioned stores just to cool down our sweat-drenched bodies while they generously gave us stuff to take away with us.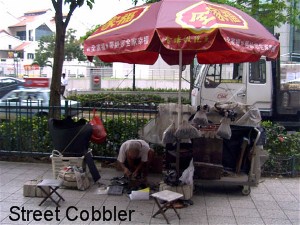 To cut an already long story a few sentences shorter, we got to Robertson Quay (or was it Clarke Quay?) only to be told they don't serve diners until after 5pm! With bellies growling angrily by now, we lashed out by taking a cab to our next stop – the Sun Tech Complex in the hopes of appeasing our angry belly worms there. At last, after satisfying our thirst and hunger, we did a quick lap of the stores there before checking out the Fountain of Wealth. Picture if you will, three shopping-bags-laden presumably sane human beings, sticking one hand out over the gushing fountain while walking around it three times. I just hope that our wet pants, hands, shoes and several equally drenched shopping bags mean that our wishes will come true some day soon. At least this exercise cooled us down somewhat… We then parted company with plans to meet tomorrow afternoon at the jewelery store. Yes, I am still doing my share in boosting this island's economy… for a few more days anyway.
TUE NOV 13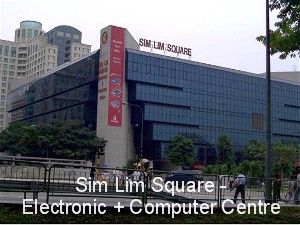 Again, I was left to do my own thing so I found my way into town and window-shopped for the best part of the late morning until it was time to rendezvous with son & co. at the jeweller's at 3pm. Even though I was one of many, many other Chinese women going about their business along busy Orchard Road, I stood out from the rest, as I was the only one wearing a bucket around my neck! This little trick served a dual purpose – for ease of recognition for those who may have known me from when I was here last and wish to renew the acquaintance, and also to catch the steady stream of drool, especially when gawking at the fabulously designed array of jewellery in the stores. Since my earlier "sins", I have indeed strengthened my resolve and I managed to resist the temptation to purchase more baubles. I have no wish to invoke any ill feelings in my darling MOTH towards me. After all, he can only love me so much. 

  I arrived half an hour early at my jeweller's (yes she's now MY jeweller) and we passed some time away sipping tea, eating snacks and chatting like old friends – we Asians are a very friendly race. 🙂 My son and his lady arrived right on 3pm – with my son looking like death warmed up. He looked and felt dreadful – I think the shopping, walking, eating, more shopping, more walking, etc that we did the day before in the extreme heat had taken their toll on him. So obviously, hopes of doing more shopping together went out the window… We parted company in Orchard Road – they went back to their hotel room to rest while I went on shopping to at least buy SOMETHING. I hate coming `home' empty-handed so I bought a printer for my niece! I only lost my way three times today, (that's pretty darn good for me) – I think I am starting to get the hang of moving around on this island republic.
WED NOV 14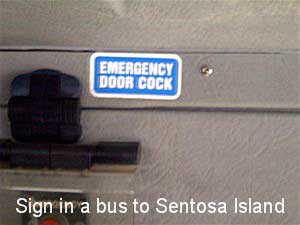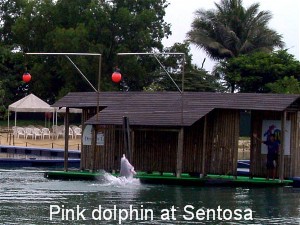 As today is a public holiday, we 'kidnapped' my niece and headed off to Sentosa Island and did the tourist bit. Between the four of us, we managed to find our way to the island 'a la local', i.e. via MRT train and bus. Got there in the nick of time to catch the pink dolphins at show time. The show was quite well organized with audience participation and all that jazz. My son's lady was all excited at the prospect of petting the dolphins for the princely sum of S$5 but her ardor died a sudden death when she heard that she would have to get in the water past her waist! We then continued on our walk sharing the walkway with monkeys and peacocks, much to the delight of the camera-toting tourists. Like sheep going through the de-ticking dipping process, we joined the queue to get on the monorail. The scenery was okay, especially for those who were turned on by tropical jungle settings and a quick downpour of tropical rain as well. Hopped off that, picked our way in between the raindrops and cast a cursory glance at the orchids near the entrance of the garden and much to the relief of the young `uns, I decided against the complete walkabout around the garden. In gratitude, my son and heir captured a 360` video clip of the garden just so I can view it in my own time when I get back to Australia. When the worms started growling to be fed, we made a beeline to the food court where the prices far exceeded the quality of the food on offer.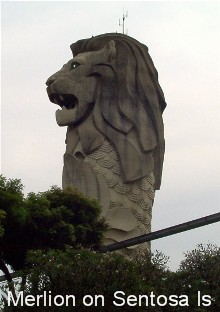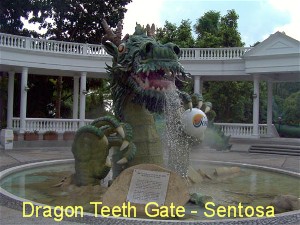 Hunger and thirst appeased, we continued on our bumbling way to the underground oceanarium where we managed to provide some form of visual entertainment to the exotic marine life while we gazed in awe at their magnificence. After that, we did other tourist stuff while clicking our cameras like trigger-happy Rambos wherever we went. Merrily, we found our way by going down a couple of hundred stairs, to get a better view of the gigantic statue of the Merlion, the symbol of Singapore. Wouldn't you know it? By the time we turned around to find our way back up, the bloody stairs had multiplied themselves into at least a thousand!!! By the time I made my way back to the top, I could hardly breathe. It made me feel kind-a smug though, that the young `uns were breathing pretty heavy too and not because they were feeling amorous either. It's hard to imagine anyone wanting to get up close and personal when we were all sweating like pigs!
We decided to lash out and splurge on a cable car ride back to mainland Singapore – BIG MISTAKE! It was all fine and dandy until we got off at the Mt Faber terminal – not a single taxi to be seen and it would have been a mighty long walk down the mountain to get back to the main road. Luckily, we were not the only bozos around; a Canadian couple was in the same predicament. While we were considering our options, lo and behold – who should step out of the shadows but a Chinese Samaritan! He offered us all a ride in his air-conditioned Mercedes van back to town. We could have been wrong but we had a sneaky suspicion that it wasn't the first time he had performed this service. We willingly parted company with S$10 just so we didn't have to spend the night there. It turned out to be a most interesting ride to town indeed and I am pretty sure he is the principal of the Tourist Promotion School, moonlighting on his days off as a chauffeur-cum-food advisor-cum-tourist guide-cum-everyone's favorite uncle. He certainly had the gift of the gab.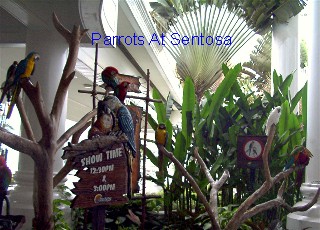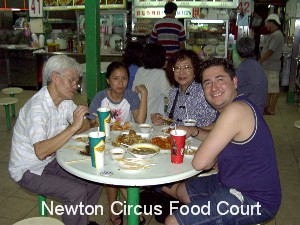 From the city we found our way to the famous Newton Circus where we met up with my brother and after a less than satisfying dinner, we unanimously agreed that the Food Centre had been glorified way too much. I guess if we had a feed of seafood in mind it may well have been a different rating but nonetheless, we were disappointed in the eating experience there. We couldn't say that "Uncle Lee" hadn't warn us about it all, though – we should have heeded his advice and eaten at the Old Market Place instead. We parted company at the MRT train station nearby, as Son and his lady were due to fly back to Australia the next evening. They were lamenting the fact that there weren't enough days to eat all that they had wanted to in beautiful Singapore – the food-lovers' paradise!