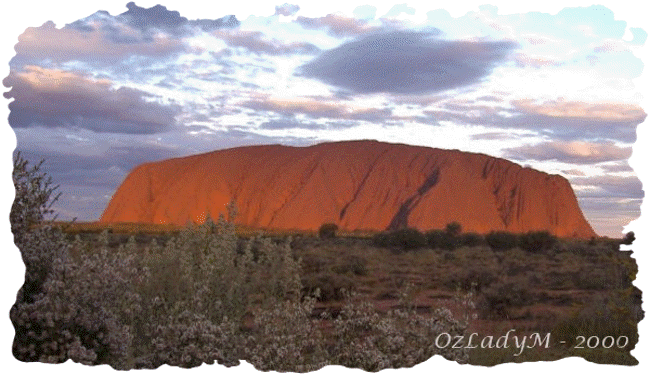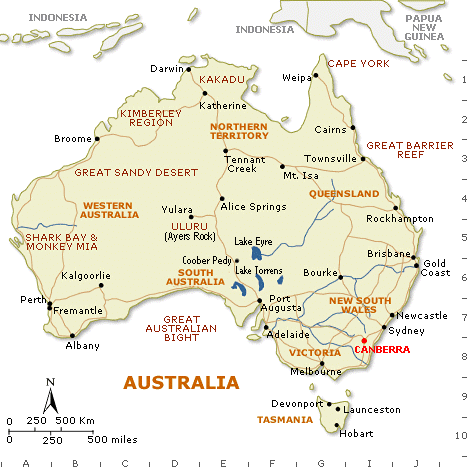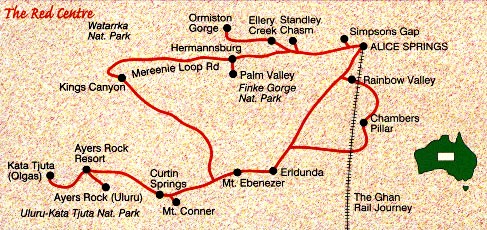 We gleefully left Melbourne on Thursday morning, 24th Aug. in the 4WD which had been expertly packed the previous day by my dear sweet partner/chauffeur/financier/travel organizer, my M.O.T.H. (Man Of The House) a.k.a. hubby.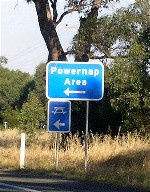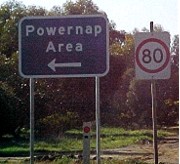 I was in charge of the music, photographic equipment, food and drink breaks, karaoke sing-alongs and taking power-naps! FYI, there are many power-nap areas along our country roads but we did not use these areas, I just power-napped whenever it suited me while my MOTH drove along. [Thanks to Sam L and Darrin S – members of aussiehwys yahoo group for the Powernap jpgs] My silence in between soft gentle snores gave me away though!!! During my pensive moments, (silent but with eyes wide open) my dear MOTH would solicitously voice his concern and I would quietly reply I was merely trying to remember what it was like to experience the glorious sensation of fluid passing over my tonsils or that I was chewing some invisible food… Now am I not the perfect company on these long road-trips???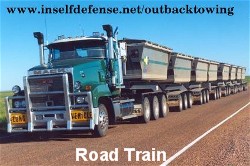 Before we left home, our son and elder daughter suggested that I may gather up enough courage to do some relief driving but I do not think they would like to see their dad return, a mere shadow of his former self. Imagine waving good-bye 

 to an able-bodied man only to welcome home a semi-bald completely grey-haired old man, his hands all gnarled and permanently clenched, right leg locked forever at an awkward angle, eyes glazed, stuttering incoherently and suffering badly from the shakes. And what about all the road train drivers who would be sharing the road with me? I rest my case."..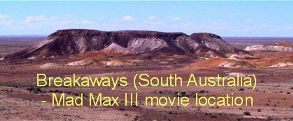 We sure covered some territory – we did 6,224kms (3868mls), checked out several motel rooms, and spent a small fortune just to see rocks – many, many rocks! Got some great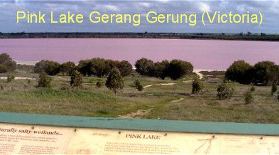 photos of the famous rocks – Ayers Rock (named after South Australian Premier Sir Henry Ayers and now called Uluru – meaning 'great pebble' in the Aboriginal language), The Olgas (Kata Tjuta – meaning 'many heads' in traditional Aboriginal language), Standley Chasm, Kings Canyon, Breakaways… well, at least I HOPE they are good photos. We also managed to break the rock "routine" with photos taken at a date plantation, a salt lake, a pink lake, a couple of opal mines and Woomera Village. If interested in viewing more photos, please go to My Photos and select the appropriate directory.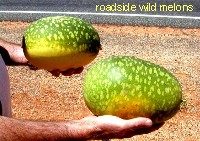 I was equally fascinated by the wild melons that grew in profusion by the roadside in the Northern Territory. Deaf to his insistence that they are inedible, I persuaded my darling MOTH to stop so I could pick a couple (for a closer inspection). When we got to the motel that night, I broke both open (one looked exactly like a small cantelope and the other, a mini version of a watermelon) and sneaked a taste of each, the 'cantelope' had no taste and the 'watermelon' was bitter. 

 MOTH caught me in the act and to his, "I told you so!", I retorted they were just a bit too 'green' and should taste pretty good if they had been ripe! I must confess that my interest in them kind-a died a natural death after that though…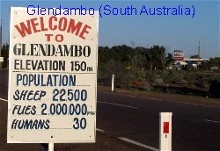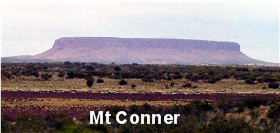 Our road trip also opened my eyes to Nature's random 'gardens' – fields of wild flowers, growing in abundance, unfertilised, unweeded and untended. I'm having second thoughts about lavishing too much attention to the plants in my garden now… The wild life department was a bit of a let down – we saw a couple of still kangaroos and a fox (also rather dead) by the roadside with eagles and crows feeding on the carcasses but no live kangaroos or dingoes on the whole trip. Birds… ahh, there were plenty of them, quite beautiful. We were busy admiring a couple of emus on one side of the road and almost ran into another which was trying to cross the road. Thankfully, we swerved, and it swerved – in the opposite direction!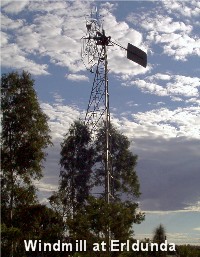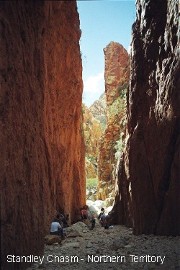 Thought we'd stay at a little country motel on our way to Ayers Rock… we drove into the driveway and what did we spy with our tired little eyes? A couple of groups of Aborigines – my tentative smile was returned with vacant stares and I got a tad nervous when a car-load of men pulled up so MOTH did a quick U-turn and back-tracked to the last motel we had passed (about 50km) at Erldunda. We passed another car-load of men obviously heading for the same motel with not a didgeridoo (Aboriginal wind instrument) in sight, so, far be it for us to gatecrash their booze-up… MOTH said he didn't fancy keeping me company while I stay up all night by the window keeping a look-out on our 4WD and all the goodies inside. No sense of adventure, that man! The next morning, I had my video camera ready as we drove past the same motel at Mt Ebernezer but not a single Aborigine was in sight!!!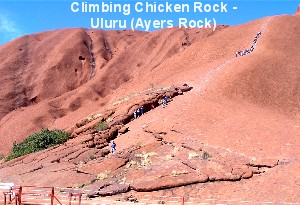 We got to Ayers Rock and wouldn't you know it, it rained!

 – An unusual occurrence in the desert, as we all know. Undaunted, we went sight-seeing anyway and checked out The Olgas. We could almost hear the huge sigh of relief from fellow visitors when the sun decided to stop sulking and made its welcomed appearance that afternoon. We went to join many other tourists to watch the sunset over Ayers Rock – if you didn't know any better you could have easily mistaken the lot of us for some rock-worshipping pagans! The cheapest accommodation we could get that night was two double bunk-beds at AU$145 a night, so we had to put any romantic inclination aside.

 The prices of food in the restaurants were exhorbitant – we solved that problem by getting a couple of packs of frozen dinners each from the only supermarket in the resort and heated them in the microwave oven in our room. From Ayers Rock, we went on to Kings Canyon before going on to Alice Springs, so I could buy some fresh dates and check out Standley Chasm (another rocky landmark).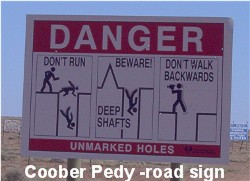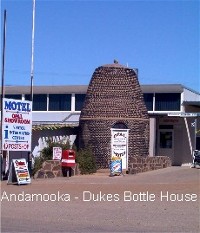 After this, we'd had enough of rocks so mutually decided to give other natural rocky wonders a miss, turned around and started heading south – to South Australia and rocks of a different kind – on to Coober Pedy and Andamooka opal mines. We enthusiastically set off with my MOTH eager to see Lake Torrens while I was excited by the mere thought of seeing opals in the raw (unpolished). We didn't have to worry about snacks as I had plenty of fresh dates to munch on! By now, you must have noticed how my state of mind is strongly influenced by food…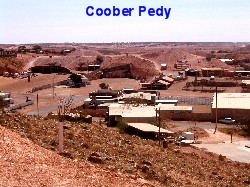 Coober Pedy is probably best known for its unique style of underground living – there is even an Underground Backpackers Inn.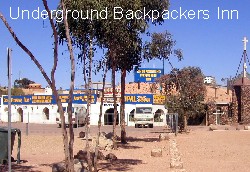 I guess it is an obvious solution to the prevailing hot and dry weather of the area. There are authentic underground homes, underground museums, potteries, an art gallery and, of course, opal mines. I couldn't help but notice the many, many opal jewellery stores there, too… funny, that. 

 Much though I would have liked to, we didn't go on a guided opal mine tour, due to the time factor. My MOTH was keen to get on the road to Lake Torrens before it got much hotter. So after a drive around, a few clicks of our cameras and a quick snack of a meat pie and drink each, we continued on our south-bound travel .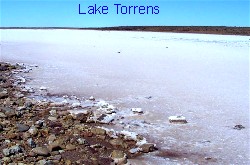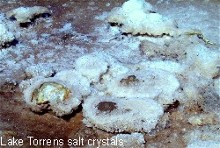 We were awe-struck by the salt lake near Andamooka – Lake Torrens. It was well worth every bump of the rather rugged 4WD track we took (15 kms each way). I am still trying to decide which track I prefer – the bumpy rocky ride or the Ernest Giles Road – 100km of red dirt, rather soft in many places (a bit like riding the waves in the ocean), that we went on a few days earlier. Anyway, back to Lake Torrens – there we were, just the two of us and this expanse of salt… simply awesome! After that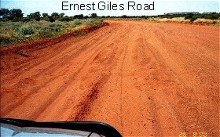 we turned around and headed back to Andamooka where we checked out an opal-miner's "home store". I was so captivated by a couple of polished pieces of opals for sale that the only way my MOTH could get me out of the place was to purchase the gems for me, so he did! I hope our next trip will include the Argyle Diamond Mine!!!

We made a slight detour to check out Woomera Village (the old rocket range), where my MOTH reminisced about his days in the RAAF while looking at some old aeroplanes, before returning to MacDonalds and KFC populated towns, and further south to golden canola fields and idyllic seaside townships. Our final night was spent at Victor Harbour, where it was so windy it would have blown a dog off its chain. That's okay though, we celebrated our successful trip with a great 3 course dinner – soup, T-bone steaks with all the trimmings AND dessert… YUM!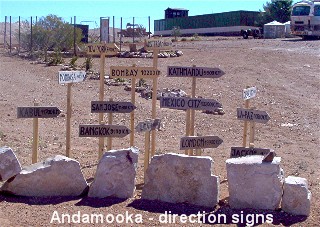 We left Melbourne with plenty of health food like potato chips, corn chips, dips, lollies, cheese, biscuits, apples and mandarins (all fruit were confiscated at the fruit-fly checkpoint at the South Australian border near Renmark – grrr!), soft drinks, beer, some wine and plenty of water, many, many CDs, audio cassettes, a 2-man tent, sleeping bags and pillows (just in case…), and mostly winter clothes. Came home with some of the food, not much beer and wine, most of the water, unopened tent, sleeping bags, pillows, worn out CDs, unworn winter clothing, a few souvenirs, some rocks, lighter pockets and happy memories we will long recall… Woke up this morning to find my MOTH missing – he was re-loading the 4WD like he'd been doing for the past 11 mornings!

Must go fishing soon to recover from this road trip…